The Causeway is arguably one of the most polarizing fishing destinations in Lake Pontchartrain. Whether it's the unpredictable winds, fluctuating salinity, or plain ole' lack of fish, the 24-mile reef is more than likely to give you the cold shoulder when it comes to putting fish in the boat. 22-year old Zack Liberto has been fishing the structure since he was 5 years old and says when it comes to catching speckled trout at the bridge, "They'll show up overnight much like the teal do during teal season. I look for the water temperatures to go into the upper 60's and lower 70's. Then when I know it's about to turn on," Liberto says.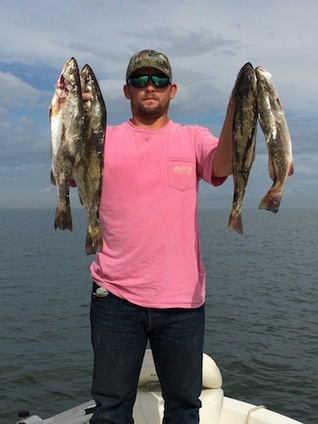 Zack has been fishing the bridge this fall picking up a few specks here and there but it was his last trip that he hit pay dirt. "I was watching the wind and the weather the night before and I knew the next day was going to be a good day. We launched out of Mandeville Harbor at 5:30 a.m. and our first stop was right past the drawbridge about nine miles out," he says. Liberto and a friend started jigging the pilings but only picked up two trout in the first thirty minutes so they decided to make a move. They decide to move further out. "We started fishing the south bound bridge at the 12-mile mark on the west side of the bridge. I lowered the trolling motor and flipped it out there between the two pilings then felt a good thump and set the hook," Liberto says. After a good fight Zack landed a solid 18" speckled trout and says the action was fast for the first thirty minutes or so. During the frenzy Zack caught his biggest trout of the trip but says he didn't come easy. "I caught about a three pound trout and told my buddy to get the landing net. It was the collapsible kind and when he tried to undo it, it broke so we were without a net from there on out. Sure enough about two fish later I felt a good ping and set the hook on a big one. I wound up having to reach over and lip that fish which I hate doing because they usually see that boat and they're gone. So I wound up getting lucky and grabbing him and pulling him in the boat," Zack says. What Zack pulled over the gunwale was a 5.8 lb. trout and says the damage to his fingers was a small price to pay. "I've got a couple of scratches and bruises on my fingers but it was worth it," he says.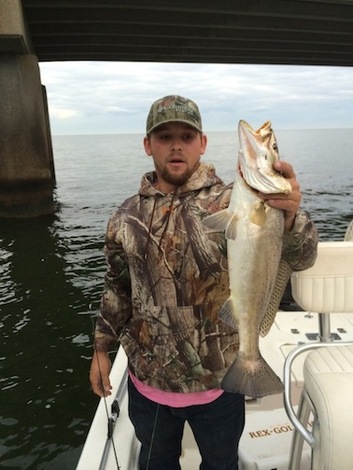 The Causeway and finicky trout go hand in hand but on this day Zack says the trout were slamming their lures. "Most times the bite is really light at the Causeway and even if you get a hook-set you might lose the fish after about three or four seconds but today they were feeding so good before the front that I would drop it straight back down and the same fish would hit it again," he says. By 11:30 am Zack and his friend had boxed 50 big beautiful speckled trout and says now is the time to get after them because it won't last long. "Usually the trout move in during October but everything's been backed so the whole month of November will be producing. When the water dips into the 50's it usually means the end to the trout bite," he says.


Tournament Results

Florida Parishes Bass Anglers held its tournament out of Manchac and it was the team of Scott Andrews and Paul Paille who took home first place with a 5-fish bag weighing 6.78 lbs. Paille and Andrews also won the big fish division with a 1.58 lb. bass. In second were Derrek Paternostro and Darren Welch with two fish that weighed 1.93 lbs. Third place went to Wayne Richardson and Patrick Engerran also weighing in two fish at 1.91 lbs.

The Pearl River Team Trails Tournament held its tournament on the East Pearl and it was the father/son team of Phil and Morgan Schutte who took first place 13.1.50 lbs. Charles Dauzat and Mark Mohr came in second place with a limit weighing 13.1.25 lbs. Brock Fallon and Jimmy Dorris rounded out the top three with a combined weight of 13 lbs. Fallon and Dorris also won the big fish division with a lunker weighing 4.2 lbs.



Upcoming Tournaments

Florida Parishes Bass Anglers are having their next tournament on Bayou Liberty on Sunday, November 30th. For more information about becoming a member please contact Kevin Williams at 985-502-6146.

The Pearl River Team Trails is having its next tournament on the East Pearl on December 13th. For more information please contact Charles Dauzat at 985-960-6936.

The next Liars & Lunkers Tournament will be December 14th at Lock One. For more information please call Chad at 985-502-3217.