When it comes to fishing it seems we are always looking for signs to give us the edge on finding where the fish are biting. John Duncan is a lifelong resident of St. Tammany Parish and has been fishing speckled trout his whole life in Lake Pontchartrain. For John, the signs are all there. "I don't look at all the typical factors that play into determining when the speckled trout start feeding in the lake. I mean, winds and water temperatures are important but for me, but all I need to see are those love bugs swarming and I know it's about time to load up the boat with the saltwater rods and head out to my hot-spots around Lake Pontchartrain," he says. On John's last trip he targeted speckled trout along the Trestles and says the trout are definitely back. "We headed out to the Trestles for an early morning trip and the first thing I noticed was the abundance of baitfish. I don't ever remember seeing this much bait in the lake. I really think it's from the lack of specks in the lake all summer. If the specks aren't feeding on them then the population will thrive," Duncan says.

Captian Greg Schlumbrecht has been a guide on Lake Pontchartrain for 15 years and has a different sign that he looks for when the trout run in the lake is near. "I know it's getting close when the leaves start falling off the trees in my yard. Nature really doesn't care about temperature that much. The trees know when fall is approaching and that they need to lose their leaves. Trout are the same way. They know when fall is getting near so they are going to work their way back up to where they need to be to fatten up for the winter," says Schlumbrecht. Anglers started catching speckled trout in the lake towards the latter half of August but the ratio of keepers to throwbacks have been 2-1. Captain Greg says to expect the larger trout when the water temperatures fall in the lake. "We need that water temperature to start dropping. What is the magic number? I haven't really figured that out yet and I'm not 100% sure there is a magic number. One thing I do know is that when it gets here it's going to be phenomenal! There will be some monster speckled trout in Lake Pontchartrain. The fall is a phenomenal time to fish Lake Pontchartrain. It always has been and always will be," Greg says.



Lake Pontchartrain Salinity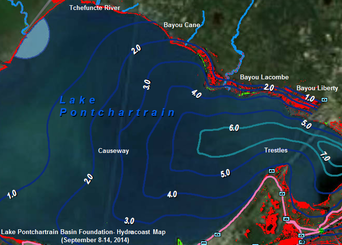 The much anticipated September salinity readings taken by the Lake Pontchartrain Basin Foundation are in and salinity levels are up. The September 8th -14th readings listed on the LPBF Hydrocoast Map shows salinity levels at the Causeway between 2.0-3.0 PPT. This is considerable shift from last month at this time when it was almost non-existent. Salinity levels at the measuring location off of Bayou Lacombe were greatly improved also with a reading of 4.0 PPT; however the biggest jump in salinity is the Trestles with a reading of 6.0.



Tournament Results

Bass Assassins held there tournament on Bayou Liberty and it was Jimmy Dorris who came out on top with a 5-fish limit of 7.2 lbs. In second was Timmy Dickens who managed four fish that weighed 6.14 lbs. Dickens also brought in the big fish of the day that weighed 4.6 lbs. Patrick Engerran placed third with four fish also that weighed 5.13 lbs.

Florida Parishes Bass Club held their tournament on Bayou Lacombe and it was the team of Jason and Trenton Pittman who took first place with a limit of bass weighing 10.32 lbs. In second place was Ronald Pierre and William Mattei who's 5-fish limit weighed in at 5.29 lbs. Forrest Green and Al Duncan's bag of 5.01 lbs. was enough to place take third place. Team Pittman also won the big fish award with 2.93 lb. bass.



Upcoming Tournaments

Bass Assassins is holding their next tournament on the East Pearl River on October 5th. For more information please contact Chris Basey at 985-707-7857.

The next Liars and Lunkers tournament will be held on the East Pearl River on October 5th. For more information, please contact Chad Hartzog at 985-502-3217.

Florida Parishes Bass Club is holding their next event on the East Pearl River on October 19th. For more information please contact Kevin Williams at 985 502-6146.