Here in South Louisiana speckled trout is definitely the undisputed king. And when it comes to live bait, live shrimp is the hands down choice for anglers on most occasions. But the no-brainer solution for catching speckled trout has got anglers scratching their heads this month and it's no surprise. All summer they have been tossing out there trusty Carolina rigs with live shrimp and anything in the vicinity would grab hold. That may not be the case in the winter says Captain George Seibert of Fish Meister Charters. Seibert made a trip out to the Great Wall of Chalmette where he witnessed something odd. It seems the boats fishing with plastics where catching more fish than the ones throwing live shrimp. "Fish get lethargic from the cold water and they aren't going to move around looking for shrimp on a Carolina rig. When you fish plastic, you are moving the bait in front of them and they just grab it with no effort. On the Carolina rig it just sits there. Now if you moved it in front of them the same would work. On our last trip to the wall, all the fish we caught had been hugging the bottom. You could tell this from the red marks on their bellies. I think when you throw the live shrimp and there is a trout there he will take it. If not it just sits there motionless like him," George says.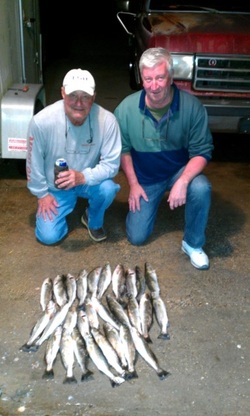 The Louisiana Brown Shrimp is one of three species of Penaeid Shrimp which is a warm water shrimp. While these shrimp are still being harvested and in the bait shops, anglers are finding the bait to be far less effective as in the summer and early fall months because they are not as active in water that dips beneath 55 degrees. "Shrimp get lethargic just like fish in the cold weather. The water was 53 degrees and after only catching three, I changed to plastic and did much better. When they would grab it, it was like I was snagged because they weren't moving until I jerked back," George said.






Kayak Limit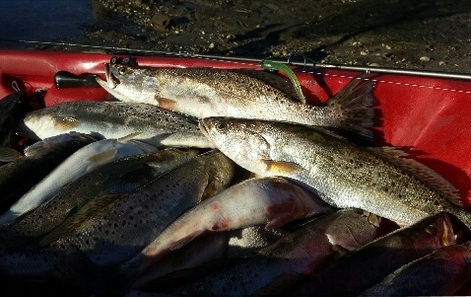 Kayak anglers are well known for being able to get to the spots that the bigger boats can't reach, but are often limited when it comes to venturing out in the lake. Kayak Angler Jeff Kreller fishes from his Hobie Revo 13 and doesn't let the size of his boat dictate where he fishes. Jeff recently made a trip out to the Trestles and says he was pleasantly surprised when he arrived at the launch to find great conditions for a trip along the Trestles. "I arrived at Tite's for 8 a.m. and was greeted by light wind and waves, clear green water, and a strong incoming tide - I smiled on the inside," Kreller said. After reaching his destination Jeff began throwing one of his favorite lures. "I started off with Paul Brown's Devil Eye in green, letting the current work the lure slowly down and away from the tracks, but switched to something shorter after losing a few tails. I pulled out a Shu-Shu in the limey color, and the trout swallowed them whole," Kreller said. Jeff did most of his damage from 11:00 a.m. -1:00 p.m. and says soft and short bumps off of the bottom with long rests were the most productive retrieve. Jeff ended the day with 25 fat speckled trout that measured 14"-21".



EPA Delays Ethanol Reduction

The Obama administration announced that it is delaying a decision on whether to reduce the amount of ethanol in the nation's fuel supply. Last year the Environmental Protection Agency proposed to reduce the amount of ethanol in fuel for the first time, acknowledging that a biofuel law that was passed nearly a decade ago was not working as well as expected. Boating advocacy groups have been waiting on this decision as it would ultimately translate into fewer repairs for marine engines since ethanol has been proven to damage gaskets, valves, and seals in engines. The American Fuel and Petrochemical Manufacturers said that the group will sue the EPA for not releasing the 2014 standards according to the timeline established by Congress. The group said Congress needs to "step in and repeal or significantly reform this badly broken program."



Upcoming Tournaments

The RP3 Bass King Tournament will take place on December 7th at the Heritage Park Launch on Bayou Bonfouca. For more information please call Ronald Pierre at 985-991-3681.

The Pearl River Team Trails is having its next tournament on the East Pearl on December 13th. For more information please contact Charles Dauzat at 985-960-6936.

The next Liars & Lunkers Tournament will be December 14th at Lock One. For more information please call Chad at 985-502-3217.