For most Northshore bass anglers, fishing the Pearl River system can be a harrowing experience. Whether it's the fluctuating water levels, muddy water, or tidal changes, one thing is for sure - It is truly one of the most polarizing places to fish in South Louisiana. And then there's a little stretch of water near Hickory, often referred to by the locals a simply, Lock One. "Lock One is actually a section of the Pearl River Navigational Canal that they used to bring timber to the paper mill in Bogalusa. It's basically a ditch that, with a really long cast, you could throw across," says Covington bass pro Jason Pittman. Like most bodies of water on the Northshore, the fish population in the canal took a big hit in 2006 when Katrina blew through. But unlike most rivers or bayous, there is something about this canal that prevented a natural replenishment of bass. The canal is basically land-locked, which prevents the new fish from naturally moving into it like other tributaries. "It was like fishing the Dead Sea," Pittman says.

Things have changed considerably since the days after Katrina, however. Jason says that there is one group of guys that have a hand in the revival of the bass population on Lock One. "The resurgence is due in large part to that Liars and Lunkers group emphasizing the fact that we needed to take care of the fisheries there after Katrina," Jason says. Liars and Lunkers is a bass fishing organization that holds tournaments on different locations around the Pearl River system. Tournament director Chad Hartzog says that they felt the need to take action to help the canal repopulate because of the unnatural boundaries. "For the longest time after our Thursday evening tournaments we would take fish from the weigh-ins and move them to the Lock One side and turn them loose. We did our best to stock it as best we could," Hartzog says. Slowly but surely the fishing has improved on Lock One and today the quality of bass in the canal is the best he's ever seen. "It's nothing for us to see three or a four pound fish come in on a Thursday evening tournament and now five's and six's are starting to be more common - so there are some quality bass there now," he says.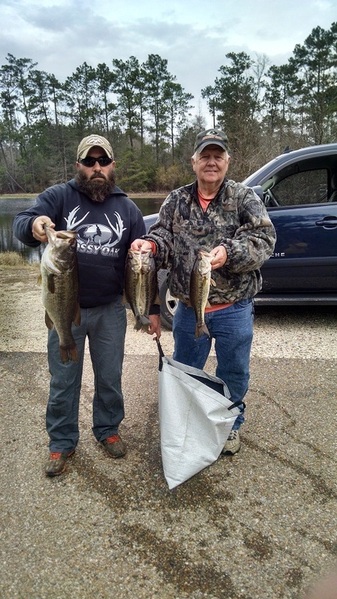 The Northshore Bass Series keeps tabs on the biggest bass brought to the scales during bass tournaments on the Northshore and a bass taken one Lock One by Clay Zeringue currently holds the second place spot on the leaderboard at 6.18 lbs. This is a testimony to the revival of this area, but Chad says he sees even more potential for Lock One. One of the rumors going around is a scenario where they would take both of those locks out and then dam it up where Lock One and Lock Two are. Then they could raise the seal so that water level can come up on it's own and not spill out into the river system. Hopefully, if that comes to fruition, maybe we can work with the state to get some more stocking programs there. Man it would be nice even if we could have a slot limit for a couple of years and make it a trophy lake," Hartzog says.