Mandeville resident Kevin Springmann has been fishing ponds all his life. In fact, he can remember a fishing trip he made to a pond in his neighborhood when he was only seven years old. "I have vivid memories of waking up early on a Saturday morning, tying on a plastic worm and walking down to the pond on a foggy spring morning. I casted next to some cypress knees and as soon as the bait hit the water a 3 lb. bass inhaled it! I got him in, picked him up, and literally sprinted home with the fish to show it off to my parents," he said.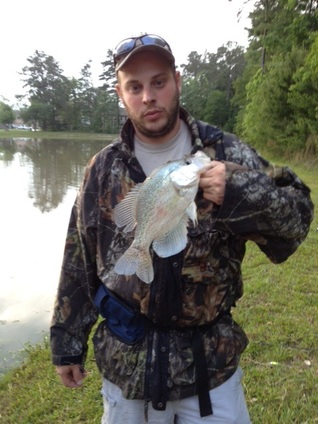 That was Kevin's first bass he ever caught and he has been hooked on pond fishing ever since. Springmann says he usually targets bass in these ponds but now he is starting to see Sac-au-lait show up. "Usually we start getting on the sac-au-lait around early March in these ponds but we started catching them as early as late January this year," Kevin said. On his most recent trip, Kevin took his kids along on a ishing trip to a neighborhood pond in Madisonville. The team managed to catch over 50 sac-au-lait, with a few bass mixed in. Kevin says they caught the bass on Baby Brush hogs and the sac's fell for weightless tube jigs rigged 3' under a popping cork which is his favorite rig for slabs. "Hollow body tube jigs 1/64 and 1/8oz, paired with a small cork is all you need. Cast out and allow the jig to slowly fall. Use the rod to move the cork towards you then pause, this will cause the jig to rise and slowly fall again," Kevin says. There are literally thousands of ponds across the Northshore and while the majority of them are private ponds, Kevin says that it can be as simple as asking permission to gain access to these hidden gems. "Most people live in these subdivisions or have relatives or friends that can grant you access to them. Ask around, many times getting permission is only a phone call away," he says. Springmann warns the quickest way to get run off is to break the rules. "Respect the area you are fishing, do not litter or park where you shouldn't, and check and see what the policies are about keeping fish. This will go a long way in being able to return to fish another day," he says.


Geohagen's Canal Reds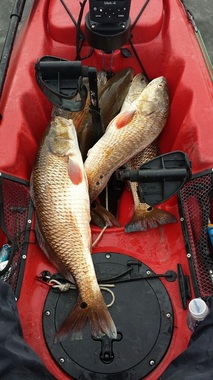 While it's not easy task to find speckled trout during the winter months on the Northshore, Geoghegan's Canal is the first thought that comes to mind for hardcore trout anglers who just can't give up catching those speckled beauties. Kayak angler Jeff Kreller is one of those people, but says the trout bite just hasn't been there this winter. Instead, Jeff has turned his attention to redfish and has been having success in Double Bayou Lagoon that is located off of Geoghegan's Canal. On his most recent trip Kreller was able to find the redfish in the lagoon schooled up tight. "I would catch a couple close together, wait a good while, then repeat - Dragging plastics along the bottom," Jeff said. Kreller says he caught them on curly tailed plastics of different colors and got to cherry pick the perfect sized reds for the pit. "I landed 9 keeper sized reds and kept a limit of 20-24 inchers that are the perfect size for grilling up," He says. Jeff says he will turn his attention back to Lake Pontchartrain this month in preparation for the early spring speck run.


Safe Boating Course

A Recreational Safe Boating Course is set for February 28 from 7:45 am to 4:45 pm at the St. Tammany Parish Library in Covington. Due to time restraints, pre- registration is highly encouraged. To register, please send your request with the names and ages of those who wish to take the course to flotilla411@aol.com. Seating is limited, so please register as early as possible.