What is arguably one of the best months to fish on the Northshore, October has presented anglers with a multitude of absolutely beautiful days to fish. The National Weather Service provides a monthly summary for each month and October of 2014 is shaping up to be one for the record books. In October we have seen only 3 days in which it has rained here on the Northshore, giving anglers a vast area of clean water to fish. Add to an average of 75 degrees and 6.6 MPH winds and you have what is shaping up to be our best month of fishing this year.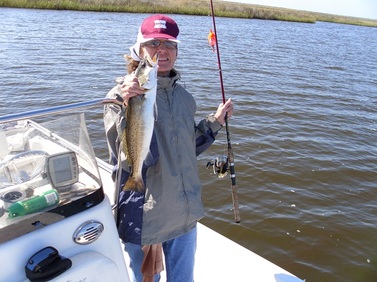 Biloxi Marsh
Anglers who are willing to make the run across Lake Borgne are reaping the rewards this month. Buddy Hereford and his wife Sue, recently made a trip into the marsh and says that he knew right away they were going to catch fish by the shrimp in the water. "The shrimp were jumping for their lives out there. As soon as the bait hit the water the cork disappeared!" he said. Hereford has been fishing this area all month and says the specks are definitely getting bigger. "Sue made a nice throw to a point and after a couple of pops of the cork BAM - drag puller on! I heard her yell 'Nice red!' but when it got close to the boat the red turned into a speck! After a great landing net job a 20" speck was flopping around the floor. The fish were a little bit bigger this week so fewer throwbacks made the box look better in a hurry," Buddy said. Buddy and Sue ended the day by 2:00 with a 50 speckled trout.


Bayou Lacombe
Lacombe resident Dennis Smith made a fishing trip to Bayou Lacombe and quickly figured out what the bass wanted. I started off throwing a Chug Bug but there were no takers, so I switched to a Rapala Minnow and hooked up on my first cast!" Smith said. Dennis ended the day with 30 bass and says the water on Bayou Lacombe is beautiful right now. "The best part about today was that I saw half the strikes - the water was crystal clear!" he said.


Shorline Reds
Redfishing has been off the charts this fall and Daniel Sissac and his father have figured out what to look for when targeting the bronze beasts. "We trolled the shoreline in morning until we found the first school of bait. We made around thirty casts without a bump. I said 'I think I may know what is wrong,' and pulled up the trolling motor. We ran the shoreline until we found a school of mullet," Sissac said. Daniels decision to follow the schools of mullet was a good one. "We made a cast into the school, and I got a red almost immediately. My dad was working his lure and I saw the mullets part. Then my dad's rod bent over - we had a double! We caught a few more out this school then ran to find another. We had to do some running, but we finished with seven reds and one trout," Daniel said.





Tournament Results
Kevin Williams and Todd Stein won the Florida Parishes Bass Anglers Tournament on the East Pearl. The duo brought in a 5-fish limit that weighed 10.25 lbs. The team also won the big bass award with a beautiful 3.40 lb. largemouth. In second place were Morgan Schutte and Clay Zeringue who brought in an 8.39 lb. bag. The father and son team of Jason and Trenton Pittman took third place with a weight of 7.95 lbs.

Bass Assassins held their tournament on Bayou Lacombe and it was Jimmy Dorris who brought in a 5-fish limit weighing 8.13 lbs. to take first place. Dorris also won the big fish division with a bass that tip the scales at 4.12 lbs. Jared Norris won second place with a limit that weighed 6.10 lbs. Zack Zimmerman placed third with 4 fish that weighed 4 lbs.



Upcoming Tournaments

Florida Parishes Bass Anglers is having their next tournament in Manchac on November 9th. Weigh-in will be at the public launch beneath the I-55 Bridge. For information on becoming a member please contact Kevin Williams at 985-502-6146.

Bass Assassins will be holding their last tournament of the year at Crawford's Landing on November 2nd. For more information please call Chris Basey at 985-707-7857.

The next Liars and Lunkers tournament will be November 2nd on the Lock One Canal. For more information please call Chad Hartzog at 985-502-3217.

The Lake Pontchartrain Northshore Open Fishing Rodeo will take place on November 1st and 2nd at The Pontchartrain Yacht Club in Mandeville Harbor. For more information please contact Vaughan Sollberger kvs@kvsarchitecture.com or Kaia Williams at office@pontyc.org.