It's quite common to hear of anglers salvaging their fishing trips by making a drastic move to another location. That's exactly what Zack Liberto of Mandeville did when fishing for bass in the Tchefuncte River on his last outing. "We hit the Rice Field Canal expecting to tear up the bass on the falling tide but was quickly disappointed when all we could manage was one keeper by 8:00 am," Liberto said. As Zack and his friend felt the sun beating down upon them they decided to make a drastic change and head out into the Lake for some salt water action.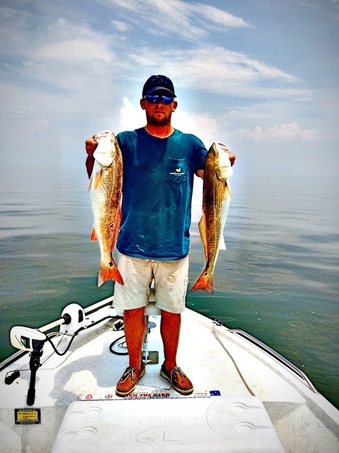 "Between the slick calm wind and rising sun we decided to make a move. We ran about a mile out of the Tchefuncte and to the right along the shoreline with all the downed cypress and marsh," Zack said. They were quickly assured that the decision they made was the right one when they located a school of redfish along the cypress trees. "We found a stretch of bank on the shoreline around some cypress that was holding some grouped up redfish and it was game on! We started throwing spinner baits and limited out in about 30 minutes," Said Zack. Liberto says the action was so intense that there wasn't a time when they didn't have a fish on the line. "Every single fish we caught was a double hook up! Once one of us would hook up, the other would just toss in right behind the hooked fish and catch another one!" He says. The water along the shoreline north of the Tchefuncte River is crystal clear right now and jam-packed with redfish. Zack says it's a great "plan B" option for bass fishermen who aren't having any success in the river right now.



Summer Sac-au-lait?
When you think of sac-au-lait fishing what first comes to mind? If you guessed cold weather, you'd be right! But that's not to say that they don't bite during the summer also. Lacombe resident John Farley has been catching sac-au-lait on Bayou Lacombe in the same spots that he focuses on in the winter. "I have been trying to figure out the summertime sac-au-lait and actually have had success," John says. On his last trip he ended up with a mess of fish caught all between the Trace bridge and Cypress bayou. John says his favorite sac-au-lait bait is a Bobby Garland jig on a 1/16 oz. jig head.



Boy bitten by bullshark
It's no secret that Lake Pontchartrain is home to many species of fish including sharks but reports of these sharks biting people are unheard of in the Lake. 7-year old Trent Trenacosta of Lakeview was swimming with his family just off of Lakeview Harbor when he was bumped from behind by something underneath him, then then felt a sharp pain in his left heel. The boy started screaming and was rescued by his parents and rushed to get him medical care. Mitchell Chevalier, who tags sharks for the University of New Orleans and the National Oceanic and Atmospheric Administration, states that is common for many sharks to be in the lake during certain times of the year as the area is a shark nursery. Although larger sharks would typically be gone this time of year, he is confident that the injury was caused by a bull shark. Based on the bite marks, he estimates the shark to be around 5 feet. Doctors say Trent won't be able to walk on his foot for a while but should make a full recovery.