There's something in the air on the Northsore. Can you smell it? No, it's not the smell of Bogalusa after a stern cool front passes through. It's speckled trout time! It's time for that special breed of fisherman to get back on the water after a long tumultuous summer. It's time for structures like the Trestles, Causeway, and Rigolets to go from bridges to fishing reefs. Yes, the speckled trout are back in Lake Pontchartrain and all signs are pointing towards us having a fantastic fall trout run.



Devin Ricks is a Junior at Covington High and has been catching speckled trout along the shoreline near Bayou Cane but says his best trip so far is a fishing trip that he made with a friend where they fished from land. "We had a full moon and my friend, who lives near Sunset Point Pier, had been seeing a lot of pogies in the canal next to the pier and that the baitfish were getting run up to the surface. So he grabbed a pole and sure enough, he started catching trout! He called me and another friend and I went down there and started in on the action," Devin says. Ricks says the conditions that afternoon were perfect for catching trout. "The winds were out of the Northeast and the tide was falling. All the baitfish was coming out of that canal and the trout were right there at the mouth. I would cast out and then give it about two or three seconds, then twitch it two or three times and they would be on it. Hard bites too! They were nailing it! We must have used three packs of Matrix. It was every cast!" he says. Devin said the hot color that day was the Matrix Shad in Magneto and also Tiger Bait on a ¼ oz. jig head. The friends ended the day with 70 speckled trout, 40 of which were keepers. Devin said most of them were between 12 -15 inches but they did throw back a significant number of 11 inch trout also.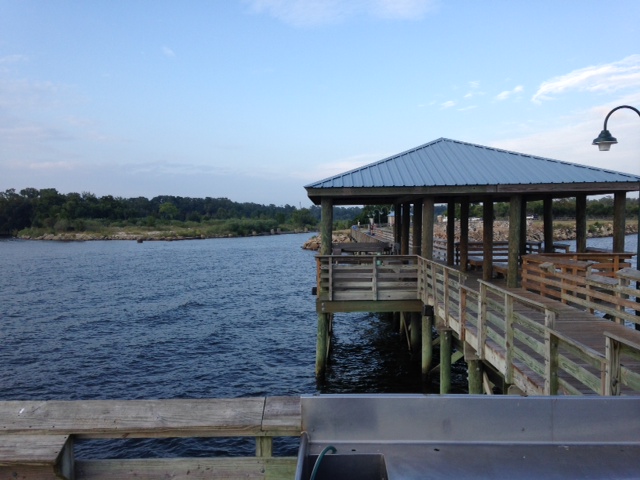 The Mandeville shoreline is peppered with canals and outlets such as this one near the Sunset Point Pier.


Bayou Lacombe

Speckled trout are starting to show up in the mouth of Bayou Lacombe and along the western shoreline. John Farley has been fishing the bayou trying to anticipate the surge of trout that usually happens around this time of year. John says the days of double digit catches should be right around the corner. "There are big schools of pogies everywhere in the mouth of Bayou Lacombe right now. All the signs are there. It should be any day now. You'll start seeing schools of trout move along the shoreline and into the marsh. They won't stay in any one place to long so be ready to move around a bit to find them. Matrix Shad in Shrimp Creole and Shu-Shu in Victory Red are the most effective artificial baits right now. As the month goes on expect the quality and quantity of fish to go up and a few patterns to develop. It's looking really good for this fall," John says.



Tournament Results

The Pearl River Team trails Tournament was held on the East Pearl and it was the team of Charles Dauzat and Mark Mohr who came out on top with a 5-fish limit that weighed 11.4 lbs. In second was Jay Breland with a bag weighing 11.1. Breland also won the big fish award with a 3.2 lb. bass. The father and son team of Guy and Jack Stegall took third with a stringer that came in at 9.5 lbs.



Upcoming Tournaments

The Pearl River Team Trails Tournament will be held on October 11th on the East Pearl River. For more information please call Charles at 985-960-6936.

Florida Parishes Bass Club is holding their next event on the East Pearl River on October 19th. For more information please contact Kevin Williams at 985 502-6146.