After a mild October, the first stern cold front of fall has pushed through dropping water temperatures into the upper 60's in the rivers and bayous across the Northshore. Now is the time for anglers to take advantage of some outstanding fall fishing that November has to offer. Mixed boxes of speckled trout and bass have been the theme for October and that will continue into this month as long as the shrimp stick around to keep the battle lines blurred. Mandeville resident Will Henry recently made a trip to Bayou Liberty where he not only caught a limit of bass but also found some specks mixed in with the action. Henry launched out of the Bayou Liberty Marina at daylight and started looking for batfish. "As I idled under the bridge there was no sign of bait on the surface and just a few disturbances on the Lowrance so I turned around and started down river. Finally, I found the shad near some run-offs. I caught a few rat reds, and a 15 incher, then a 19" trout," Will said. After a few smaller trout, Will says the bass moved in and he quickly found himself with a limit.

Chris Daniel and Jimmy Brown recently made a trip to Bayou Liberty but decided to try fishing from the bank. "I decided to go over to the Bayou Liberty Marina Boat Launch and try fishing from the bank near an area where I caught several specks on a trip in my Father-in-law's boat last Week. That turned out to be a wise choice. Jimmy and I proceeded to put 16 – 12 to 14 inch specks in the box in the next three hours and threw back about a half dozen undersized ones," Daniel says. The team was using live shrimp under a cork and says "We tried getting them to bite on a DOA artificial under a cork but wasn't getting much - Just a couple of nibbles with none taking it hard enough to set the hook," he said.


Bayou Bonfouca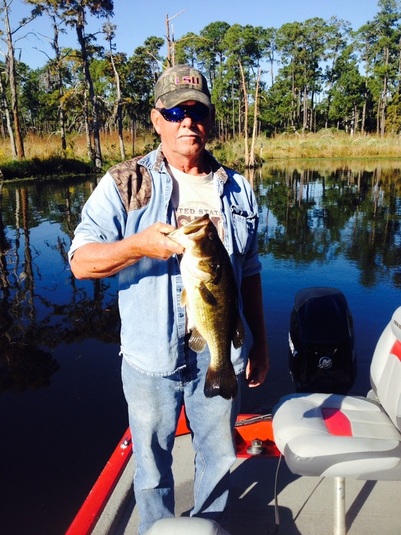 Ponchatoula resident Lawrence Lemoine made a trip to Bayou Bonfouca with his son and says the action on the water was intense. "We got to our first spot and while we were waiting for first light we could hear fish crashing bait. As the light began to filter from the east, we could hear more and more fish crashing and when we were able to see we saw that the bass were wreaking havoc on shrimp with multiple fish chasing each one. It was hard to maintain focus on one target when there were so many targets to cast too!" Lemoine said. The father-son duo had their 2-man limit by 8 am and Lawrence says there's a ton of bait in the bayou. "I saw more shad this weekend than I've seen in a while - schools after schools! Bass should be nice and fat next month with the bait they are eating now," he says. Lemoine recommends switching over to a lighter line because of the water clarity in the bayou right now. "The water is so clear you can see in spots six to eight feet down. I could watch the fish follow my lure and never hit the bait with the heavier line. We could see some really big bass but couldn't get them to bite for nothing. We then switched to smaller fluorocarbon and the hook- ups went way up.

As the day went on the team started working their way back toward the launch and ended up picking up 18 specks with 9 of them being keepers.






Tournament Results

Bass Assassins held its final tournament of the year at Crawfords landing and it was Jason Pittman who came out on top with a 5-fish bag that weighed 12 lbs. 7 oz. Jimmy Dorris won second place with a limit of fish weighing 11.9 lbs. Jimmy also caught a 14.4 lb. bass which earned him the big fish award. In third was Morgan Schutte with a limit that weighed 10.10 lbs.

River Champs held their tournament on the Tchefuncte River and it was the team of Scott Andrews and Ricky Benitez who came out on top with a limit weighing 7.79 lbs. In second was Darren Welch who weighed in a total of 6.11 lbs. Shawn Hartman won third with a total of 5.52 lbs.



Upcoming Tournaments

Florida Parishes Bass Anglers will be holding their next tournament in Manchac on November 9th. Launch and weigh-in will be at the public launch below the I-55 bridge. For info on membership please contact Kevin Williams at 985-502-6146.