On the last Northshore Fishing Report show on More Outdoors with Don Dubuc, Keith asked a good question that I could have filled the over a half­hour worth of progamming with: what are some flies to have for freshwater? Well I think I'll use this month's post on just that. These are my recommendations on flies I keep in my box all the time. These are just some all around good flies to have. If you know anyone who ties flies, now is the time to be very nice to them since some of these can only be found at local fly shops.
​
The woolly bugger. That's right the old fashioned woolly bugger. The woolly bugger is a streamer fly that imitates a number of things depending on where in the country it's fished. Down here it can imitate large nymphs, baitfish, leeches,drowning terrestrial insects, worms, crawfish, or shrimp. You can find them from size 14 to 2. I have been known to tie them on a 2/0 pike hook with a weighted cone head, think bullet weight, and fish it like a texas rigged worm for bass. They are readily found at most fly shops in black, olive, and tan. If you know any fly tyers, then the color combinations are only limited by the colors of marabou and chenille available. Fish it with a steady retrieve or under a strike indicator. The "magnum" ones work for bass and the small to medium sizes will catch bream and sacalait.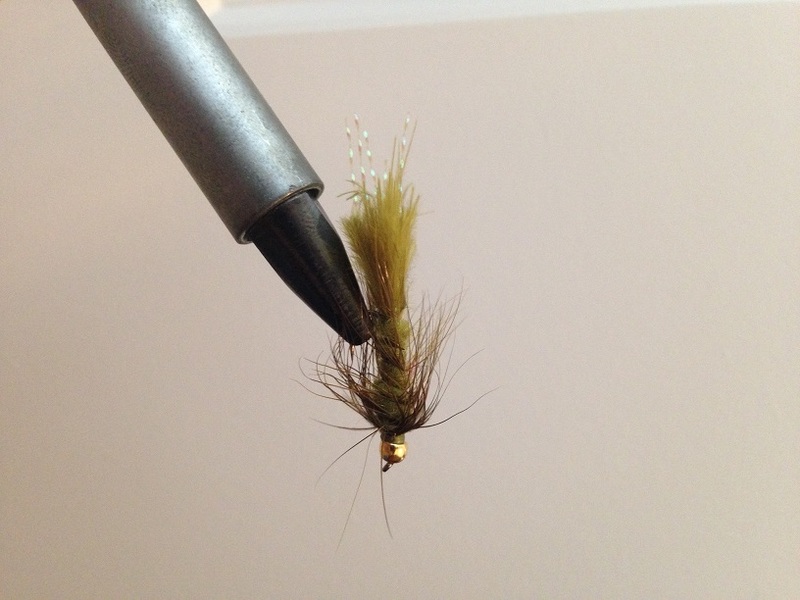 The woolly bugger is a streamer fly that imitates a number of things depending on where in the country it's fished.


​2. The Fluff butt. I'm not making this one up, I promise. The Fluff butt is a bead­head woolly bugger without the hackle. If you've ever fished a marabou jig on ultralight spinning tackle then you have fished a fluff butt. The fly version is tied on either a 1/120th oz or smaller jig head or on a streamer hook with a bead­head. Fish them by jigging them vertically, with or without a strike indicator, around trees for sacalait or with a slow retrieve. They catch bass, bream, and sacalait. This is one of those flies that is not readily available in fly shops, so you might want to find a fly tyer and ask them to make some for you.


​3. The Hare's ear nymph. This has to be the most versatile fly out there along with it's cousin the pheasant tail nymph. Personally I prefer the hare's ear to the pheasant tail because it can be tied in a variety of colors. You can find them in black, brown, or olive and in bead­head and standard(nonbead­head). They are typically tied in sizes 10 to 16. I prefer the 2 in the middle, sizes 12 and 14. Remember I said they are versatile, they imitate a variety of aquatic life; scuds, sow bugs, mayfly nymphs, caddis larvae, damselfly larvae, dragonfly larvae, and stonefly larvae. I fish them year round. Because of how small they are you will catch a bunch of fish and many of them small, but when fished in the cooler months you will catch some of the bigger bream on them. Fish them with or without a strike indicator but fish them slow, the things they imitate don't move very fast.
​4. The Clouser Deep minnow. The Clouser deep Minnow created by Bob Clouser, a Pennsylvania fly shop owner and guide, in 1987. It was evolved from traditional bucktail streamers for smallmouth bass on the Susquehanna River. Noted fly fishing writer Lefty Kreh claims to have caught over 87 species of game fish on Clouser minnows, he is also
the one who gave them their name in 1989. This fly a baitfish imitation that ranges in size from 10 up to 1/0. They come in a myriad of color combinations with the "belly" traditionally being white. The lead eyes are are tied on so the fly rides hook point up so it can be relatively weedless. Fish them in either fresh or saltwater, the work just as well for specks and redfish as they do for bass.



5. The Crappie Candy. When the sacalait are feeding on shiners and minnow this is the best fly I have found to catch them. This fly is sort of a combination of woolly bugger and Clouser minnow. It has lead eyes tied on to make it ride hook point up with but a body of chenille with a wing and tail of fur. I personally tie these from a size 12 and 10 for sacalait up to a size 4 for bass. Fish them with or without a strike indicator. This is another of those flies that can be a bit of a pain to find. The only place I have found them is at the Green Trout in Baton Rouge, and even then it's in limited quantities. That is the reason I learned how to tie them myself. I tie them in all sorts of colors: black and chartreuse, black and pink, chartreuse and white, pink and white, pink and chartreuse, purple and white. If you can't find them at the fly shops in the area, then ask your local fly tyer or I might be convinced to make some. If you are a fly tyer go to Onthevise.com and seach "crappie candy."


6. Foam terrestrials. I'm lumping in two different flies in on this one: the foam spiders and foam grasshoppers. I'm putting these together because they are both made of foam and float, but have a different silhouette. You can find foam spiders at Academy and sometimes Walmart from Bett's. I get my foam grasshoppers from Bass Pro. The bluegill love them! In the spring and summer fish them close to the bank and have fun catching fish. They don't just work on bluegill, the also work on bass. My all­time best bass was caught on a size 10 foam grasshopper. The strike on that bass looked like a small bluegill eating the fly but ended up being a 5 and a half pound bass. They work!




7. And finally....the popping bug. What fly list for south Louisiana would be complete without the popping bug? Everyone knows the popping bug. I make them by the dozen in the spring and summer. In fact, I have 3 with the primer coat drying right now waiting for paint. Accardo used to be the name for popping bug. Unfortunately Accardo was bought by Bett's a few years ago so now just about all the popping bugs you will find are made by Bett's, but they use some of the old Accardo paint patterns. You can find small ones for bluegill, medium ones for bass, and big ones for redfish. Now that you have a list of patterns to look for, it is time to talk sizes. Flies are sized by the size of the hook, not the size of the finished fly. Just like normal fishing hooks, the bigger the number the smaller the hook. That is until you get to 1/0 and up, then the bigger the first number the bigger the hook. When choosing what sizes of flies to buy, or make if you're getting into fly tying, pick the size for the fish you're targeting. Generally if I'm fishing for bream, I'll fish flies in the 14 to 10 sizes. For sacalait, I'll fish flies up to 6. Everything bigger I consider a bass fly.


Some advice on when buying flies:
Buy a couple different sizes.
If the flies come in different colors, buy a couple different colors.
3. Don't buy just one. Buy at least 3 of each. This one is important. I made this mistake many times. I would see a fly that I really liked and would buy one to try and end up losing it some how. Most of the freshwater fish we target love cover. Whether that's cypress knees, logs, stumps, or grass you will get hung up and most of the time have to break it off. If you have just one of a particular fly, and that fly is producing then you have to try something else. That second choice might not work as well and you have killed the trip.
Now that you have your shopping list it's time to go shopping. With the exceptions of the fluff butt and crappie candy, the rest of this list can be found at Bass Pro, Cabella's, Orvis, and most online retailers. The other 2, well you are going to have to do some digging on the Internet, or contact a fly tyer. If push comes to shove contact me on the forum, and I'll make some for you...for a small fee to cover materials. Now get out and stock that fly box!
Here's to happy fishing! John "Vacherieboy" Zeringue
​Check out my youtube channel, h​ttp://bit.ly/vacherieboychannel,​and subscribe if you like what you see.
​​