Everybody knows the excitement of getting up early, stopping to have breakfast, and then traveling by boat or truck for several hours to places like the Biloxi Marsh, Port Sulfur, Cocodrie, the Atchafalaya Basin, or the Honey Island Swamp. The boat ride, light mist over the water, the smell, the sounds of birds, the sights of otters, alligators and nutria gliding into the water. These places bring back so many memories and are still at the top of my list for some great fly fishing adventures. But as I approach my 60th birthday and a lot of wear and tear on the joints and not quite the get up and go I had early on, as well as the price of fuel, I now spend a lot of time listening to laughing kids in back yards, lawn mowers and dogs barking. If this sounds like I am sitting on a lawn chair in the back yard, WRONG… I have found some fantastic urban fishing areas, they are easy to get to, cheap to fish and provide lots of action. So names like Cutoff and English Bayou are being replaced with Eden Isles, Palm Lake and Carr Drive. I have cut back on the long drives and am spending more time on the water at less cost.

First and foremost these areas I am about to share have boat launches near them and should be used to access the areas. Never use someone's property to drop your boat in the water without permission.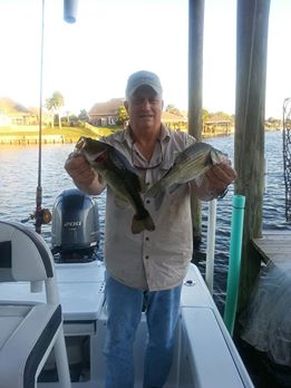 Let's start with The Bayou Lacombe area. There are two launches on Lake Road to access the bayou, one at the beginning of Lake Road and the other at the end of Lake Road. I prefer the end of Lake Road to launch. The fishing areas are easy to get to by paddle or outboard. Launch your boat and you can go south for some decent action including some salt and fresh water. I like to go north into some of the subdivision canals. These urban areas hold a lot of fish and there are areas on both the east and west sides of the bayou. Try using some Woolly Boogers, Poppers and Terrestrial flies. I like using a 9 foot rod in 5wt with a 4 to six pound leader and tippet. This area provides lots of room to cast so I like the longer rod.

Another area I like is the Bayou Bonfuca and Bayou Liberty area. There are places to launch on Bayou Liberty at the Marina and behind the Slidell Train Station. You can also put a paddle boat in at stump lagoon in the Palm Lake Subdivision. This whole area is an easy access if you want to paddle and leave the outboard at home. My favorite area is the Palm Lake Canal and Palm Lake. Lots of docks, structure and grassy areas. This area is a good place to drop down a size on a fly rod with a 7 to 8 ft. rod. The canals are narrow in Palm Lake so the shorter rods work really well. Drop your leader and tippet size to 4 pound and get into some great Bluegill action. Small top water Poppers and some Woolly Boogers. It is common to find the bigger fish about 18 inches below the surface.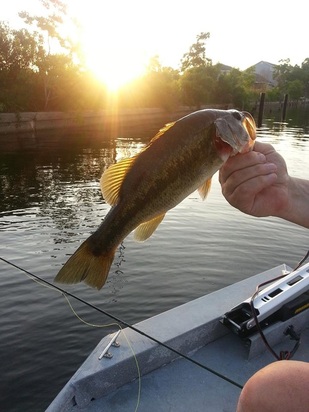 I can't leave out the area I call the North Shore. These are the canals from Geogheagans Canal to The Carr Drive canal, as well as Salt Bayou, Lake Shore estates and the Hwy. 11 Canal. All these hold fresh and salt water species. All have easy access by paddle or outboard with launches at Geoheagans, Salt Bayou and Hwy. 11. I would bump my choice of rod up here to 5wt thru 7wt with 6 to 10 pound leader and tippet, fishing with larger top water Poppers, Woolly Boogers and Streamers. You can fish the lights at night for some really great action during early summer thru fall. I find the night time fishing better with small flies that resemble bait fish. If you fish at night be extra careful fishing around underwater lights, never cast directly at a light, the fish, or at the bright areas. The fish will wait in the dark on the outside of the lights. Also casting directly at the lights can damage someone's light and never drive directly over the light. Most folks do not mind someone fishing their lights as long as they are being careful not to damage the light. If someone objects to you fishing their light, be respectful and move on.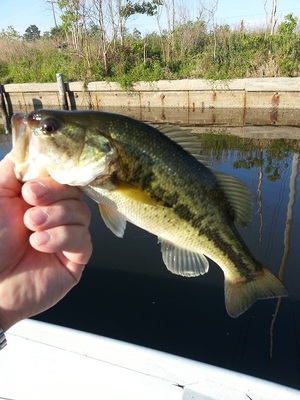 Last and my top spot for Urban Fishing is Eden Isles. There are miles of canals here that can be accessed by paddle or outboard. There is a launch at The Dock at the end of Rats Nest Rd. These canals hold fish and lots of them! I have even designed a fly for the area I call the Eden Isles Special. It is a soft foam fly with a popper head that can be cast against pilings and bulk heads without coming apart. It can be tied with #10 hooks to 1/0 hooks. My favorite hook to use is a Owner Mosquito hook .We have caught bass up to 8 pounds, with my best day at 5 fish pushing 25 pounds. I do consider this area as a catch and release area, trying to preserve the numbers of bigger fish. I like a 5wt 9 foot rod here using 5 to 8 pound fluorocarbon leader and tippet because of the clear water. There are many type of structure here with grassy banks to straight up and down sea walls. Most productive are the concrete seawalls and around dock pilings. Never pass up a drain pipe, when you find a large drain with half the pipe underwater cast into the pipe for an instant strike.

Be prepared for the urban areas on weekends and the boat traffic, these areas by design were built for people to use so don't get frustrated on weekends with the amount of people on the water. Try to fish the areas during the week if you fish the weekend's fish early before the crowd. So relax enjoy some new sights and different sounds and smells while discovering some great Urban Fly Fishing areas.