Watch a great pitcher in baseball, a high percentage three point shooter in the NBA, a Grammy award winning actor, or an elite angler practice their craft. The best of the best in any sport or trade, the few who have mastered their craft, are mesmerizing to watch even if the observer isn't particularly interested in the sport or act. It doesn't take a die hard basketball fan to be impressed with Jordan or Lebron. The reason for this that the upper echelon have commanding control of the mechanics involved in whatever it is that they do; they make it look easy. I remember watching Michael Jordan when I was a kid and thinking to myself that I could probably do that. I also remember watching Kevin Van Damn win the Bassmaster Classic, many years later, just as I was getting into fishing, and thinking the same thing. The flow of the cast, the follow through of the hoookset, the landing of the fish, all appeared effortless- natural. Now, consider the novice. Even those that have a natural aptitude for whatever it is that they are doing will, in the beginning usually make a mess of the entire thing- think ten year old who has gotten a brand new drum set for Christmas. I have recently had the joy, anxiety, pleasure, and horror, of taking several people on their first kayak fishing outing. Luckily for me there have been no major, or unusually painful faux-pas. The experience has opened my eyes to both the mechanics that go into this sport that I have chosen to dedicate so much time to, and how those mechanics are learned, not intuitive. I have been asked questions that were as simple as "where do I put the paddle before I cast?" and as perplexing as "how can I make sure to catch fish every time I decide to go?" I think I did a better job answering the second question than I did answering the first; dynamite was all I could come up with. To really take the time with somebody who has never fished, be it kayak or otherwise, and break down every little aspect of casting, lure presentation, hooksets, ect., will benefit the novice for sure, but the teacher even more so. Going over proper paddling technique made me re-evaluate my own, questions about lure presentation made me stop and think about exactly why it is that I fish this or that a certain way, and how it could be done differently. After explaining why a bait caster backlashes, and how to avoid it, I've noticed that I get fewer than I did. On each of these trips the begging was tough. First thing was to make sure the kayak wouldn't flip, second was how to make the kayak go in the direction that they wanted it too, third was working on how to cast without flipping over, and the list went on and on. I had to breakdown each of these things that have over the years become second nature to me. I was told years ago that you will never truly learn anything until you have taught others to do it time and time again. And that if you can't explain any concept simply, no matter how complex, that you don't know it well enough. The truthfulness in both of these statements has really been driven home over the past few weeks by spending time on the water with people who are both extremely anxious to learn, and extremely inexperienced.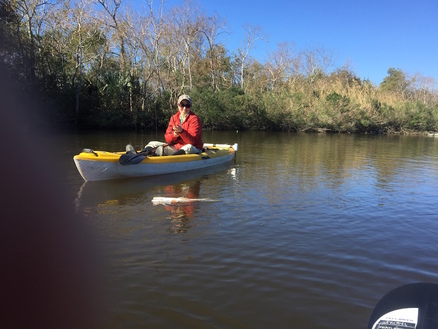 The most recent trip was for redfish, out of- you guessed it- Delacroix. My first timers were two ladies who were not from Louisiana, had never been in the marsh, and had never even seen a red fish in person, but wanted nothing more than to catch a few. My work was cut out for me. Fate wouldn't be as cruel to me this day as it has been in the past, when we reached our first stop, less than a mile from the launch, the canal had clean water and was full of bait. I breathed a sigh of relief. After going over how to cast a spinning reel, retrieve the small swim bait, and having her make a few successful cast into open water, I see the tell tale v-wake slowly making it's way down the grass line. I point the fish out, hand her the rod a get the go-pro ready. she rares back and fires a perfect cast straight into the cane that lines the small canal. I paddle to the bank, hike for ten minutes, retrieve the lure, flush a few teal, then explain that yes redfish are aggressive, but not generally know for their flying ability. two hours passed without a bite. Several times I had to fight the temptation to grab the rod, hook one and let her reel it in.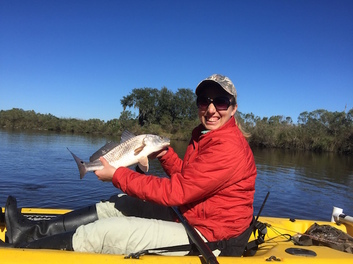 Eventually patience paid off and a few fish were caught. But this was only after very detailed explanations of things that were going wrong. The elation and satisfaction on their faces made it all worthwhile. Taking the time to teach somebody to fish isn't purely altruistic; both teacher and student will benefit, and if you happen to be the one doing the teaching, the experience will reward you in more than one way. Yes, there is the satisfaction of seeing somebody grasp a concept, catch their first fish, and build memories that will last a life time, but the bonus is you will hone your own craft in ways that wouldn't be possible otherwise. Offer to teach somebody to fish, be it a kid, friend, relative, whoever. The less they know, the better!