"Bass fishing in Louisiana." that phrase, when uttered in the presence of any angler in the country, is sure to conjure a few images. Cypress laden swamps maybe, shallow stained water, thick mats composed of a diverse array of aquatic vegetation, small alligators chasing top water frogs, the list could go on and on. I've noticed that anglers from south Louisiana are often pigeonholed as shallow water power fisherman, this stereotype exist for good reason of course; It's what we do. The vast majority of our fisheries fit quite neatly into the 'shallow water power' category and if you want to do well in Louisiana waters you'd better be good at it! Most professional anglers, and those professionals who I respect the most, when asked what the most valuable skill they posses may be, will answer simply, "versatility." A premium is placed, above all else, on this. It took hearing this for years before I really internalized what that message means. Let me begin by saying that given my druthers, I wouldn't live in any state other than Louisiana. The breath of aquatic resources available to the average Louisiana angler is staggering. We really couldn't ask for more *(well maybe small mouth, but I've been told we have those too if one knows where to look. More on that later) After all, half of our state is water. So, why with all this diversity do we fish the same waters in the same ways week in and week out? convenient maybe? Whatever the reason, if you're guilty of this, you may not be aware of the ample opportunities that exist - very close to home for most - to expand your horizons as an angler. The pursuit, via kayak of spotted bass in the swift current of small rivers and creeks will do exactly that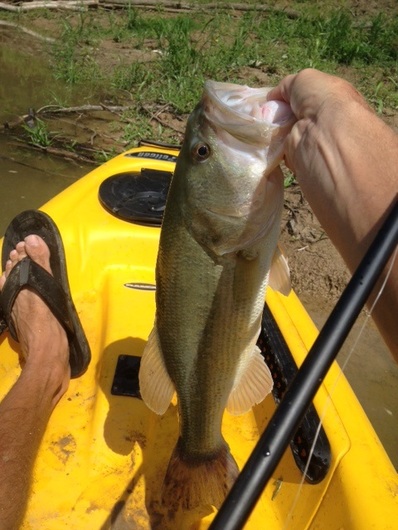 My bass fishing days began at the age of twenty five, time on the banks of the lower Mississippi River; and odd time and place to start for sure. Well past my formative years, I know; however, I did have some basic knowledge of fishing in general, gained from a few trips to the marsh around catfish lake with my dad. We would fish dead shrimp under a cork for redfish and black drum, but those trips became extremely infrequent at around 15 when I got my first girlfriend, first guitar, first Jimi Hendrix album, and had the standard rebellious youth style of thing going on. Now that I mention it would really be nice to travel in time, find my 15 year old self, smack him in the back of his head and tell him to go out and fish, (no disrespect to Jimi or stratocasters intended) but, I digress. At the aforementioned age of 25 I moved back to the town I had lived in since I was seven, St. francisville. Probably more from boredom than anything else, I started to fish again. It began with catfish; I found an old rod that I had setup for the grand isle surf many years ago, and decided I should kill sometime by sitting on the river bank, hoping I would get lucky. A few trips passed without a bite. I do admit that I enjoyed being outdoors again, I had lived in baton Rouge for years and worked in sales; not a life style conducive to an appreciation for nature, really. One morning in June my luck changed. The river began to fall and I caught some beautiful blue cats. Later that same afternoon the catfish had slowed down, but I noticed that a 100yards or so off the bank there was some activity. splashes with a type of popping sound near some flooded reeds ( in ST. Francisville the east side of the river has no levee) I didn't know much, but I did know I wouldn't catch whatever it was with a worm sitting on the bottom. I head back to the house I find an old Abu 5500 collecting dust in my fathers garage. Unbeknownst to him, I take the old combo, head to the local hardware (only tackle shop in town) and buy a rattle trap. Back to the river; the action is still going. I make my first cast. It lands 100 feet to the left of the activity. No luck, next cast; 90 feet to the right of the feeding fish, in a rather large willow tree (a squirrel was very inconvenienced by this) third time was a charm! and by charm I mean it actually landed in the water. I begin a slow retrieve and something grabs it. I set the hook as if I had a vendetta against whatever was on the other end of the line. A few seconds later a little 12 inch bass is flopping on the bank! It was the first bass I had caught in 15 years, also the first ever that wasn't from a pond. I was amazed, I thought they only lived in ponds, or Toledo bend, or wherever it was that Rolland Martin fished. Over the next few hours I caught six or seven little bass all around that same size and had more fun than I had in years, possibly ever; alone, on the bank of the Mississippi river in June.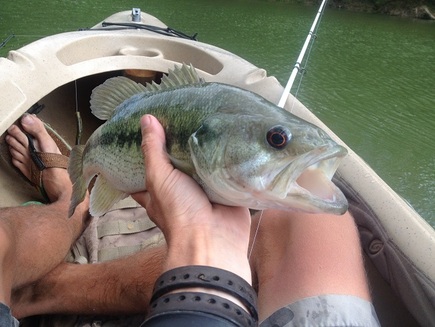 Needless to say I was hooked. I spent the rest of my free time that summer walking the river banks, and eventually the banks of near by bayou Sara searching for bass, buying bass fishing gear, and reading everything I could read related to the subject. I was relentless; combating my ignorance like a prize fighter training for a championship match. When October rolled around I got my first kayak, and had already started fishing a few other places, (lake Concordia, False river, Old river) rapidly learning what bass fishing was all about. The level of the river had fallen about 25 feet from where it was on that day in June, leaving the reeds and all other cover high and dry. All that remained of my spot was a muddy bank, and swiftly moving muddy water. I had not caught a bass from the river or bayou Sara (small tributary about a quarter mile upstream from my spot) in weeks. One Friday morning, out of curiosity more than anything else, I launched the kayak to explore the upper reaches of the bayou that I had yet to see. The further I paddled up the bayou, away from my starting point in the river, the more things changed. The mud banks turned to sand and gravel, the water from dingy brown, to a sort of clear sea foam green, shad flicked on the surface, the current was swift, but manageable. I didn't know if all this meant bass, neither did I care, there was only one way to find out. I round a bend and see a lay down tree, the only one for half a mile or so. (cover in bayou Sara is sparse) a cast to it's outer limbs with a white Booyha spinner bait - a lure that at the time I was convinced would work in every possible situation: weather, water condition, and temperature didn't matter, it would catch any fish within a half mile of it vicinity - yield a hit that is to this day, and will be forever, burned into my mind. I remember it as vividly as the moment it happened. I set the hook and began to enjoy one of the most fun, acrobatic, powerful, fights that I have ever experienced. What could have been 45 seconds, or 3 minutes passed before I subdued a three pound bass. My biggest at the time. When I got her into the yak I noticed she looked different, hands trembling I raised her to get a better look. Her colors were vivid, the mouth was small, she was thick, fat, beautiful. There were a series of spots dotting the white of her pot belly, and her eyes were red. Unfortunately I didn't have a camera, but I released her unharmed then headed home. I'm not sure why I didn't stay and fish, I guess that was as much as I could stand for the day.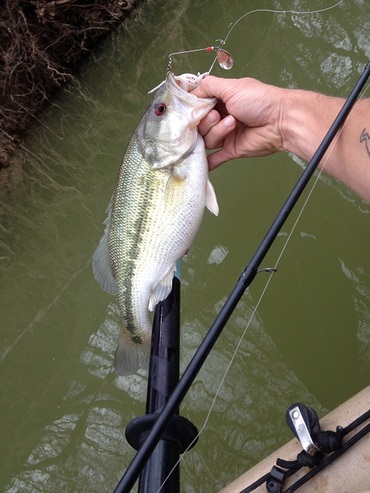 After some Internet research I found that I had caught a spotted bass. The bayou I was in runs for about twenty miles. The vast majority of which are not navigable by boat or even kayak. The river dictates the water for the first few miles, but further up, the levels are determined by rain fall and most of the creek bed has only inches of water flowing though it. The occasional deep hole exist, and I made it my mission to find them, and catch more of those awesome bass. Fast forward five years to the present, I found that a fishery exist in my back yard that is very different from the vast majority of Louisiana's waters. It is clear water (with a week or more of no rain) and the bottom is composed of sand and gravel, too shallow to hold many fish for long stretches, but its deep holes act as shelter to a very small but healthy population of spotted bass of all sizes. Spotted bass play by different rules, I often catch the biggest of them on clear mid summer days throwing top water plugs. They pattern differently than large mouth do, and it is this different approach that will teach anybody who fishes them to broaden horizons, branch out, and fish differently. Had I not found this I could picture myself fishing the same waters that everybody else fishes day in and day out, without the opportunity for a breath of fresh air when it's needed. More than just fresh air, fresh perspective. That is what we learn from as anglers. These small bayous and creeks provide the Louisiana angler a microcosm of waters that exist in other parts of the country. I'm sure the upper reaches of the Amite and bogochitto fish very similar to bayou Sara, as does Thompson's creek in West Feliciana. Hopefully there are lots of small rivers and creeks, unknown to me, that can offer the same insights. The lessons I've learned fishing these small waters are to numerous to go into with just this one article. what I hope to get across is the idea that if one wants to expand and grow, a great way to do so is to get away from the basin and the marsh, as wonderful as they are, and fish different waters. *To this day I have yet to catch another spotted bass that far down stream, and only a handful of three ponders for that matter, that first spotted bass was definantly an anomolie. I have no idea why that fish was there, but I'm thankful that it was. *+ about the small mouth. A buddy of mine swears he caught three of them on a rip rap bank in thompsons creek. I didn't see an pictures, but it isn't impossible I guess. There are lots of things that can swim down or up the mississippi.