We use a lot of gear, but the boat is the basis of what we do, the cornerstone that determines where and how we fish. There are innumerable styles and varieties, but for the sake of brevity I will discuss only two very broad categories; paddle boats such as kayaks, and motorized craft, including bass boats, flat bottoms, etc. I was recently reminded of how limiting it can be to rely exclusively on one or the other can be. Perhaps because I've toiled in restaurants for years, I'm inclined to use food as an analogy – everybody (barring a few celebrities, apparently) loves food, after all. A lot of variables go in to choosing your food: what is the weather like, what is it served with, how broke am I, are there any specials? A regular who only orders the oysters will find himself missing out - what works in October may not be nearly as good in June. Likewise, anglers who are committed to a specific type of boat will limit their options and miss opportunities to fish in different areas and conditions. When all you have is a hammer, all of your problems will start to look like nails; change your tool, and you get a whole new perspective on how to get the job done. Malleability of thought and flexibility of approach are what force growth and invention, both of which the serious fisherman knows are indispensable.

Picture a quiet late spring morning in the south Louisiana marsh - the breeze is light, the thin fog turns the water into a softly smoking sheet of glass; everything is still, everything is silent, and even the most stoic of observers might be inclined to wax poetic about the scene. In a kayak, you can slide almost invisibly across the water's surface, barely breaking the surface tension - you blend in, becoming part of the landscape. The unobtrusive paddler notices everything: a large v shaped wake paralleling the bank, a school of bait pushed near the surface, birds resting patiently on the water in anticipation of an easy meal - all clues that point the observant angler to the best spots. Now imagine that serenity broken by the sound of a 250hp outboard being pushed into wide open throttle, a dissonant note that shatters the scene and scatters the wildlife. If you're going to be fishing twenty miles from the launch anyway, this disruption can be exhilarating, the gunshot that signals the beginning of a race to find the sweet spot and bring home your limit. Anyone who has ever walked down a busy highway that they drive on a daily basis (i.e. anyone like me who treats the low fuel indicator light as a not-very-urgent suggestion) can attest to the fact that it is a totally different experience on foot. You notice pot holes and curves and contours that you have driven past everyday and not remarked at all; even the smells take on a different tenor. A recently deceased opossum that you would pass without a thought in a car becomes much more of an inconvenience when on foot. Likewise, a stiff breeze or big waves you wouldn't bat an eye at in a motorized craft become major impediments when paddling. Kayaking down a familiar waterway allows you to see it in a different light, up close and personal, but as the late marsupial on the roadway demonstrates, nearness to nature is not always the best option.

I was reminded of this fact on a trip to the Delacroix marsh this past July. I ran into my friend and prospective fishing buddy Travis in a local restaurant, and in the course of sharing pictures and swapping stories, I let slip that I had been on a full-on Delacroix binge. Travis told me that he had only recently fished there for the first time, on a guided trip for trout that didn't really go as planned, so the (slightly blurry) images of fat, beautiful, almost blood-red redfish that I had been catching from the gin-clear waters of Lake Leary really caught his attention. When I told him all were caught from a kayak, he laughed, took another sip of his light beer, and said that he hoped I didn't accidentally get any fish slime on my skirt. "I hope you never accidentally taste a real beer," I said, and waved my Abita Amber at him. We had a good laugh and made plans to settle the debate - kayak or bass boat - once and for all. He would bring his 17 foot express, I would bring my yak, and we would do a mothership trip - best of both worlds.

We met at the launch before dawn on the morning of the trip – no easy task, considering we both live a couple of hours away from our destination. Getting everything loaded and launched was a lot easier than we had anticipated; it wasn't pretty, but my 10 foot kayak could fit lengthwise across the back of the express. We both meant business, and after a 15 minute ride reached Travis' first spot, less grassy and a good bit south of the area I had been fishing. Our plan was to use the canal as a road between the ponds and cuts that we wanted to hit, then meet up in an hour or so to report on progress. He was making his first few casts with a buzz bait, but I refused even a warm up cast from the express. Instead, I launched my kayak and loaded a grand total of two rods; one swim bait, and one top water, with only a few extra lures as backups. As I paddled off, I heard a smack behind me, and looked back to see my buddy grinning after setting the hook on a nice little bass. He shouted "One to nothin'!" and the competition was on.

Travis' lucky landing spurred me to action, and started fishing well before I got to the place I wanted to be, a small cut a few hundred yards down the bank that led into a pond. I was working the bomber plug with a slow steady retrieve when out of nowhere something that was definitely not a bass exploded it. I didn't set the hook because the big red had taken the plug at a dead run and didn't stop; drag screaming, I let out a yell to alert Travis, who was out of sight around the bend. The redfish lit out for deeper water, then found the thickest clump of milfoil in the marsh – aaaand the line went slack. Lost him. No, worries, I shook it off and carried on. A few casts later a little marsh bass tried to eat the bomber, but lacked the jaw for it; this struck me as an amusing inversion of the old saying, alligator mouth, humming bird... derriere.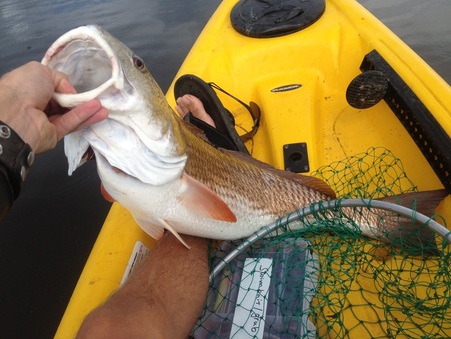 When I finally reached the shallow pond I was headed for, I loved what I saw. The waterlooked a foot deep at most; there were no tails, but lots of wake. I cast first with the swim bait, since I was getting bad vibes from the topwater. A wake appeared behind the lure and I braced, but nothing happened. On the next cast I felt a bump, so I killed the retrieve. THUMP! I slammed the hook home and the fight was on. The red managed to get under the kayak and spin it, taking me for what I've since learned is known as a Cajun sleigh ride. After a long fight, I finally boated my first fish of the day, an awesome 25 inch Delacroix red. I looked around to see if Travis had witnessed my catch, but he was out of sight. I worked the pond for an hour, catching a limit of reds, all between 20 and 25 inches, and all caught on a swim bait with various retrieves.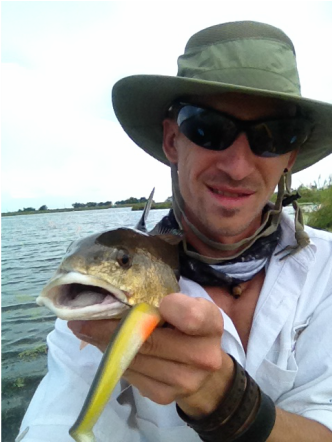 Smugness got the best of me, and I was certain that Travis blanked because of the way he fished his buzzbait - his form was all off! I decided to paddle back and show off the catch. As I approached the spot Travis should have been, I realized there was no express in sight; I had to suppress the suspicion that I had been the victim of a practical joke. An old buddy wouldn't make me paddle all the way back to the launch through an area I had never seen, with no GPS. Would he? Then I thought, "Wait, this buddy is Travis – when we worked together as waiters he had served a man with only one arm a steak. Travis set the knife and fork in front of the customer then asked if he was going to need a hand cutting it." In the face of this uncertainty, I did the only sensible thing and started fishing. After two hours of uninspiring catches, I finally heard the sound of a 90hp Yamaha heading my way. I laughed as he pulled next to the yak and asked if he had decided it would be easier to catch a buzz than a fish. He told me to look in the chest, and my ego deflated when I saw his nice limit of reds, a nice limit of bass, and a bag of dead shrimp. He had cranked up, gone to the marina, bought bait, ran halfway to the gulf, and killed my pride. On the way back, we decided that the paddle vs prop debate was still an open question, and it remains so to this day.



A rut is like a grave with both ends kicked out – you can move along quite nicely, but it's hard to make any progress when you're stuck in a hole. The only way to climb out is to try something different. If you only use motorized craft, a kayak can make familiar waters strange, newly interesting and exciting. It can let you get into those narrow channels that you've tried to fish from an inconvenient position, and can let you get on the water more often without worrying about how you're going to pay for gas. If, on the other hand, you are a dedicated paddler, a few trips in a small flat boat could broaden your horizons and expand your options. Sure, it's fun to laugh while you set the hook watching the power boat guys fly by you, secure in the knowledge that you didn't spend a dime on gas and are bringing home limits in a boat that costs a tenth as much as everything else on the water. Neither platform is superior in all cases; having multiple options allows you to really consider which tool is most appropriate to the conditions at hand.