Finesse techniques don't get very much attention from anglers fishing the stained, shallow, often grass laden waters of south Louisiana. Spinning reels and tiny light lures aren't exactly synonymous with deep south bass fishing; however, like any other tool, there's a time and place where they can be used effectively. A reason that I often hear anglers give for this is that our water just never really gets that cold. Water temps bellow the mid 40's are extremely rare in this part of the state; combine that with the fact that we're often faced with high turbidity in the colder seasons, and what you get it isn't a situation that causes an angler to think that a 4inch hand-poured worm twisted onto a 3/16th ounce shaky head would be the lure that gets the job done. Even if a technique isn't deployed under the textbook conditions for it's use, at the exact place and time the experts say it should work, it can still be extremely effective. I would like to go over a situation I have come across where subtle, diminutive presentations paid big dividends.

There are huge differences between post-front conditions in November and post-front conditions in February or March. The former is often the ticket to the best, most predictable bite of the year. The latter is often associated with no bites, wasted gas, and bruised egos.These beautiful late winter and early spring days are by far my favorite time of year to break out the spinning gear.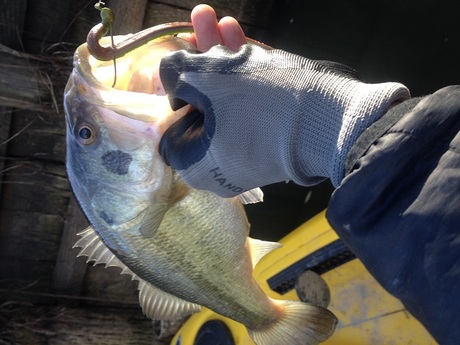 My go-to lure under these conditions is the shaky head and finesse worm combo, and the gear I throw it on is very basic. I prefer the robo worm in a 4inch or 6inch version. For the sake of simplicity, and because they catch fish regularly, I only use a few colors; Aaron's Magic is by far my favorite, with green neon pumpkin coming in a close second. My line will always be Power Pro Braid. It casts easily and is extremely sensitive. I do however use a 15lb flourocarbon leader attached to the braid via a blood knot. I've experimented with several brands of jig heads and found my strike-to-hook-up ratio is always better when using Owners spot remover heads in either a 1/16 ounce or 1/4 ounce weight. The reason I prefer the shaky head and finesse worm combo is that it allows a technique that lets me fish extremely close to where I had been prior to the front. If I had been throwing at shallow cover in a canal and catching fish in depths between 2 and 4 feet prior to the front, the only post-front adjustment that I need is to back twenty or so feet away from the bank. I've found that bass wont make a huge change in depth or location after a front. They just seem to push a little farther out, go a few feet deeper, and become less active. Sometimes the mouth of the canal is the ticket.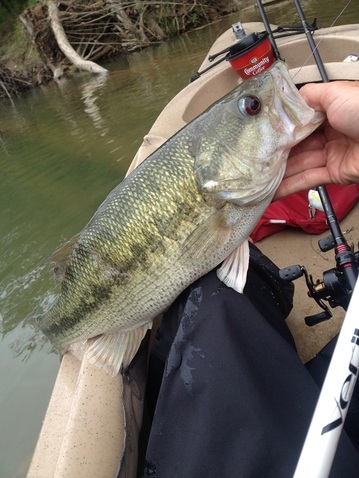 The presentation varies, but I try to keep one thing in mind at all times, and that is the bottom. I've found that most strikes come either when the worm is either motionless on the bottom, or when it is shaken without forward movement. A really cool way to get this no-forward-motion effect is to hold the rod almost vertically, place whichever hand you would usually have on the reel handle halfway between the butt of the rod and the first guide, and tap the rod rapidly. The action is similar to patting a dog on its head extremely quickly, and will make the worm quiver in place.

The only way to improve as an angler is to try new things. If you have yet to experiment with finesse, give it a try. You may feel a bit uncomfortable at first, but when you have a few limits to show for it - especially limits caught when you know you would have blanked otherwise - your confidence will grow and early-season cold fronts will seem less daunting.