With all fishing that goes on in this area that we call "Sportsman's Paradise," there is a group of people that often get overlooked. Kayak fishing is becoming more popular by the passing season, but still there are people that refuse to give credit where it is due. In a state where boats of all shapes and sizes are needed for different reasons, the kayak deserves to be a contender. There are many areas in which a kayak can compete with the more traditional motored boat, and in some areas, it supersedes its bigger brothers in the boat family.


| | |
| --- | --- |
| First, and one of the biggest advantages, is the price. With the economy as it is, people can not look passed the fact that kayaks are a fraction of the price of a motorized boat. You can get kayak anywhere from $200 up to $2,500; the latter would be for the top dogs kayaks. Not to mention,you can save on gas money, both for the boat itself and the haul to get where you are going. Also, kayaks do not need insurance or registration. Most kayak don't need a trailer, so you won't have any extra expenses there, either. | |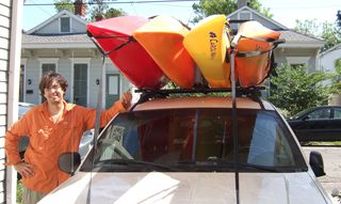 Second, the kayaks you find nowadays can hold a lot of equipment. Not only do you have a vessel to fish out of, but it is a lot more compact. Everything you need is arms length away. Hauling a kayak in most cases means strapping it on top of your vehicle or in the back of the truck. Also, with the compact size, launching is not a problem; you are not restricted to a boat launch. All you need is somewhere that you can park your truck close to water, and you are fishing.

When it comes to the amount of new water and getting to the spots you want to fish, yak fishing has a huge advantage. Fishing out of a kayak gives you a chance to go to many places in which would never be able to fish with a bigger boat. Hidden backwater gems are open to fishing for yakkers. When it comes to sneaking up on bass, nothing gets better than a kayak. You don't have the noise of the motor or the trolling motor to move to a spot. Having more stealth in the water gives you an advantage with fish that are easily spooked. Then when you find that special spot and creep your way up to the fish, the excitement really begins. Hooking into and fighting a fish, while in a small floating vessel that weighs 120 pounds at the max and is near inches from the water, is really something special. That fish, that you would normally just flip into the boat, is more of a challenge to get into a kayak. With the graces of the fishing gods, when you hook into that fighter fish, be prepared for a "Cajun sleigh ride!"

Most importantly, kayak fishing slows everything down. It gives you a chance to really fish a spot thoroughly. Many people forget that when we were young, we would fish from the banks and catch a fish on the fifteenth cast to the same area. It makes you think about how many fish we are passing up. Kayak fishing is not only slow moving but also relaxing. It gives you a chance to really look around and appreciate what the "Sportsman's Paradise" has given us.

So the next time you pass someone kayak fishing, don't think that you have one up on them. Other than the obvious distance and speed that motored boats can cover, kayak fishing can produce the same fish big that can be caught from a boat. Kayak fishing has its advantages, and I am proud to be yakker!