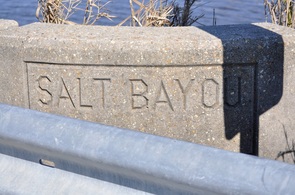 As the temperature drops and the days get shorter many begin to turn their attention away from the water and to the woods. Those that pack away the rods are missing out on fantastic fall fishing. Fall is a great time to fish Salt Bayou. The upper reaches of Salt Bayou from the Pearl River to Hwy 90 offer good bass fishing, but the real adventure begins on the southern end of the bayou where it empties into Lake Pontchartrain.
Fall finds fat speckled trout moving back on the bridges in the lake and one of the most underrated big trout hotspots are the pilings and rocks near the mouths of Salt Bayou and Pirates Harbor canal. These two bayous hold tons of mullet, pogies, and shrimp. As the schools move out of the safety of these bayous they are ambushed by roving schools or trout( white and specks), redfish, croakers, drum, bass and Jack Crevalle. My favorite time to fish the area is on a falling tide. I like to have tidal range of under a foot. When you catch the tide falling, the bait will be pulled out of the marsh and eagerly gobbled up by fish fattening up for the winter.
Tight-lining plastics with the usual baits, Dudley's, Matrix Shad, Gulp, or Saltwater Assasins or fishing top-waters should produce a good box of fish. Dead shrimp on the bottom will work best for white trout and croakers, while live bait such as shrimp, pogies, and mullet free lined or Carolina rigged will produce quality trout, reds, flounders, and the occasional bass.
Salt Bayou is a quick and easy trip for Northshore anglers looking for fabulous fall fishing. Here are a few tips that I've learned from fishing the area the last 30 years.


---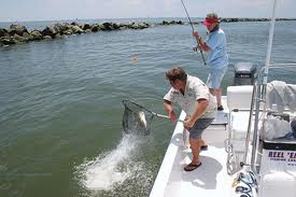 Tips
· Be alert for bait schools-look for shrimp skipping on the top of the water and pogies flipping. Pay careful attention to the shorelines, aggressive fish will chase the bait on shore at times. Don't overlook schools of big mullets. Big trout will hang under the schools. Find the bait and you'll find the fish.


· Fish Fast-I'm not talking about lure retrieve, when the fish are in a frenzy and you are catching one on every cast you need to keep them biting. Usually the bite doesn't last long, you want to reel your fish in and take the hook out as quickly as possible and recast to catch as many as you can, as fast as you can, to take advantage of this bite. Think of it like this, if the bite or run lasts 5 minutes and it takes you one minute to take the fish off, put it in a cooler, and rebait you will get 5 fish out of that 5 minute run. Now if you "fish fast", Reel that fish in, drop it in an open cooler, and rebait as quickly as you can, the minute has now been reduced to 30 seconds that same 5 minute run will result in 10 fish instead of your five. Twice as many fish for working a little faster. Many people don't take advantage of this simple tip. If they are in a frenzy, work them over quickly. Your catch will greatly improve.


· Keep a fish log. I've kept one since 1998. This log is where I record what I caught, where I fished, baits that worked, the condition of the water and the date of the trip. Over time you will notice patterns developing on when and where you catch fish. This information is a good way to help eliminate some bad trips and to concentrate on more productive areas depending on time of year, tidal movement, etc.


· When you don't succeed try and try again. Lots of factors go into making a successful trip. Many are out of our control. Keep fishing and writing down the results in your fish log and eventually "luck" will shine down on you.


· Finally, take what Mother Nature gives you. If the specks are not biting on plastics switch to live bait. If you not getting bites on that, switch to dead bait and try to get white trout or croakers. Be prepared to fish for fresh and saltwater species and have the bait and tackle that you need for each. This is a way to turn a bad trip into a good trip. My first love is big speckled trout, but if they are not cooperating, I'll point the bow of the boat north and catch a limit of marsh bass to break the boredom and then go back and try for the mules later.
-Salt Bayou
---