| | |
| --- | --- |
| Spring is one of my favorite times of year. Tournament season kicks off, the weather is beautiful and the bass are starting to spawn. This is the time of year where big bass start showing up shallow and its the time where you can bring big bags to the scales. A lot of guys who know me personally know that I love crankbait fishing, but to be totally honest I wait all year long to pitch and flip the spawn. I love getting into super shallow back waters in search of those big bellied spawning females. Not only are they shallow but there is a good chance I can get on a good sight fishing bite. There is nothing like catching big fat bass but that feeling is multiplied by 100 when you can actually see everything unfold with your own eyes! It's definitely not for the faint at heart. Here are a few tips and techniques that I like to use when fishing during the spawn. | |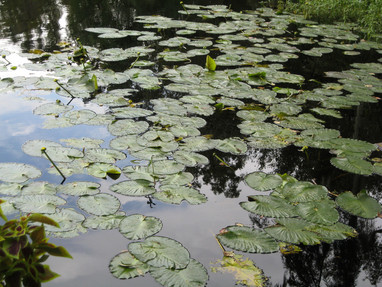 Lilly pad growth in a dead end cut on Bayou Liberty
First and foremost the most important thing i like to look for when fishing the spawn is clean, stable water. The reason I'm looking for this type of environment is because bass are getting ready to lay there eggs and want the best environment to protect there young and help them grow. I usually look for this type of environment in backwaters. Backwater areas usually have clean, warm, and stable water that bass need to spawn. Finding areas like this usually means traveling as far back into pockets, coves, and bayous as possible. One thing I usually like to look for is an areas that is protected from a north wind. An area that has this protection usually has warmer, clearer water during this time of year. Once I find an area like this i'll comb the banks looking for structure that will likely have bass spawning on it. The type of structure I look for are laydowns, cypress trees, boat slips, rock, lilly pad stems, etc. These types of structure all have one thing in common, and thats a hard bottom. Areas with these key elements are prime habitat for spawning bass. Also pay close attention to your electronics, and moon phase. When water temps spike into the high 50's and low 60's around the new and full moons bass usually have spawning on the mind.


---
| | |
| --- | --- |
| Lure choices are fairly simple for this time of year but my deck will still be full of rods. Most of which will consist of flipping and pitching rods with my homemade langiappe jigs and creature baits attached. Most of my creature baits and jigs will be a little bulkier than my normal finesse jigs and creature baits. This is because I want the bedding bass to be threatened by the lure. Not to where it will scare the fish off but to make it respond in a protective way. Spawning bass are very protective when on there beds. A bigger lure will pose a threat to there eggs or bed and they will instinctively react to the lure. I'll also have a rod with a 3/8 oz homemade bon temps rouler' spinnerbait and one with a square billed crankbait. (Yeah I know.. I cant stray too far away from my crankbaits.) Both the spinnerbait and crankbait will be in a chartreuse color pattern. I find that chartreuse will mimic a bream or bluegill very well in slightly stained water. A bluegill poses a big threat to a bass bed and if approached, the bass will react in a defensive way. | |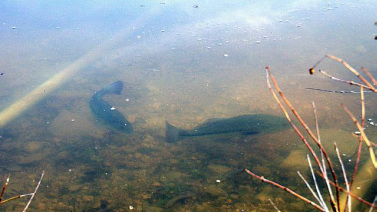 Early in the mornings I'll start off by pitching and flipping my Bon Temps Rouler' spinnerbait at structure along the banks. I'll make multiple pitches to the same structure at different angles making sure I bump my lure off of the structure as much as possible. This will sometimes produce a reaction bite. They will react to the lure to protect there nest even though they aren't hungry at the time. If I start getting short strikes on the spinnerbait I'll switch to the squarebilled crankbait. I will use the same pitching and flipping technique as I did for the spinnerbait. Rather than a bass swipe at the lure and miss it, they will have a face full of treble hooks.


---
| | |
| --- | --- |
| Once the sun comes up I'll start to break out the flipping and pitching rods. Bass will hold tight to cover near the nest. I'll make multiple pitches to the same structure at different angles along the banks as I was with the spinnerbait and crank. Pay close attention to your line because a lot of your bites will occur on the inital fall. If you catch a bass off the structure pitch right back to the same structure as soon as you can. Odds are you'll catch the agressive male first. Once you get him out of the way the female will get agressive and sometimes will bite instantly. | |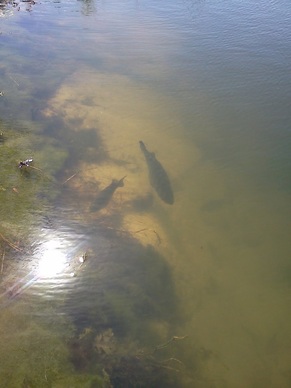 Sight fishing is an exciting way to fish for spawning bass. I started sight fishing for bass in on Okhissa Lake back in the spring of 2008 and I have been hooked ever since. I'll work my way around the area looking for structure to fish and I'll also be looking for my sight fishing opportunity. With the clearer water in these areas its very possible to be able to see the bass on beds. This will open up a whole new game plan as far as approach and technique goes. When sight fishing a bedding bass keep in mind that if you can see the bass, they can see you. Being as stealth as possible is a big key to sight fishing. That sometimes means keeping a low profile by kneeling, squatting down, or keeping the sun to your back when approaching a fish. When sight fishing a spawning bass I cant stress enough how important it is to have a good pair of polarized sun glasses. The polarized lenses will knock down the glare off the water allowing you to see the fishes movement and behavior. I'll make multiple pitches and flips to the bed. The first few pitches will be quick ones in different areas of the bed. The whole time I'm doing this I'll be watching the movement and reaction of the bass. If the bass turns its nose to the bait while its in the bed I'll make another pitch in a different area of the bed until i see the bass want to react to the bait. By doing this it helps me find the sweet spot in the bed. The sweet spot of the bed is usually where they intend on dropping there eggs. This spot might only be the size of a 50 cent piece and the bass get very aggressive when an intruder is in this area. Once i find that spot I'll soak my lure in that spot sometimes shanking the line. I don't want the lure to move so just barely shaking the line with slack in it is key to make the lure flutter while staying stationary. This will drive bass crazy and in most cases they cant help but to react to the bait.

Thanks for taking the time to read this article. These tips may help you catch a few more fish during the spawn or if you encounter a sight fishing opportunity. Be safe on the water and good luck fishing!




---