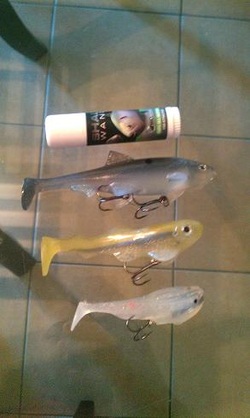 Bass can be very active during the summer / fall transition. During this time shad leave the deep open water and head to shallow water to start there spawning ritual. You'll notice big schools of shad bunched up heavily at intersections, in the backs of coves, and creeks. Bass are usually present during these times to take advantage of the easy meals to fatten up before winter. Bass can get conditioned to shad this time of year. It seems like that's all they want to eat at times. It can leave anglers confused, frustrated, and scratching there heads wondering what they are doing wrong. I have seen first hand when bass are blowing up on shad just a short cast away and I throw everything but the kitchen sink at them without so much as a nibble. Swimbait fishing can sometimes remedy this headache.

Swimbait fishing is a technique that an angler can use when bass are after shad and other bait fish. During this transition bass are very active feeding heavily on shad. Swimbaits can be a key to loading up on fat, shad filled bass. With all of the swimbaits on the market today its really easy to find one that your comfortable fishing. Swimbaits allow you to match what ever fish forage bass are after. If its shad, minnows, bream, trout and even baby bass they will have a swimbait for that application. Swimbaits are a great way to mimic forage down to the smallest detail. Bass get conditioned to what shad and other forage look like and sometimes will turn there nose to hardbaits presented by anglers. Swimbaits will allow you to get those weary bass to bite and can ignite the whole school into a feeding frenzy. Here are some tips on choosing gear and swimbaits for fishing these lures during the summer / fall transition.

Swimbaits today come in all shapes, sizes and styles. They come with built in weight systems. They have some that slide up the line when a bass is hooked to prevent the lure from being damaged. They make some where you can use weighted hooks and jig heads to fish weedless or in open water. They can be fished deep, shallow, out in open water, or in and around cover. They can be fished on spinning and casting gear. Lure companies make it fairly easy to choose the right color, size and type of swimbait you need for your area. Most importantly lure companies make it easier to match the hatch. This is a key roll in picking out the right kind of swimbait for your fishing needs.

Choosing the right colors that suit the area your fishing is pretty basic. First thing I'll figure out is what kind of forage I'll be trying to mimic in the area. A majority of the time i will be fishing a lure in a shad pattern. Although bass will eat just about anything they can from shad, bream, crawfish, minnows and even baby bass. I like to keep it simple with a shad pattern most of the time, especially during the shad spawn. Swimbaits usually excel in clearer water but i have had luck in stained to slightly murky water also. If the water is clear I'll go with a translucent lure or lifelike shad patterns. If the water is stained I'll go with a lure that has some color to it like chartreuse, or baits with a yellow, red and black hues. These colors will stick out in stained and murky waters.



---

Size and style of the swimbait needed for your area will be determined on the time of year and cover you'll be fishing. I find shad to be relatively bigger during this time of year because these are adult shad moving in to spawn. The type of swimbait i like to use is the 4'' baby line through by Optimum bait co. This swimbait has a bigger profile, a very good lifelike appearance and has a slow wobble when retrieved. It also allows the lure to slide up the line away from the hook to prevent damage or having the hook thrown when fighting a fish. Also don't forget to use scent when fishing these swimbaits. I like using Bio-edge wands in the shad or blue back herring scents. They are semi-solid sticks that you apply to your lure to give a lasting scent trail. The scent will attract bass from long distances and entice them into biting your lure.It helps add a realistic smell to a lifelike lure. Its as close to using live bait without actually using it.

Selecting a good rod and reel for your swimbaits will make a big difference when throwing these heavy lures in a days fishing. I personally like using a good baitcast set up for this application. The type of rod I use is a 7'4'' original carrot stick med. action cranking rod with a 6.3:1 ratio baitcast reel spooled with 15 lbs trilene 100% florocarbon line. The longer rod allows me to make longer casts using less effort with these heavier baits and the cranking style allows for a little extra bend in the tip to allow the fish to inhale the lure without pulling it out of its mouth. It also has a very good backbone for power. The 15 lbs florocarbon allows me to get the lure down to my desired depth and wont allow the bait to rise to the surface keeping it in the strike zone longer. The 6.3 : 1 ratio reel allows me to slow roll these baits keeping it in the strike zone longer and also allows me to pick up slack fast enough when I'm ready to set the hook on a fish.

One key to remember when fishing these type of lures is to slow down. Bass are opportunist feeders and will jump on the chance at a big easy meal. I like to make a long lobbing cast to the area I'm fishing. This type of cast is an easy way to get these heavy lures out to my target area without using much power. Once my lure hits the water do not engage the reel and start the countdown to the desired depth. When the lure reaches the depth I choose i'll engage the reel and slowly turn the reel handle keeping a slight bow in the line. Keep in mind that if the retrieve is too fast the lure will want to swim up to the surface and this will kill its action. Slow rolling this lure through schooling shad and bass will drive them crazy. Once I feel the big thump when a bass hits my lure I wont set the hook too fast because doing so will pull the lure away from the bass. I'll let the rod load up and make a slow sweeping hook set and hang on. You can catch some of the biggest bass in the school using these swimbait techniques.

Remember during the summer / fall fishing period its very important to match the hatch as much as possible. Use these tips when swimbait fishing. It can mean the difference between adding a few more solid fish to your livewell and just watching bass blow up on top. Hope this helps you on your next trip. Be safe and good luck fishing. -Ronald Pierre