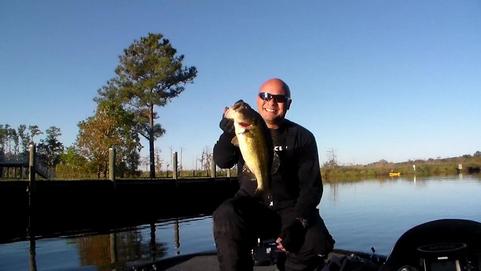 Winter time is a great time to be out on the water in the northshore area fishing for bass. Most of the time you'll have your honey hole all to yourself and it will be loaded with hungry bass. A lot of anglers usually trade in there rods and reels for shot guns and rifles, and some use this down time to maintain there fishing boat and gear for next tournament season. I'm not one of those guys that can pass up a good fishing trip especially when I know I can catch quanity and quality bass. Although I do make the occasional family ducking hunting trips around thanksgiving and maybe one or two deer hunting trips, but the whole time I'm thinking about chasing those bucket mouths. The beauty of fishing bass during this time of year is that bass get bunched up in big schools and are very easy to find. However they can be very lethargic and can be hard to get them to bite. Here are a few tips on what I look for and baits that I use during this time of year.

First and foremost and probably the most important tools you can have is clothing. Dressing for fridgid cold weather can be a pain. Wearing big bulky clothes can be uncomfortable and you can lose maneuverability. I like to dress in small thin layers of clothing when I can. Each layer holds in heat and these thin layers will keep you mobile. I also like wearing black clothes and gloves for the simple fact that black attracts a lot of heat and will allow you to get away with fewer layers and that mean less bulk too. Also be sure to pack and extra set of clothes just in case you get wet or need another layer. This has saved the day in more ways than one for me.

Winter time bass can be a lot of fun when your able to find them. One thing you'll notice during this time of year is that mother nature has pulled a lot of water out of the normal places you usually fish. Low tide ranges increase and most structure has been high and dry for a few days. Bass will still hold in the same general areas but will pull off the banks into the nearest ditch or steep drop. The areas I like to look for this time of year have steep drops near shallower water with some sort of structure out near the channel or closest drop. Here in the shallow rivers and bayous on the Northshore I like to fish man made canals near homes and subdivisions. Most natural bayous and river areas have slow tapering banks without much deep water. Places where homes and subdivisions were built usually have been dredged out to build up the water front property. They will usually have steep drops where they dredged. Bass have easy access to deep water when it gets cold and shallower water when weather warms back up. Areas like this act as major wintering spots for bass. These areas can hold a big concentrations of fish throughout the winter. They provide a lot of food, warmer water, and most of all deeper stable water that protects bass from the high barometric pressure associated with winter time cold fronts. Bass in these areas will sit all winter long and feed up before the spawn. This is the time of year where bass will be fat from the fall feeding and it can be a time where you can catch big bass maybe even your personal best.
---
LURES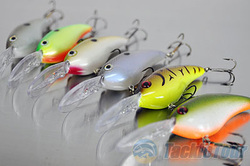 My lure and gear choices are pretty simple. I'll use deep diving cranks (strike king series 3, 3xd & 5xd), lipless cranks (strike king red eye shad 1/2 oz or 3/4 oz), a finesse football jig (homemade black and blue or in the cajun craw color) and a jigging spoon (gold or silver hopkins shorty hammered spoons 1/2 oz.) I'll usually start with the reaction type lures first. They will get lethargic bass to react to a lure when they wont bite anything else.
---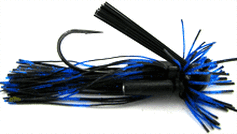 I'll use the finesse jig and spoon as a clean up bait after i have caught most of the active fishin in the school. Try to get away with the smallest line diameter possible this time of year. These bass are very weary and will turn there nose at anything that spooks them. I'll also use very limber glass rods when cranking for bass. This will allow the bass to take the lure and wont allow you to pull the bait from them on the ensuing strike. These type of rods will also allow you to fight the bass without pulling the trebles out of there mouths.

---




When fishing jigs and spoons pay close attention to your line because during this time of year bass will just barely take the lure and bites are very hard to detect. Vary your retrieves from slow to fast as the sun gets high. Bass will be slow early on in the mornings and will get somewhat active as the sun warms up the water. Look for surface activity early in the morning and baitfish flickering before the sun gets high. As the sun comes up high rely on electronics to find baitfish and bass as both bass and baitfish will relate to bottom cover. This time of year can be like shooting fish in a barrel. They havent seen many baits lately because not many people want to be out on the water during the wet fridgid cold winter. Try these tips out on your next fishing trip. They may help you put a few extra fish in the boat. Be safe and good luck fishing. -Ronald Pierre




---