| | |
| --- | --- |
| Lately more and more discussion has formed when talking about the problems that ethanol in our fuel presents. In this article I have pieced together some of my own personal knowledge and what I have taken from some mechanics along the way to help avoid some of the pitfalls that ethanol has brought about. Hopefully it will help some of you in inspecting and maintaining your fuel system. While talking to a friend that has an outboard repair shop, he told me that ethanol fuel along with improperly maintained fuel systems are one of the most frequent repairs. | |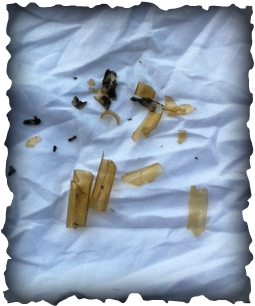 Ethanol -(200 proof - ethyl alcohol) Gas containing ethanol has caused many of us a headache and expensive repair bills. In older motors the ethanol broke down the inner linings of fuel lines and other components in the fuel system ruining carburetors and other parts of the fuel system. Today's newer motors and fuel systems have been modified and are ethanol safe. Ethanol is hygroscopic (it has an attraction for water) and will more readily mix with water than with gasoline. It has different solvency behaviors than does gasoline, which allows it to loosen rust and debris that might lay undisturbed in fuel systems. And it can more readily remove plasticizers and resins from certain plastic materials that might not be affected by gasoline alone. Loose debris will plug filters and can interfere with engine operation. Additionally, ethanol is corrosive to some metals, especially in combination with water. Although gasoline does not conduct electricity well, ethanol has an appreciable capability to conduct electricity and therefore can promote galvanic corrosion.

---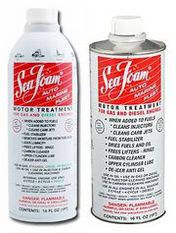 A good product you can use to maintain and care for your outboard motor is a product called Sea Foam Motor Treatment. Sea Foam is an additive specifically designed for marine use. Sea Foam does a number of things including:

1. Lubricates cylinder heads and other components of your fuel system.
2. Dries and neutralizes any moisture in the fuel system.
3. Cleans gum & varnish fuel residues from fuel system components.
4. Cleans carbon deposits from combustion chamber.
5. Stabilizes the fuel when motor is not used for extended periods.

---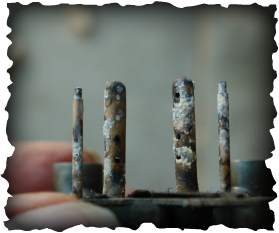 When you come off the water, disconnect the fuel line on your motor, while it is still running, after your boat is on the trailer. This runs all of the fuel out of the motor. If you leave fuel in the motor, it can gum up the carburetor. This could be an unnecessary and expensive repair to clean the carburetor. It only takes a minute to run out the gasoline.
When preparing to store a boat for extended periods of two months or more, it is best to completely remove all fuel from the tank. If it is difficult or not possible to remove the fuel, maintaining a full tank of fuel with a fuel stabilizer added to provide fuel stability and corrosion protection is recommended. It is best to add the stabilizer and fuel treatment to the tank at the recommended dosage, run the engine for 10 minutes to allow the system to be cleaned, shut off the fuel valve to interrupt the fuel supply and allow the engine to run until it stops, and top off the tank until it's full to reduce the amount of exchange with the air that might bring in condensation. Do not cap the tank vent and do not fill with fuel to the point of overflowing. Some extra space should be maintained in the tank to allow for expansion and contraction of the fuel with temperature changes. A partially full tank is not recommended because the void space above the fuel allows air movement that can bring in water through condensation as the air temperature moves up and down. This condensation could potentially become a problem.

---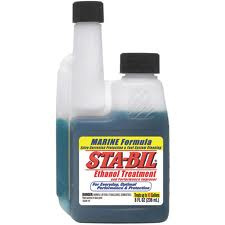 To properly maintain and care for your outboard motor, even though it is ethanol safe, is to use a product called Sta-Bil Ethanol treatment. Just a few ounces of Sta-Bil Ethanol treatment added to your gas will neutralize the ethanol. I personally do not use ethanol gas, I am fortunate enough to have several stations in my area that have pure gas. It cost more but it's worth the extra expense. For those running regular gas without ethanol, it's a little easier to store. I can remember growing up my Dad never did more than running the gas out with the fuel line disconnected. It is advised to use fuel stabilizer if it will be sitting for two months or more. Make periodic inspections of your fuel system starting with the hose and pump bulb. Check for abnormal softness or hardening. Look at the filter, most are see through. Check the fuel lines on the motor that run from the fuel line connector to the fuel pump and to the carburetor. Also look in your fuel tank if possible, you would be surprised at how much trash or water will build up over time. Just a little time and preventive maintenance can save a lot of frustration when you get in the middle of no where.
---