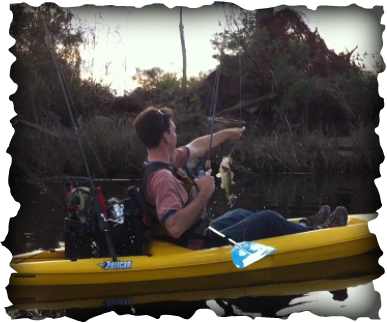 When you think bass fishing on the Northshore what first comes to mind?Tchefuncte River? Bayou Lacombe? Bayou Bonfouca? Yes these are all very productive bass fishing tributaries but I would like to shed some light
on a little bayou that I have really come to love in the last few years. Stretching just over a mile from launch to lake, Bayou Cane in Mandeville presents bass fisherman with some very unique options when it comes to angling. I recently made a fishing trip down to Bayou Cane with John Farley. John works at Bayou Adventure in Lacombe and if I were to learn about this "baby bayou" I knew he would be the guy to go to. While fishing I asked John some questions.



---
How long have you been fishing Bayou Cane? I first fished it about 10 years ago but that was when I was new to fishing. I really started going there when I got out of the Army in 2008. I was the perfect place to not just fish but to also relax.

What makes Bayou Cane different from all the other bayou's on the Northshore? It is exactly the same as the other bayous except for its size. All the same principals apply but everything is so much closer together and scaled down.

Is there a certain time of year that you prefer to fish Bayou Cane? I like Fall fishing. Just like most places on the Northshore the weather change gets the fish feeding and a north west wind gives you a falling tide. When that happens all you need to do is go catch them.

What's you favorite lure to use here? Lately I have been using Baby Brush Hogs in some kind of watermelon color. When the fish are deeper I like the KVD 1.5 crank bait, it runs at just the perfect depth for running up and down the bank. But I like to play around with lures and I change it up when I find something the fish like.

Do you prefer to fish Bayou Cane from a Kayak? Yes. It is a small water way but when you are in a Kayak it feels much bigger. Even the fish feel bigger on the line when your in a Kayak.

Tell us a little about the best trip you have ever had on Bayou Cane? To me the best trip is the one I can not explain. I set out in the afternoon to try and pick up a few gar fish. I was fishing with Beetle Spins trying to catch perch to use as cut bait. Wound up only catching about four perch but I did get two Bass over 2lbs and one over 3lbs. Somehow I put together a three fish stringer that was over 7lbs using nothing but Beetle Spins.

Have you had much success with speckled trout in Bayou Cane? I have heard stories of the trout stacking up in Bayou Cane and on occasion I have picked up one or two in there. You can only guess where the trout will be when it comes to the shore line of Lake Pontchartrain. Every year seems a little different.






Below is a video that we shot on Bayou Cane. Special thanks to Bayou Adventure Bait Shop in Lacombe for supplying the kayaks.