I can't think of a better way to spend a summer day than catching plenty of great fighting and tasty fish close to home. Now is the time for a fun relaxing trip to a local waterway. Bream fishing is excellent now and a great way to get the young and old outdoors for something that the whole family will enjoy.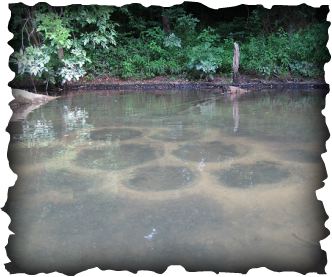 Bream fishing peaks in the summer months of June, July, and August. Many bream are spawning at this time. Wise anglers scan the shallows for the pie plate shaped depressions that signal you are in a bedding area. Once you've located a likely area, you can mop up on these tasty fish. I like to find the beds and start fishing them by starting on the outer edges and working my way towards the shallows. Most of the time the deeper bedding areas will hold the larger bream. If you take the outside in approach to fishing the beds you will be less likely to disturb the area and this will result in you catching more fish off of each bed. Fishing beds is one technique that I use to catch summer time bream, but not the only one. Another summer technique is to key on structure. Bream love to hang around structure out of the main current. These fish are prey to nearly every fish in our area. They love to hang out near logs, stumps, cypress knees and grass mats for the protection from predators that they offer. They also tend to shy away from strong currents. The oval flattened bodies that they possess are better suited to slower currents than their streamlined cousins, the bass. In areas with current, look for them behind any structure or feature that will slow or stop the current such as a log or stump.

Leave the expensive gear at home when fishing for bream. My choice for this type of fishing is a cane pole or an ultra light spinning outfit. If I'm fishing an area with a lot of overhanging branches and trees, I'll use the spinning combo to skip my bait under the obstacles. Otherwise, I'll use the cane pole to drop my bait in the strike zone. My hooks of choice are # 8 or # 10 long shank cricket hooks. The size of the hook is dependent on what I'm catching or how many strikes I'm missing. If I get a lot of bites, but few hook ups I'll switch to a smaller hook. The hook is placed under a small cigar shaped cork with a small split shot weight above the hook. I like to fish with the smallest cork and weight possible so the fish don't feel much resistance when they pull it under. Most days I have the bait 18-24 inches under a cork and adjust the depth up or down as needed throughout the day.



---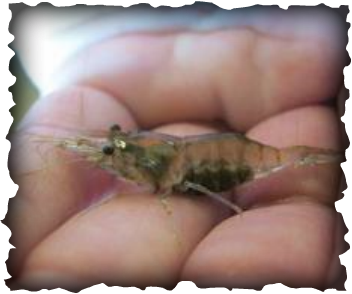 Wow! Bait choices are numerous for catching bream. My personal favorites are grass shrimp, crickets, and worms. Other choices are small crawfish, hot dogs, grasshoppers, bread, catalpa worms, market shrimp pieces, corn, wasp larvae, marshmallows, meal worms and raisins. I've had success on each of these baits. When I fish brackish water, such as the Rice Fields, Cane Bayou or Bayou Lacombe, I'll start off using grass shrimp. If I'm in a freshwater area such as the upper Pearl, Tangipahoa or Tchefuncte rivers I'll start with the crickets.





Here is a list of my favorite areas to fish bream on the Northshore


---
| | |
| --- | --- |
| 1. Middle Bayou- This bayou is between North Pass and the Tangipahoa River. This area gets my nod because of the abundance of thick goggle eye that inhabit the waters. Look for the brutes in and around the numerous stumps that line the shore. This is a good area for catfish and bass too. | |
| | |
| --- | --- |
| 2. The "no name" bayou off of the Tangipahoa River. This hotspot is located on the same side of the river as Black Bayou and can be found just past it heading towards the Lake. It is marked with a few old pilings at its entrance. Lots of bull bream with the occasional bass and catfish back there. This narrow bayou goes a ways into the swamp. | |
| | |
| --- | --- |
| 3. Tchefuncte River North of I-12-The stretch of river from Horseshoe Bayou to the wooden pilings that mark the old bridge upriver. Lots of bream beds in this area. This is a great area for a mixed bag. Lots of bream, bass, and catfish up that way. I've caught striped bass up to 15 pounds and bass up to 5 pounds. My father caught a 40 pound catfish on a trotline here. | |
| | |
| --- | --- |
| 4. Black Bayou on the Tangipahoa River - It gets a lot of fishing pressure because it has a lot of fish in it. This is a terrific area for fly fishing or traditional hook and line fishing. Very scenic area that is easily accessible. Good fishing can be had for sac au lait, bass and catfish also. | |


Bream Tips

1. Light line 6-8 pound test will get you a few more bites. However, when I'm fishing with kids or novices I go to a heavier line to reduce lost tackle. The newbie's will always hang up on branches, the heavier line allows me to pull free of the snag or the line strength to straighten the hook that I can easily bend back into shape.

2. Use long shanked hooks-The long shank makes it easier to get the fish unhooked.

3. Bream will bed in the same areas year after year. When you find a bed mark it on your GPS.

4. Grass shrimp can be caught with dip nets or minnow traps in brackish areas with thick stands of submerged aquatic grass.

5. If you have extra crickets at the end of your trip freeze them! I live 2 minutes from the river, but 20-25 minutes from a bait shop. It will take me close to an hour to get bait so I buy a few hundred crickets at a time and place the extras in the freezer for trips later on. They will get a little mushy but otherwise work well.

6. After cleaning your catch save the heads to use as cut bait on jug lines. The summer is a great time to set jug lines for catfish. They have spawned and are feeding aggressively.