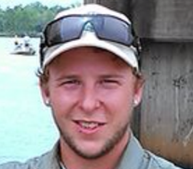 Spring is here and the spawn is in full effect by now, with bass in all three stages of the spawn. Those stages being pre-spawn, spawn, and post-spawn. This is going to be some of the most heart pounding action you'll find all year, so if you haven't dusted off the rods yet, the time is now! The Pearl River hosts millions of places for bass to spawn, but there are certain things to look for in order to help aid you in being successful. First off, a good spawning area consists of a few different things, no current, shallow, sandy or hard bottom. Bass do not like to spawn in areas with a mushy or muddy bottom, so don't waste your times in these areas.Same goes for the current, because the fish want to be in calm water where they can relax and lay their eggs. So basically anything you'll be fishing on the Pearl during the spawn is not going to be on the main rivers, but bayous and dead ends off the main rivers are exactly what you want. The water color does not really matter this time of the year either. Whether it is clear or stained the bass will still spawn as long as the prior criteria mentioned is present in a given area. That being
said though, the more dirty the water is, the shallower the bass will spawn. In more clear water, the bass will still be pretty shallow but will bed down a little deeper due to nearby predators and their lack of camouflage. Clear water spawning areas can be an advantage to anglers as well because you can physically see the beds and the bass sitting on them. This allows you to see how aggressive they are and if the particular fish you are looking at is worth the time spent trying to catch it. That applies mainly in a tournament situation where time is of the essence, but can be good for scouting as well. When fishing for spawning fish that you can see, throw baits in bright colors that are easily visible to you. This will help you see your bait disappear when a bass inhales it. A good quality pair of polarized sunglasses like Oakley or a whichever brand you prefer are absolutely mandatory when sight fishing! But, just because you can see a big bass on a bed, does not mean that it is going to be easy to catch. If you can see them, they can see you too! Many anglers I've talked to swear by wearing a green or blue shirt to match either the water or sky conditions.

---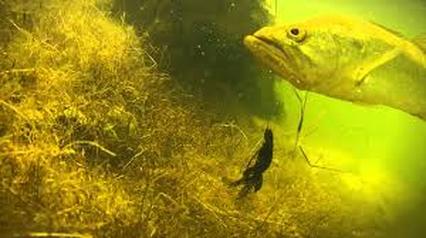 However, once you've located a bedding fish, now you need to present the bait. I will usually always start out with a Texas rigged creature bait that is white in color so I can see it. Flip the bait to the bed letting it enter the water as soft and quietly as you can, a big splash is un-natural and can scare a big fish away very easily. You are going to have to flip to it more than a few times, but as you do this, you will start to aggravate that fish and hopefully get it to bite. A great sign to look for is when you are shaking your bait on the nest and the fish
goes nose down looking at it. This is the sign of a more aggressive fish and will most likely bite fairly quickly. If you cast onto a bed and the fish leaves without coming right back, it's probably best to keep on searching for another bed because that fish hasn't committed to the bed yet and if pressured will just leave and find another bed elsewhere. A bed is usually a circular cleared out spot on the bank that ranges from around 10 inches to 2 ft in diameter. The part that holds the eggs only takes up a small portion of the nest that is equivalent to the size of a dime. This small spot where the eggs are located is your best bet at getting that fish angry enough to bite your lure, as they think this creature is after their eggs. You can throw all over a bed and pretty much have the bass completely ignore your bait, until you cast is or drag it into that tiny little strike zone where they feel a threat is present. Some other signs to look for to help you find spawning fish are the water temperature and the moon phase. Over the years I've seen that the fish will move into the spawning areas as early as January, but will not actually start to make beds and really get things going until the water temp gets up to around 63 degrees. Then, the moon phase affects the bass' movements a lot as well as long as the temperatures are on the warmer side as well. Warm water and a full moon in April will send thousands of fish in all different areas to the banks and get on the beds. The smaller male bass will choose a spot, fan out a nice little bed and then wait for a big female to move in and lay the eggs for the male to fertilize.


---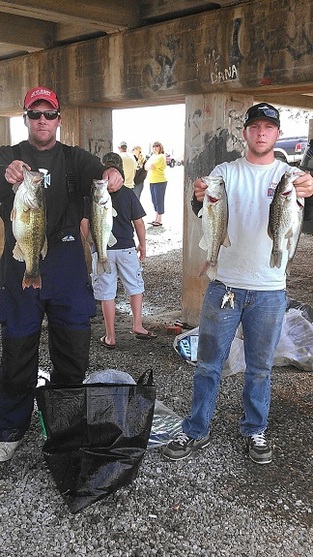 Fishing for spawning fish is some of the most fun I have ever had, because it is not too often when an angler gets to see the fish they are trying to catch, along with their bait and see the bass; reactions and mood up close like that! It pumps me up just talking about it, thinking of all the big ones out there right now! We were fortunate enough down here in south Louisiana to not have any bad storms last year, and that has showed a hugely positive effect on the Pearl River system. Tournament stringers are getting bigger and more consistent than they have been in years! It seems now that if you don't have over 12 pounds in the boat, you are not even close to winning or cashing a check. There are many local tournaments going on now that are eager and anxious for new anglers to come out and test their skills along with having some good ole fashioned fun spent on the water together. If interested in any upcoming tournaments here are some names of local open clubs, Liars and Lunkers, Pearl River Team Tournament, Pearl River Singles Circuit, and a brand new tournament run by Marsh and Bayou as well! Good luck and tight lines everybody! See ya'll on the water!
-Morgan Schutte


















---