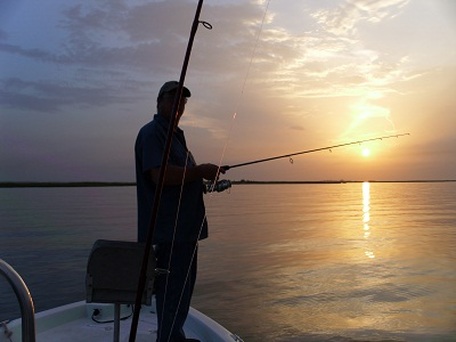 Sunrise on the Biloxi Marsh
Many years ago (1976) the crowds at the Rigolets and Lake Catherine made me start looking for less populated fishing spots to fish. I soon found solitude by crossing Lake Borgne into a far less populated area known as the Biloxi Marsh. I remember my wife and I starting with just a compass, map, and plenty of beer. We explored La Petite Pass or 9 Mile Pass and worked our way to the extreme eastern end of the the Louisiana Marsh. Elephant pass, Holmes Island, Martin Island and just about every patch of grass and shoreline in between. I fished these spots for many years during the spring and summer until the fall weather made crossing a pain (literally). So I put the boat away and got ready for duck hunting.
In 1990 I met a fellow addict that fished the opposite times of the year. He stored his boat all summer and started fishing hard in September through February. I got myself invited on a trip and 50 trout and 10 reds later, I was hooked!



---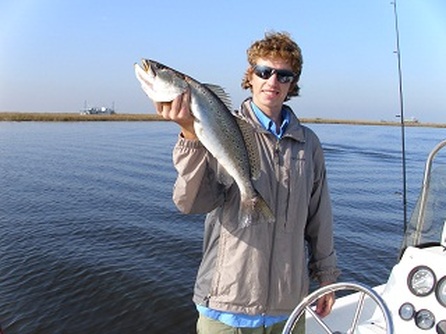 Conner shows of a nice speck caught in a lagoon off the Biloxi Marsh
First off let me say that I am not an expert, I am addicted to fishing! The big secret to having more successful trips than unsuccessful trips is to FISH HARD and FISH OFTEN. Start EARLY! Most of the fish I catch happen in the first two hours, then I spend the next six hours trying to finish the box. The weather conditions are better early and majority of the crowds don't show up until later. I try to be at my first stop before I can see the cork. This proves to be less stressful at the launch. The more spots you know, the greater your chance of finding a nice box of fish. Force yourself to explore! There will come a time when the old reliable spots are already taken or the fish have just moved. Look at Google or one of the satellite maps for areas resembling the spots you catch and try them. This is sometimes risky due to low water. I have spent a few hours in the water getting out of the mud. You just have to decide how bad you want to find new spots. I have a friend that would ask if we would have any shallow water adventures today? I told him the fish will decide. My thinking here is if we can catch 1 trout each then 25 spots should equal our limit. This has made my day more times than not. My last trip out it took 11 spots to bring home 21 specks.
---
What to look for

Whether the trip is started from the Hopedale end (St. Milo, Magnolia, Bakers, Stump Lagoon) or Lake Borgne end (Magill Bayou and lagoon, turns, drains and ponds in and off of Bayou Biloxi) the rules are the same. As soon as you get in the marsh look for what the tide movement, level, and direction. Most of the time the wind and tide predictions are not very reliable. At the stump end look for water level to decide where you should cross to Mack's Pass.During a real low tide follow the left shore till you get straight across from Mack's Pass then cross over. Look for where the tide is moving around points, thru passes, and across bays and lagoons. Light wind will reveal tide lines. Faster water moving through slow water in bays and lagoons sometimes may be accompanied by a light slick. Fish seem to hang to one side or the other on these spots. A cork with a long string and anchor is a handy tool when you are out in the middle of a bay or lagoon where you don't have a reference if the wind hides the tide line. Just kick it over when you hit a few fish. Try to stay away from crowds like the pass in Mussel Bay. There may be 50 boats, 20 feet apart, all catching a few fish. Look for a similar area with less competition like down towards Crooked Bayou. There is a very good chance that fish are there and you won't have to share. Below are some coordinates to some of the spots I have mentioned.



Muscle Bay= 29,54'09N, 89,30'10W Bayou St. Milo @ Bayou Loutre=29,50-19N, 89,32'50W
Crooked Bayou= 29,54'12N, 89,23'34W Magnolia Lagoon= 29,52'04N, 89,33-04
Cutoff Lagoon, = 29,55'46N, 89,31'56W Bayou Biloxi @ Lake Borgne= 29,59'48N, 89,33'27W
Bayou Magill= 30,00'05N, 89,32'55W Bakers Canal= 29,50'13N, 89,32'50W
Stump Lagoon= 29,53'06N, 89,29'5 Mack's Pass= 29,53'34N, 89,29'53W









Technique

I would much rather fish tight line in the deeper canals than popping cork fishing in 3-4 feet of water. But, this is hard to do now with all the boat traffic in the deeper water. When I fish during the week I will always give it a try. I may have to run around looking for a secluded spot. Don't fish in a crowd! If I see another crew catching I never try to move in on a bite. I put that in the memory bank and there's a good chance they will be there next time. The rule to the fish staying deep when the water temp drops, (8-12 feet), is not carved in stone as I see it. I have caught fish in 3-4 ft of water next to deep water in low 40 degree water temps. I fish the same places that I fish in warmer water but just slower, less popping and more dragging. Try letting the cork and bait just drift, I have trouble paying attention to my cork because I am always looking for bait and or fish movement. Lots of times that will be the technique of the spot. Try casting and retrieving slowly. Don't get in the rut of sticking to a set pattern. Try different attacks such as holding the boat casting distance off the shore and throw at the shore for reds and out into the bay or lagoon for trout. I hardly ever stop moving, the only time I stick the spear is if the wind is relentless and I can't stay on a bite.


Conditions

The conditions in the winter months in the Biloxi Marsh are hardly ever good. Low water, wind, and hard falling tides keep some areas dirty most of the time. Try to get off the main paths and find wider paths where the water is moving slower. Look for funnel type locations to speed up the water movement.



Bait

Plastics are all you need! Save the money you spend on live bait. I try to bring dead shrimp as a crutch but when the hard heads and gafftops are still plentiful it doesn't get used. If the bite is slow try tipping the hook with a 1/3 of a shrimp. In the long run I have caught more fish without it but it just makes me feel like I am trying everything on a slow day. All brands and colors work at some time. I have settled with 1 or 2 that I use all the time. H&H 3" chartreuse cocahoe tail on a 3/8 jig head under a popping cork is my favorite. It's durable and the fish seem to consistently hit it over others I have tried. 2" chartreuse beetle is next. I have 3 poles set at different depths (18" to 30") and try them all at different depths. The Wife likes the DOA shrimp but they get banged up to fast and she eventually switches to my way of thinking. Fishing tight line I like the purple beetle on a round 1/4 or 3/8 oz jighead depending on the tide. Another tried and true bait for bottom fishing is tandem clear sparkle beetles on 1/4 oz jig heads. You want to have the bait on the bottom but still have it roll along with the tide. Outside corners in Deep canals are the best spots.
I hope you can use some of this information that I have shared. The Biloxi Marsh can be a great place to fish and presents new situations that can produce a good quality box of fish. The most important thing to remember is to fish as much as possible. Fishing the same area, (in this case Biloxi Marsh) gives you the chance to learn the location of fish in all conditions. Last but not least, if you are disappointed with less than the limit, the Biloxi marsh will break your heart. Every time I think I have them figured out. BAM! Reality hits! Be happy with 10-15 fish and accept the 5 fish days. The limits will happen when you least expect it! -eastofmrgo