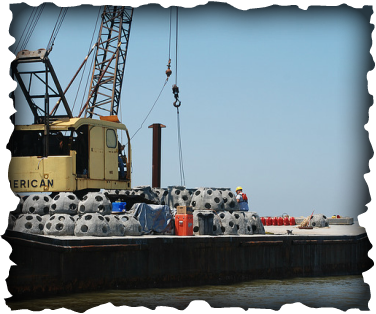 In the Spring of 2009 the Lake Pontchartrain Basin Foundation added a new dimension to saltwater fishing on the Northshore by constructing one of four artificial reefs in Lake Pontchartrain. The object was to provide habitat for marine invertebrate by adding a hard substance on the otherwise soft bottom lake. The "reef balls" as they are referred to are rounded out concrete units with holes similar to swiss cheese. Another artificial reef previously constructed on the Southshore was that of limestone and had minimal success but the thinking here was to provide more shelter for juvenile fish. The units were also designed to disrupt bottom currents similar to the dynamics of a wiffle-ball. In this article I am going to focus on what is now known as Lemo's Reef approximately 2 miles south of Madisonville.

---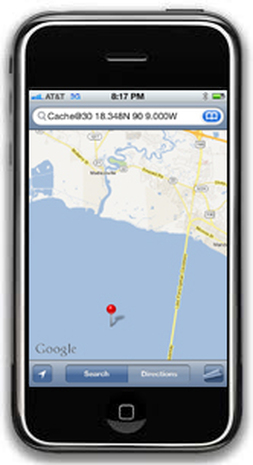 Let's start out with some coordinates for the reef. Lemo's Reef is located at 30 18.348N and 90 9.000W. Upon construction in 2009 the reef was marked with a buoy but that marker is long gone and now it takes a little effort to find it. If you don't have a GPS and want to use your phone remember that punching in ONLY the coordinates will position you on the nearest road which would be the Causeway. Type "Cache@" before the coordinates and your destination will be accurate. If you launch out of Madisonville, it should take you between 10 and 15 minutes to reach on average. Remember to use extra caution when boating in Lake Pontchartrain. For some boats this can me quite a haul and the lake has been known to go from calm to choppy in minutes. When arriving at the reef it is important to remember that it isn't very big. The reef is approximately two acres in size so be ready for a lot of company especially if you make a weekend trip. Try and Get out there early to get a spot if at all possible. Be very courteous in your approach to the reef and try to be polite. If you come into the reef running your motor, splashing your anchor, and being obnoxious you will make no friends. Space is tight out there but if done right most people don't mind if you pull up next to them if you ask politely. Most of the people I've meet out there just want to catch fish and see other people do the same. I Have met some great fisherman there and made many friends.
---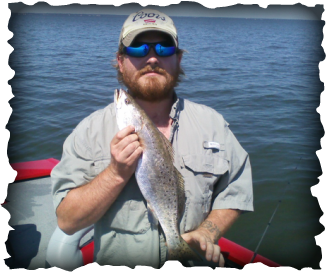 Let's move on to water conditions. Water movement is the most important thing here. Tide or wind movement doesn't matter to me as long as it's moving. Another important thing I look for is bait fish and fish on my sonar. If I have both, I usually can get on the fish. Good electronics can be a big help out there. I usually start at my favorite spot N30'18.344 W090'08.980 - look for the drop-off from 12ft to 14ft. There are several reef balls in that general vicinity but you need to take into account water direction from the tide and wind. Fan cast around your boat to try to locate the fish and concentrate on that spot.

---
| | |
| --- | --- |
| Remember, sometimes these fish are stacked up, other times they seem to come and go like they are circling the reef. I like fishing plastics, mostly Matrix Shad in the Shrimp Creole color. Yes I've caught them on many other colors but the Creole has been the most consistent. Jigging off the bottom has given me best results. The most important thing to remember is to keep a tight line as much as possible. I've had days when they slammed it and days where the bite was so subtle you thought you were pulling on grass or a leaf. When in doubt, set the hook till you figure out the bite. The variety of fish to be caught out there can be amazing. I've caught spec's, redfish, croakers, drum and flounder all in one trip! Lemo's Reef is by far my favorite place to fish in Lake Pontchartrain and I hope this article helps you out on your next trip there! | |