In this seasonal article we will be talking about fishing post spawn bass. Its late spring and most bass are finally spawned out. This is the time of year where you can catch fish both shallow and deep. The big females laid there eggs and have moved out to deeper water to recover after laying eggs. They will be looking for easy meals, while male bass are still up shallow guarding fry. Anglers should take advantage of both patterns while out on the water. Here are a few tips on what I like to do to catch bass both shallow and deep right after the spawn.
---
The first hour or so in the morning can be magic. Bass especially big bass are low light feeders. They are more active and feeding at this time and are more likely to strike a lure that comes into their strike zone. During the post spawn I absolutely love to start off my mornings fishing a topwater hollow-bodied frog. The strikes are vicious and will get your heart pounding first thing in the morning. When I am fishing a frog I try to use any color resembling a bream or bluegill. Bream and bluegill pose a big threat to bass fry. A bream colored frog is a sure fired way to get vicious strikes from a post spawn bass that are guarding fry. I like using these frogs on nearby spawning flats that have grass or lily pads on them. Bass will use grass, lily pads and other cover as ambush points. They will demolish any opposing threat that comes near there fry.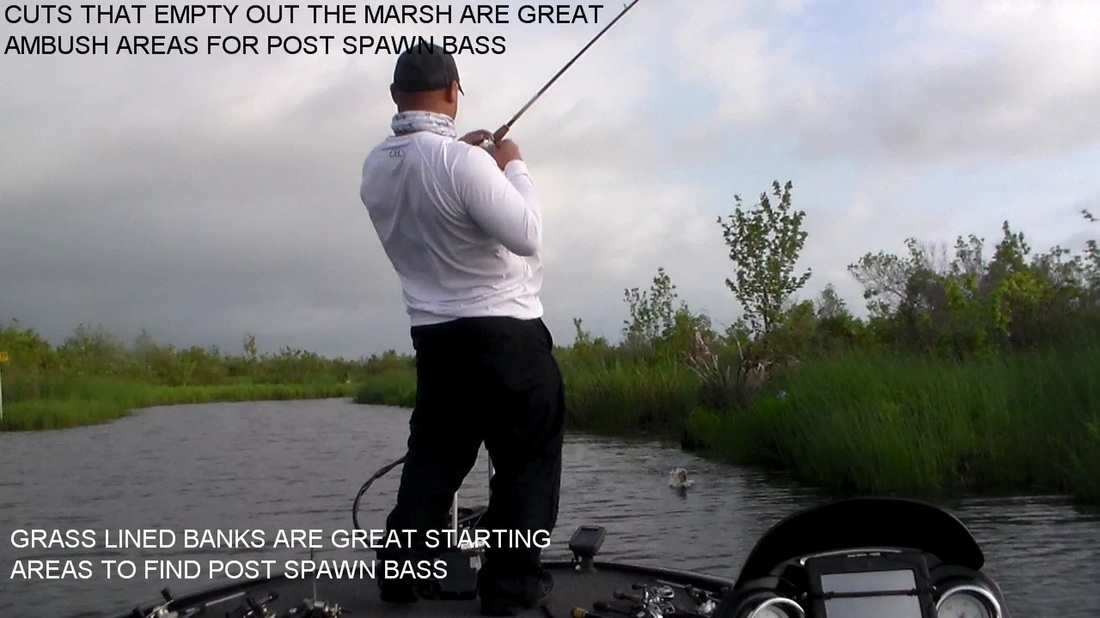 After the early morning bite slows I like swimming one of my custom Langiappe jigs through cover. I pair them up with either a craw trailer or a swimbait trailer. This gives the jig a subtle vibration and great swimming action. My favorite color for this application is the Purple Haze craw color. I use these just like I would a spinnerbait but with a more subtle or finesse approach. You can swim it through cover, knock it around stumps or rocks and drop it through holes in grass. It imitates an intruding bream well and a bass cannot stand it around there fry.

Once the sun gets up high I like to look for a deep bite. One of my main search lures is a deep running crankbait. Deep running crankbaits allow me to cover water quickly so I can find a good concentration of fish. I will comb channel swings, deep drops, and long points with my electronics while fan casting my

crankbait. After I have located a school of fish I will make repetitive casts knocking my lure around any structure in that area. This will make a bass react to the lure even though they are not in a feeding mode. This technique can produce multiple fish catches in a minimal amount of time.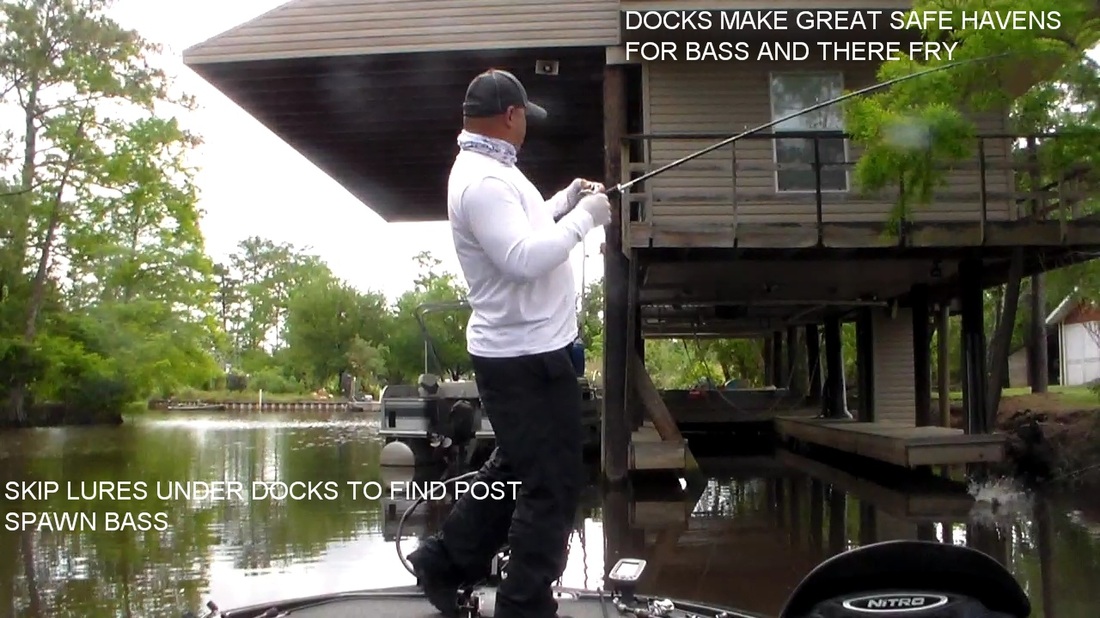 Another approach I like to use is dragging a jig around offshore structure. After female bass spawn they move out to deeper drops to recover. They will be looking for big easy meals. This is when I like to drag a bulky round head jig. The jig I like to use is a custom 7/16 oz. round head finesse jig that I call "Grosse Tete'' (Cajun for big head) The jig is similar to a football head jig but with a round head and has more of a finesse appeal to it. The jig is somewhat bulky and offers a slow easy meal for recovering female bass. I pair this jig up with a craw trailer and slowly drag this jig along the bottom in channel swings, offshore humps or on long main river points where structure is present. The Cajun Craw or Spicy Craw color is my favorite for this application. This color and size is great for mimicking a big crawfish. Female bass will devour a crawfish while recovering from the spawn. This technique is a very slow process but it is very productive, and is known for catching big bass.

Thanks for taking the time to read this seasonal article. I hope it helps put a few more fish in the boat for you. As always be safe on the water, and good luck fishing.