Prespawn is the time of year where bass are just about at there heaviest. Female bass will be slap full of eggs and are staging for the upcoming spawn. The big females move from there deep wintering holes and stage on the first drop-off closest to there spawning flats, and the closest ditch or channel edge near back waters where they will be spawning. This time of year is also a good time to start thinking ahead for the spawn or if you have any up coming tournaments. Finding and catching quality fish during this period will make it easier for you to find fish for the spawn. Here are a few tips and lure choices I like using during the prespawn to locate quality bass and eliminate water if I have any upcoming tournaments.

The first thing I will be looking for are areas protected from a north wind with clean stable water that are connected by small bayous and ditches. Places like this are prime spawning areas. Now I wont fish these spawning areas yet, but it will give me a good idea of where I'll need to be fishing come spawn. If I find a good concentration of bass in these areas I know the adjacent flat or back water will load up for the spawn.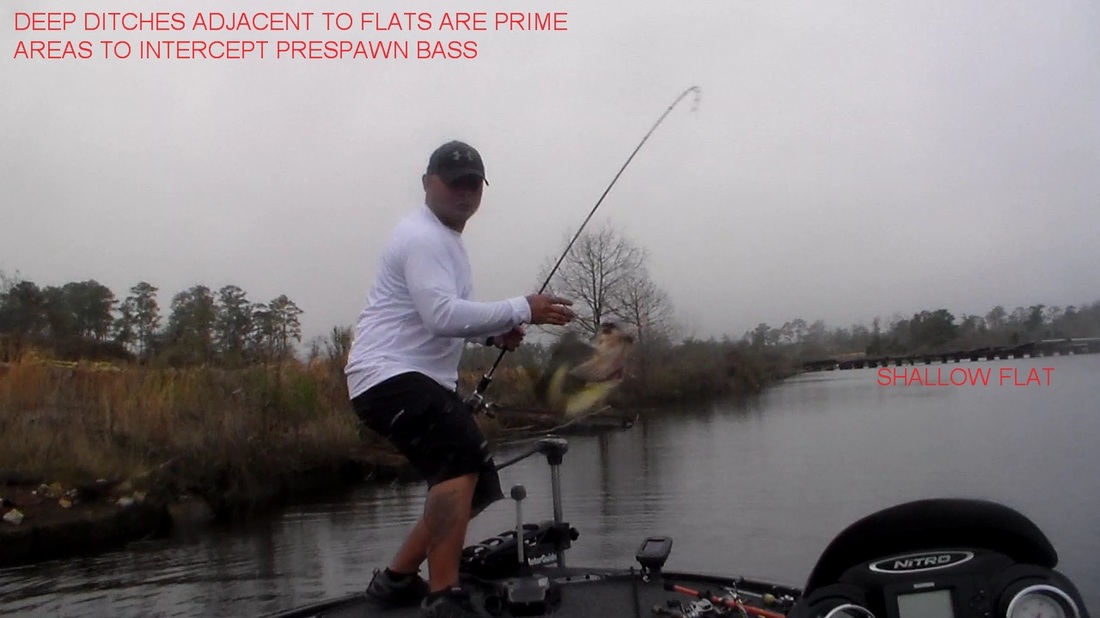 Its the channels and ditches leading back to adjacent spawning areas that will have my full attention. These areas will be the routes bass will take before heading back to spawn. I'll comb these areas trying to intercept those big females before they move shallow. Bass will move together in small schools when staging in these ditches and channels. Anglers who can intercept them will have a chance at catching some hogs or "log donkeys" as I like to call them.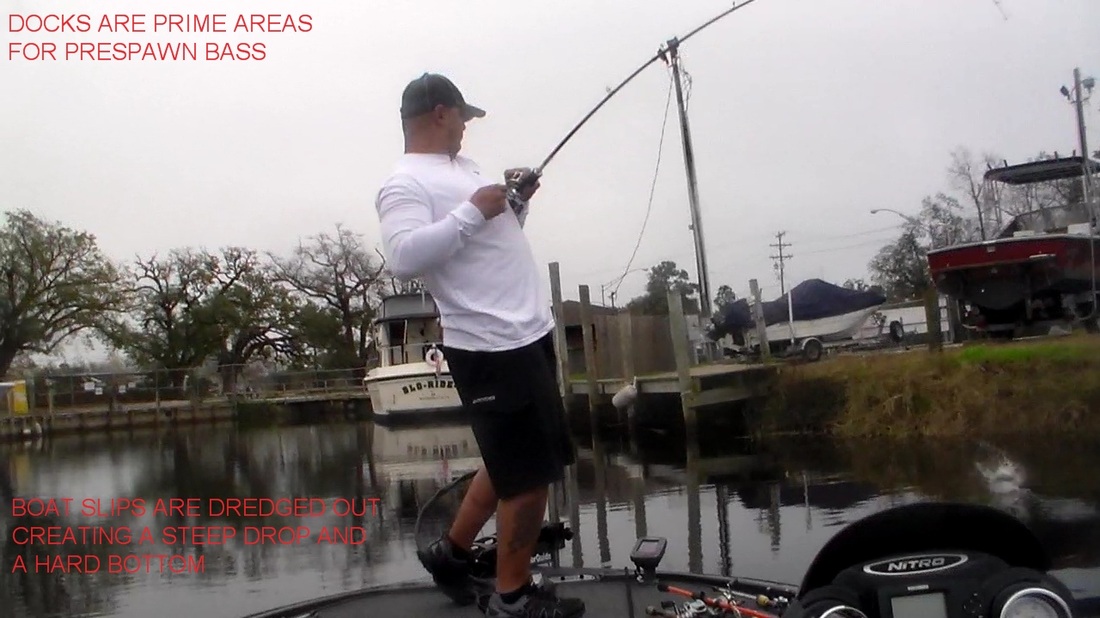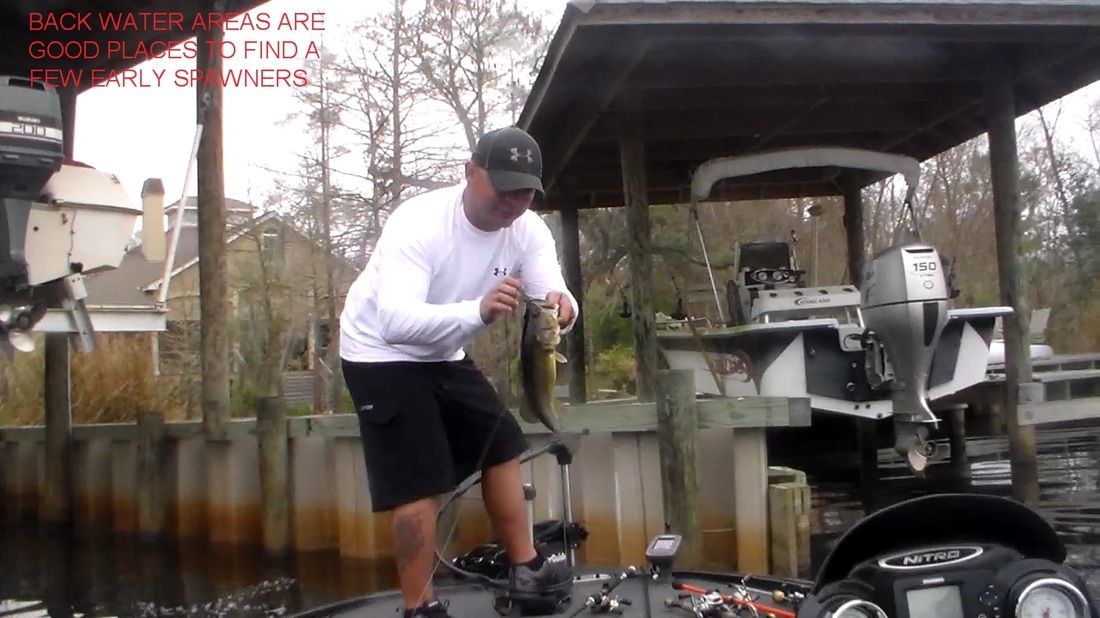 As many of you already know I love to junk fish any time I can, but this time of year I keep my lure selection simple. Rather than my deck being full of rods and cluttered, I'll use 4 main lures for this time of year. The lures I choose are a homemade medium weight spinnerbait, a lipless crankbait, a jerkbait and as a back up I'll have a homemade 5/16 oz black and blue living image finesse jig. Bass will be still be lethargic from the cold water and these lures will help me to slow down and pick areas apart thoroughly. I'll go over each lure choice and provide tips I like using for each lure.

Spinnerbaits have been a prespawn favorite for as long as I can remember, and its what I like to start my day off with during this time of year. The spinnerbait I use is a homemade 3/8 oz spinnerbait with a round rubber and silicone skirt combo rather than the normal silicone skirt in either chartreuse or white. Its a 3/8 oz body style with the wire of a 1/4 oz spinnerbait. It has a # 3 nickel Colorado and # 3.5 gold willow blade combo. The smaller wire form allows for a ton of vibration even with smaller blades. The smaller blades help me slow roll the spinnerbait keeping the lure closer to the bottom. The spinnerbait was made for burning on top when bass are schooling in clear water but it also works great for slow rolling. I'll position my boat parallel to the bank but instead of fishing towards the bank I'll be fishing away from it. I'll make casts parallel to the bank out towards the deeper water. I'll let the spinnerbait sink all the way to the bottom before engaging the reel. I'll slowly retrieve the spinnerbait paying close attention to any structure I might bump on the way back to the boat. If I hit a stump, rock, grass, or any brush I'll mentally mark that spot and make repetitive casts to that area. Just because bass are out in deeper water doesn't mean they don't relate to cover like they would if they were on the bank. Its just like fishing cover on the bank instead you wont be able to see the cover your throwing at. Bass relating to cover like this will sometimes be easier to catch because they receive a lot less pressure than bass on the banks. Prespawn bass will usually knock the fire out of a slow rolled spinnerbait during this time of year, so be prepared to have your heart skip a beat or two when using this technique.









Lipless crankbaits are another sure fired way to catch prespawn bass. When bass are really lethargic and wont hit a spinnerbait I like to throw this reaction bait to get them fired up. I'll use the same angles for the lipless crankbait as I do for the spinnerbait, but instead of slow rolling the lure I'll hop the crank off the bottom and let it flutter back down. Finding new grass growth is another major plus for working this lure. Keep in mind that greener is always better. Stay way from fishing dead grass you find on the bottom. During this time of year new grass will grow along the edges of the bayous and drop offs. The grass is not as thick yet and will be scattered close to the bottom. A lipless crankbait will work like magic when nicking the tops of the new growth. Its even effective when your around thicker vegetation as well. You can get the crank hung up in the grass, snap it free and bass will attack. As far as colors and size go, I'll go with the 1/2 oz size and something in the crawfish pattern. The 1/2 oz size will allow me to keep the bait near the bottom but remains light enough for me to rip it free when i hang it up in grass. Crawfish will start to show up during this time and this technique will mimic a fleeing crawfish perfectly.

Rapala X Rap
Jerkbaits have been in my arsenal since I was a kid. My step dad is a firm believer in a jerkbait during the prespawn and has passed that knowledge down to me as a kid growing up. I have taken that knowledge and tweaked it throughout the years. At first it was hard for me to put down the flipping rod and pick up a jerkbait. I literally cut my teeth down in the Basin, Des Allemands, and Bayou Black areas flipping and pitching, but a jerkbait during the prespawn is sometimes unbeatable given the right conditions. Jerkbaits excel in colder water on high bluebird days with a slight breeze especially when fishing conditions are tough. I'll use the same angles fishing this lure as I would the spinnerbait or the lipless crankbait. I like to make long casts along the drop off, crank the lure down to the depth I need to fish. Once the lure is down, I'll keep my rod tip down towards the water and make jerks incorporated with pauses between jerks. I like to mix it up until i find out which pattern is working best for the conditions. (jerk, pause, jerk jerk jerk pause) Remember when using a jerkbait its all about finesse and lure cadence. Sometimes the slower you fish it and longer you pause the better results you'll have especially with colder water. This can be a killer for someone who is use to fishing fast but will pay off for those with the right patience. The set up I like using is a 6ft 10in medium action rod with a very fast taper and 10 lbs line. The limber rod allows me to work the lure with ease and will aid me when fighting a fish, allowing plenty of give so I wont rip the lure free while the fight is on. If the day starts off as a high blue bird day with fridgid cold temps the jerkbait will jump to the top of the list as lure choice for me.
---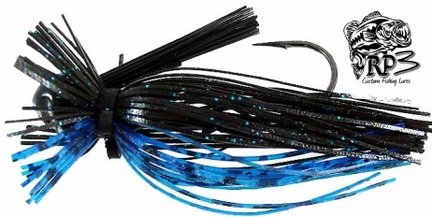 Last but not least I like pitching and flipping my homemade finesse jig. The jig is a 5/16 oz round head finesse jig with about a 30 strand black and blue living image spider cut skirt. The thinner skirt allows for some flare but not over powering where it will spook fish. During this time of year most forage will be smaller and lethargic, so too much movement or bulk with a lure can spook fish. I tip the jig with a sapphire blue or black and blue craw grub. If conditions are tough I'll always go back to fishing my strengths, and that's working a finesse jig or flipping. I'll start out flipping and pitching drop offs and isolated cover early in the day. As the day and water warms I'll flip and pitch docks and lay-downs closest to the spawning flats. The reason i opt for docks and lay-downs is because the ends of docks and fallen brush or trees usually stick out towards deeper water. I'll fish the bare ends of the cover and work my way to the back of the structure. Bass will stage on the tips of this cover before committing to shallower water to spawn. Don't be surprised if you find a few early spawners especially around the full and new moons. Remember to keep telling yourself to slow down and work the structure thoroughly. Sometimes it takes several attempts to get a bass to react to a lure.
Prespawn bass will be really skittish the first few days they move shallow. They left there safe comfortable wintering holes and move shallower where they are most vulnerable. They will be spooky for the first few days or so until they get comfortable with being shallow again. Keep a good distance between you and your fishing target. Make long casts and stay as stealth as possible. If possible get out on the water really early or late in the afternoon. I find the bass get really active during the first and last hour or so in the day. Fishing during these low light conditions are prime time for catching skittish prespawn bass.

These are some tips and techniques that I like to use during the prespawn. They have been in my arsenal for a long time and have produced some good bags for me. They may work for you also and help put a few more fish in the boat or maybe even help bring a big bag to the scales. I appreciate you taking your time to read the article and I hope you enjoyed it. Be safe on the water and good luck fishing.
---