| | |
| --- | --- |
| | The Amite River can be feast or famine when the mercury rises during the summer months. I have heard of anglers getting so frustrated after a day of fishing the river that they want to write it off all together. I have also heard of anglers literally loading the boat up on that same river. Now I have only fished the Amite for about five years and I'm still in the process of figuring the fish out. Here are a few of tips and techniques to put fish in the boat. Hopefully, this can help you on your next trip. |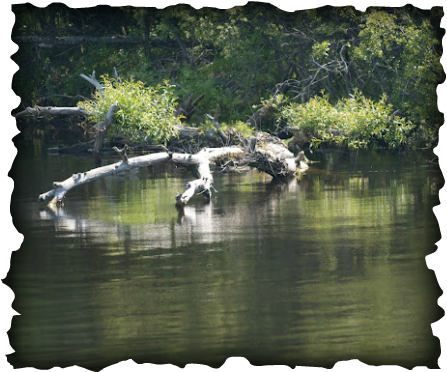 Prime locations when fishing during the summer are river bends and rip rap. When I'm fishing rip rap during the summer months, one of the biggest things I look for is baitfish around rip rap. There is always a little algae growing on rocks and rip rap and it gives baitfish something to feed on. The presence of baitfish in a location not only tells me that bass will be present but it gives me an indication of where bass should be positioned. Bait fish really seem to relate to small current eddies in the bends of a river and it positions bass in little indention's in rock or rip rap. A lot of anglers position there boats away from the bank casting toward structure, but if possible you should position your boat close up looking parallel to the bank. This will not only help you cover water but it helps you see small contour changes in the bank. It also helps you keep your bait in the strike zone longer which in the end you will have more hook-ups. If you find a spot that seems to hold more fish, back off so you don't spook fish and make repetitive cast to that area. You are likely to catch more than one bass off of that spot. During the summer months shallower areas don't replenish as well as deeper areas. If you find a spot in deeper water with rip rap and catch a few on the first stop, come back and try it again. A spot like this will replenish during the duration of a day. Bass will pull into a spot and feed then pull back out usually traveling in small schools working together to make it easier to catch there prey. It's really a "timing deal" , if the bait fish are there and you hit the right area you can load the boat all in one spot. Keep in mind that some of the best structure on this river are man made and are mostly in the river bends. These areas usually have deeper water, rock and current. All the right ingredients to hold baitfish, and bass.

Depending on the water clarity my go-to baits are square billed crankbaits and spinnerbaits. I usually try to make as much contact with rip rap as possible. Don't be afraid to throw treble hooks into cover. A quality crankbait with a good bill on it will deflect off of cover getting that reaction strike when bass arent really feeding. If it's too deep to make contact with a square billed crankbait and can't get any takers on a spinnerbait, try switching a deeper running crank still making contact with structure. Don't rule out the finesse gear either! Bass can get really lethargic when the water temp gets high. When that happens, nothing beats spinning gear and light line, either throwing a drop shot or shakey head to those same areas to pick up lazy bass or bass that have seen my crankbait one too many times. Finesse gear only comes out after I caught most of the active fish in a school and I want to get those finicky bass. Most of the time light gear will get you a few more bites on an already tough day.

Keep these tips in mind on your next trip. They might help you put a few more fish in the boat. Be safe and good luck fishing. Below I have included some tips to fishing certain areas.
---
Bayou Manchac

- Fish the mouth of this bayou because it almost always has current with mixing water. It also has a steep drop off (8ft down to about 15ft) with a few cypress stumps right on the ledge. Use deep running crankbaits, jerkbaits and jigs when the fish are active. When its slow use drop shots and shakey heads.

Lake Villars Bayou

- Start off at the mouth using deep running cranks to catch a few before moving towards the back. Once you get to the back waters its full of cypress and lilly pads that hold bass. Flip and pitch craws and creatures to thick cover, also use frogs and reaction type baits on cloudy days. (at times this place has clear water and is really good during the spawn)
Coyell Bayou

- This place has cypress that line its steep banks. Its a great area to use square billed cranks and spinnerbaits. Also flip or pitch craws and creature baits to structure along the banks.

Greys Creek Lake

- This place has a good section of docks that I like to flip. My go to baits for this area are jigs and soft plastics like zoom speed craws and brush hogs. The water usually is stained here so I use darker colors such as black and blue and june bug.