The Gentleman Angler LLC is the specialty aluminum fabricator of ROJO GRANDE T-Tops, Sight Fishing Platforms, Casting Platforms, Poling Platforms,& UTV Tops. Custom made products and solutions is my primary focus. Tops are designed to the customer's needs, each designed for that particular project. Sight Fishing, Casting, & Poling Platforms are made to complement each boat. Several different Casting Platforms are available including The ROJO GRANDE Casting Platform / Basket combo unit for the Fly Fishing enthusiast. The fly line basket keeps your line managed so your eyes can stay on the fish. Grab Bars can be added to most boats for assistance maintaining balance. Flats Boat rigging is one of our specialty's. If you are a UTV owner looking for a HD Roof or Tonneau Cover for the cargo bed look no further, we make everything for UTV's out of 1/8" Marine aluminum and super strong.



A Sight Fishing Platform is the absolute biggest advantage a sight fishing angler can add to their boat. I design units for one or two people, some with a safety bar or cage, different height advantages are designed into each unit depending on the owners elevation requirements. The lay down units are the bomb for fast deployment and stowage to hit & run Redfish.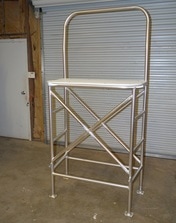 If you have not fished off a elevated Casting Platform you don't know what your missing. Just 18-24" increases visibility, casting distance, casting accuracy, & overall fishing success. A leaning bar can be added to help keep your balance and keep you on the platform. Fly fishing anglers like the 270 Degree Casting Platforms with the line management basket to strip their line into, keeping your fly line ready to shoot without tangles. Most are made to easily be removed with one or two turnbuckles.
---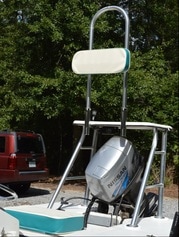 The Poling Platforms I custom fabricate take into account the longitudinal center of gravity to help the boat float as level as possible to keep it "Skinny". If required for space so you don't loose your aft fishing deck I can design the platform off the back of the boat. I stock fully finished fiberglass platform decks as well is a custom non-skid composite deck material for custom shapes. Rod holders, grab bars, drink holders, etc can be added to complete the package.
​
---