I'd like to introduce a new segment that will be added to the NBS page called the NBS Spotlight Angler. This will be a series of articles that will shine the light on some of the best bass fisherman on the Northshore. Our first spotlight will be on an angler that has been on fire as of late. Charles Dauzat has won three tournaments on the Pearl River within the past month and has vaulted to the 1st place spot in the NBS Power Rankings. His first victory came when he fished the Marsh & Bayou Outfitters Tournament. Charles took advantage of the high muddy water on Pearl and brought in a limit that tipped the scales at 14.05 lbs. He then followed that win up with another 1st place win on the Pearl when he competed in the Liars & Lunkers Tournament on the muddy river. His latest victory came when he teamed up with Mark Mohr in the Pearl River Team Trails Tournament. They weighed in a stringer of 10.14 lbs edging out Rustin Beaudette and Ben Williams by 3 ounces.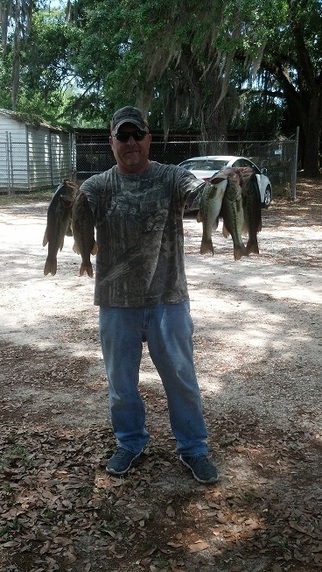 Dauzat was born in Bogalusa on a dairy farm but moved to Slidell when he was just a boy. As a youngster, his great grandmother got him hooked on fishing. "My great grandmother was full blooded Cherokee Indian. She would take me down to the pond and we would catch fish - take them back to the house and fry them up. She would cook grits then pour it over the fried fish and we would eat that for breakfast," Charles said. Duazat started fishing bass tournaments at the age of 17 when he fished his first tournament on Bayou Lacombe and says that first tournament was all it took to hook him. "I started with the Bayou Lacombe guys fishing the Wednesday Evening Bass Anglers. I met a few guys out their fishing one day and they asked me if I wanted to fish the tournaments on Wednesday afternoons - and that was it right there! That's how it all started," said Duazat. Charles says he was intimidated at first but it's all a state of mind. "When I first started fishing these tournaments it was a lot of pressure. You pull up to the launch and you see all these guys with big boats but after about 10 or 15 years you realize that you just love fishing. After a period of time you learn that everybody has the same equipment and what really separates people is their mental capabilities – having a positive attitude – staying focused, and not getting distracted when you lose fish. If you keep a positive attitude you've beaten half the field already," says Dauzat. Charles enjoyed the tournament feel so much he started holding his own." I've been running tournaments here in the Slidell area since 1986. My wife and I started the Monday evening tournaments on Bayou liberty and the Wednesday evening tournaments out on the Pearl River for four or five years," he said. While fishing these tournaments there was one particular bass fisherman that comes to mind when he thinks back on his younger years competing. "There was on guy named Randy Jenkins from Ponchatoula that fished the Tangipahoa a lot. I used to say I wanted to be like Randy Jenkins. He was the most consistent fisherman I'd ever met. He had the ability to bring in 10 or 11 lbs. no matter what the river was doing. He was just so consistent. There was other guys that brought in bigger stringers but never consistent like he was. His key to success was fishing a lot of small water. He fished out of a small 14 ft. flat that allowed him to fish a lot of pressured areas," Charles says. It's because of those old timers that Charles established his very own bass tournament on the Pearl River. "That's why we started the tournament was to try and get all the older guys back out here." Charles and his wife Jennifer directs the Pearl River Team Trails Tournament on the Pearl River. The tournament has a 100% payout. They give out trophies to the top six teams after five tournaments. That's a total of 24 plaques total awarded. "Our goal is to have $1,000 payout for first place every month," Dauzat says.

The secret to Dauzat's success in these tournaments is his versatility. "I'm a dirty water fisherman but I am very versatile. I can fish 20 ft. of water- I can fish 2 ft. of water- I can fish clean water- it doesn't matter. Over the years I have tried to learn every technique there is out there," he says.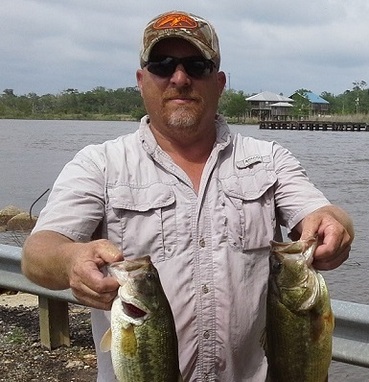 Charles says fishing the Pearl can be tricky because of the many different aspects of it. "The river is affected by salinity because it is so close to Lake Borgne. It's also affected by the tide and the normal river fluctuation," Dauzat says. The Pearl has always been a tough river to fish but ever since Katrina, the river has been a jigsaw puzzle. One of the main reasons for this has been the closing off the MRGO. "It used to be a lot easier figuring this river out but the river has changed ever since they blocked off the MRGO. The tide doesn't do what you think it's going to do. It may be falling in one area of the river and then you'll see it coming in on another area," Charles says. One of the biggest complaints about the Pearl is the muddy water but Charles says you need to take that and use it to your advantage especially when targeting big bass. "In clean water the big fish are going to move to the deeper holes where they are harder to catch, but when the water is dirty those big bass will move into the shallows. You can cover a couple miles of shoreline in a short period of time and better your chances of catching a larger fish," he says. Charles has been fishing the river for over 30 years and says one of the most common mistakes he sees from guys who fish the river is anglers trying to find clean water. "I think the mistake I see guys making is they tend to run to clean water - they want to find clean water. It's good to go to the clean water to get your five fish but when you get your five fish you need to go to dirty water where the bigger fish pull up shallow. In clean water the bigger fish are going to go to the deeper water and they are going to congregate there. When the waters dirty the fish are going to move shallow," Dauzat says.

Charles says another trick he uses when fishing dirty water is adding sound to his lures. "I'll take a skirt off of a jig that has the little hooks on it where you can attach the rattles and I'll slide that on to my spinner-bait. I fished a tournament over there on the blind river where I had to put five rattles on a jig because that's how dirty the water was," he says.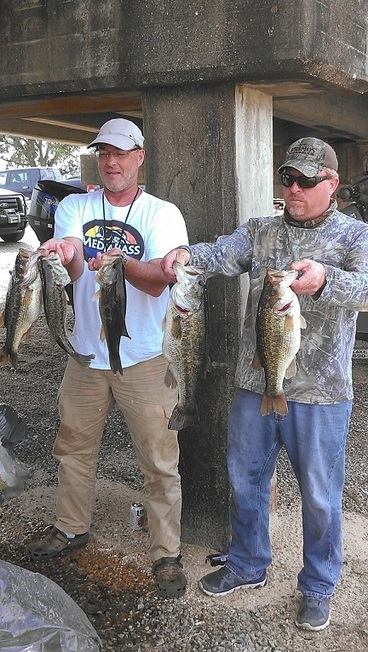 Charles says it's important to always know whats going on with the water levels on the Pearl. "Typically, the Pearl fluctuates during the spring. The water may be up at times and down at others. Charles says to watch the levels and when the water is on a rise, look out! "It has something to do with the speed of the water. Every time that river rises and you get a big rise it has something to do with the speed of that river. When that river gets to a certain speed they pull up to the banks. That's when you can bust 'em! All my big stringers over the years have always come on a rising river especially if there's a full moon. If there's a full moon and you pair it with a rising river – its lights out! These big fish pull up shallow and they have their eyes peeled up to the top of the water and they are easy to catch. Now you can do the same on a falling river, but the river needs to be out of the woods – it needs to be out of the swamp where the fish have to be out of the woods. Then you get enough current flow in the river where the fish have to pull up," he says. These fish can tolerate a heavy current but Charles says they can't do it for long. "River bass don't store fat in their bodies like a Florida strain bass. They can swim in that current for a little while but when it gets up to certain speed they are going to pull up on that bank and they are going to get into those trees and roots.

Charles is not the only top dog on the river however. He speaks highly of his teammate. "My fishing partner Mark Mohr is probably the last of the older power-houses out here. He's a little bit older than me and we've won a lot of tournaments over the years. Mark Mohr and Steve Hadley would be the two top competitors that are left out here. These guys have been fishing this river for 30+ years." He says.

Special thanks goes out to the following sponsors of the Pearl River Team Trails Tournament -

Tommy St.Clair Designs 985-869-0165
Indian Village Trading Post 985-643-8161
East Gause GOODYEAR 985-643-9175
Beaudette's Welding and Fabrication 985-516-6297
The A/C Man Inc 985-781-6061