After a wild ride from spring to the present, the 2014 bass season is officially over and the newly established NBS Power Rankings are official. Covington tournament angler, Jason Pittman has earned the title of Northshore Bass Angler of the Year!


Joined by his team mate and son, Trenton Pittman, Jason has put together a late string of first place victories across the Northshore throughout the late summer and early fall timespan and says tournament fishing with his father is how it all started when he was a young boy. "My dad and my uncle were fishing a lot of team circuits together but as we were growing up they stopped fishing those so they could fish with the kids. Just being on the water with him was what I was really excited about," Jason says. Pittman was born in Pineville, Louisiana and can recall fishing on something he called Cleco Lake. "My dad Floyd worked for the electric company Cleco. They had a power plant lake just outside of Alexandria call Lake Rodermaker, and they had a private area and launch for the employees. As early as I can remember the weekends were spent up there with him, whether we were catfishing under some lights or bass fishing or bream fishing," Pittman says. Jason says he was about 6 years old when he fished his first tournament with his father and like most fishing memories, his can still remember vividly the day he caught his first lunker. "He had a fish that was a little over 8 lbs. that he caught on Toledo Bend in '79 and he had that fish mounted and I always told him that I wanted one mounted like his. Well I couldn't have been more than 6 or 7 years old and he told me if I catch one over 4 lbs. that he would mount it. Sure enough one weekend I was fishing on Cleco Lake and I was throwing a spinner-bait on a little Zebco 33. Well I caught 2 fish that weighed over 4 lbs., so he had someone mount both bass on the same piece of driftwood. That was our time - either fishing or in a duck blind growing up," he says.

Jason moved to the Northshore in 1987 and says he can remember winning his first tournament on the Tchefuncte River when he was 18 years old. It was a Wednesday Evening Tournament on the river and Jason says it was a huge boost in his confidence when he won and says that he can distinctively remember who "the guys to beat" were. "Every river has it go-to people and you want to excel and compete against the best. Anybody you talk to that has been on the Tchefuncte River in the last 25 years knows the name Ronnie Bell. He was probably the most noted fisherman on that river," Jason says.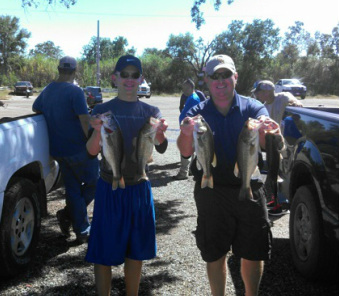 It didn't take Jason long to turn his passion into much more than a hobby and after graduating from Slidell High School in 1994 Pittman was able to secure sponsors at a ridiculously young age of 19. Jason says that's when he got to fish in his first professional tournament. "That was on the Arkansas River in what they used to call the Bass Master Invitationals. To be fishing and sitting around before blast off and see heroes- Rick Clun, Gary Klein, Kevin VanDam, Jay Yellis – I mean I basically grew up with those guys on that tour. It was a surreal deal," Pittman says. From 1996 to 2003 Jason was fishing full time on the circuit and credits George Ricks, who is now a saltwater guide out of Hopedale, for helping him get his foot in the door at a young age. "I became really good friends with George and he helped open some doors and got me pointed in the right direction on the national scene right out of high school. He was fishing a lot of bass stuff in the Delacroix area and basically steered me in the direction that I needed to go. Everything that my dad had taught me up to that point was what I needed and then George showed me how to be a professional angler. He showed me how to carry myself and how to interact with sponsors. He may not understand that he did it but he was definitely tremendously helpful to me in the beginning," he says.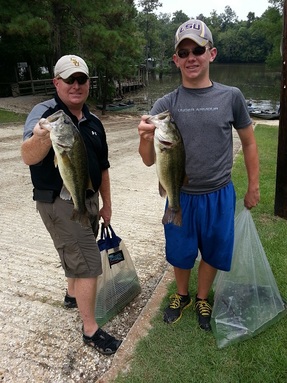 Jason has recently refocused on fishing the local tournaments on the Northshore and says the Pearl River system is his favorite area to bass fish. "It's got the versatility of marsh fishing as well as power fishing such as wood, trees, laydowns, and mats. If I had to draw up a great area to fish on the Northshore it would be the Pearl River system – The West, the Middle, and the East. I've grown up on reservoirs catching fish in thirty feet of water and then to come here and learn how to fish tidal and current has just been great," Jason says. When it comes to the tournament fishing on the Pearl, Jason credits a lot of his knowledge to a major tournament contender on the river. "I was fortunate that Mark Mohr saw something in me at a young age and he taught me a lot about what I need to be looking for as far as the Pearl goes," he says.

As far as his least favorite, Pittman says Bayou Lacombe can be a tough place to compete. "It's such a finicky place. Don't get me wrong, there's good fish to be caught, but just the size of it I think puts a lot of pressure on those fish," he says. Jason also says the Tchefuncte can be perplexing at times also. "I don't think you can theoretically say anything good about the Tchefuncte because that thing is like the Dead Sea. If you can figure them out on the Tchefuncte you've accomplished something. It's such a finicky place and a lot of that's got to do with the pleasure boaters and tide influences but if somebody can consistently catch five fish, they're going to be in the mix no matter what," Pittman says. Jason reiterates that it's not that there is a lack of fish on the river but he thinks the size of it makes it hard to locate the bass. "To be such a long river it still fishes small because there are only certain areas that hold concentrations of fish. I feel confident in the areas that we fish but there may be fifteen areas that we have to hit in eight hours in order to catch five at the end of the day. I'm not sure that we caught more than three keepers in one area this year on the Tchefuncte," Pittman says.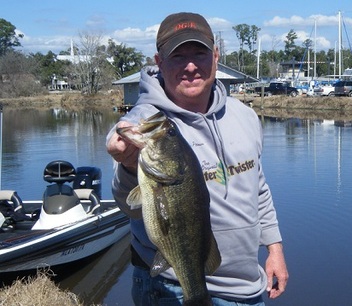 In the bassworld, there are benchmarks that anglers aspire to reach and a double-digit weight is definitely a goal for most guys on the water. Jason says his biggest fish to date was a bruiser that he caught on Lake Toho in Florida. That fished tipped the scales at 10.8 lbs. Pittman's biggest fish this year was caught on Bayou Liberty. The 6.2 lb. lunker propelled him to win the Bass Assassins tournament in February in which 43 anglers competed.

In competitive bass fishing there are strengths and weaknesses that are part of the equation that make up each tournament angler. Jason believes his biggest strength is keeping his thoughts on the task at hand. "Whether it's making a move or making a bait switch. There's a lot of guys out there that feel like they aren't able to compete when other guys show up. It works to the people's advantage who are on that hot streak to where if somebody is thinking about how somebody else is doing – they're done mentally. We used to joke about it but when certain people show up to the tournament and you'll hear 'Oh well, we're fishing for second now!' They make joke about it, but if they are saying it, it's in their mind. So if fifteen boats show up and six of them are nervous, you're only fishing against nine others," Jason says. Pittman says that he thinks a lot of tournament anglers also suffer from thinking about "the one that got away." "Get over a fish! If you lose a fish, get over it. There's nothing you can do about after it's gone. It's not going to do any good two hours later when you put your head down and say 'man I can't believe I lost that fish!" he says.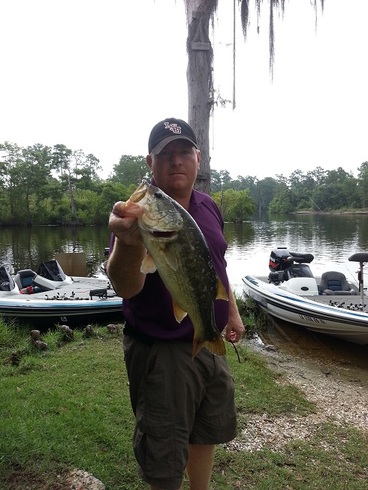 Pittman says decision making is a crucial part of tournament fishing and he believes that too many bass anglers overthink things while on the water. "It's important to listen to both your head and your gut. If you're going down a stretch of bank and you think in your head that you should have caught more fish or have had better quality, then your gut will start saying 'hey let's either eat a sandwich or make a move because this ain't workin!" Pittman chuckles at the question of whether or not overthinking things hurts a lot of guys when tournament fishing. "Does it hurt a lot of guys! All you have to do is look on the deck of somebody's boat and if they've got more than five rod's out? They- are- scrambling! And they have overthought what needs to happen. Pittman recalls a day on the water where overthinking things has gotten the better of him. "I've been guilty of it! We joke about it often. When fishing nationals one day, I ended the day of practice with twenty rods on the deck and when I got back to the hotel, my roommate sees me and asks 'ohhhh - one of those days huh?' Pittman says to try and keep things simple when bass fishing. "The best thing to do is to just keep it simple. You can't round off the wheel any more than it's already rounded. The wheel is round- you can't reinvent a round wheel! If you've been catching fish flippin' for a month and all of a sudden you go down that stretch of bank and you don't get as many bites and you think 'I wonder if they'll hit a big swimbait?' That's when people start overthinking it instead of doing what comes natural," Jason says.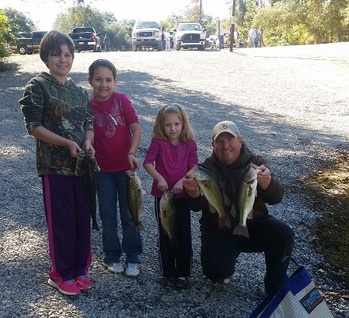 For now, Jason says he will continue to concentrate on the fishing the local tournaments on the Northshore where he can continue to spend time with his family. "There's no doubt in my mind, in 15 - 20 years I'll make a run at it again. I've dabbled in it here and there but I would much rather go and fish a one day tournament with my son or daughters, than go spend a week in Oklahoma and hope to win $50,000," Pittman says.


The 2015 NBS Season will begin in January where Jason will try and repeat as the NBS' Northshore Bass Angler of the Year and says he's excited to be a part of the competition on such a local scene.