Webster's Dictionary defines the word favorite as "a person, team, etc., that is considered most likely to win" When it comes to bass fishing tournaments held on the Tchefuncte River these days there is clearly a favorite. 23 year old Kyle Hills has been on one hell of a tear when it comes to winning bass tournaments on the Tchefuncte. In 2014 he has already claimed 4 first place victories and 5 big fish awards and it's only June. If he keeps up this pace he will earn a whopping 8 first place victories and 10 big fish victories by the end of the year. Those finishes are mind boggling given the level of competition on the river system.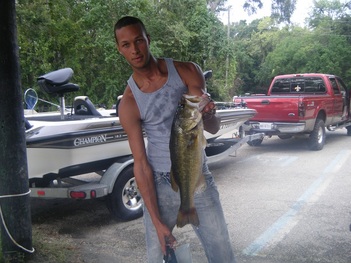 Kyle is by no means a newcomer to the Tchefuncte River. He learned how to fish early with his dad, Calvin Hills, when he used to fish for perch on the Tickfaw River but says it was one trip to the Rice Field Canal that he specifically remembers that got him hooked on bass fishing. "My first lunker came when I was fishing from land at the bridge going over the Rice Field Canal. I was fishing for sac-a-lait in the winter and was using grass shrimp actually. I hooked that thing and probably fought it for a good few minutes before a random stranger had to help me land it. It wasn't huge but it was the biggest I've ever caught," Hills says. Kyle's fish weighed in at 3.12 lbs. and that was all it took to get him out on the water targeting bigger bass. Kyle says he prefers the Tchefuncte River because he thinks it hold the biggest fish. "I like the Tchefuncte because of the amount of quality fish. It has the highest quantity of biggest fish," Kyle says.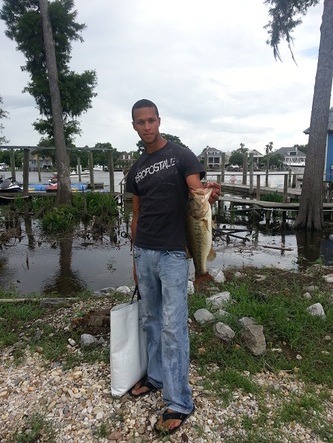 The Ponchatoula High graduate has always been competitive so tournament fishing was right up his alley. "My brother Dylan and I were usually pretty competitive when we would fish. I'm a little TOO competitive when I fish," he says. When Kyle was 18 his father let him take the boat out on his own. Kyle fished that tournament by himself and talks about that day. "My first tournament was the Strawberry Festival tournament out of Manchac. I thought I knew something and headed out there with a lot of confidence but it turned out I really didn't know anything. I pretty much struck out that day," Hills says. Kyle scouted that river before the tournament and he says he has come to learn to never pre-fish. "I've learned a valuable lesson and that is to never scout a river! Never scout rivers! It definitely works against you. A lot of it has to do with the history of the river and what you've done in past years and not what you've done yesterday," he says.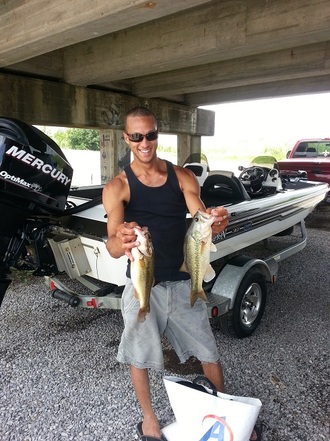 What may set Kyle apart from the crowd are the conditions he likes to fish. Kyle says he thrives in bad weather during these tournaments. "Give me the absolute worse conditions you can possibly imagine. I believe it's easier for me to out fish somebody in bad weather than to beat them with good conditions. That's what it's been mostly this year – bad weather falling on tournament days – that's given me the edge so far this year," Hills says.


A decision that most anglers struggle with is the weather or not to make long runs from the weigh-in. While he is totally capable of making those runs out of his 20 ft. Stratus with a 150 VMax, he prefers to use that time to fish instead of traveling. "I like to stay close but if I have to make a run I will. I feel the more casts I can make, the better my chances of winning are," he says. Kyle says he fishes faster than anyone he knows and it's actually getting to the point where he getting too impatient. "I'm starting to loose patience as I get older. I'm starting to fish faster and faster - trolling motor battery is dead by the end of a trip," he says.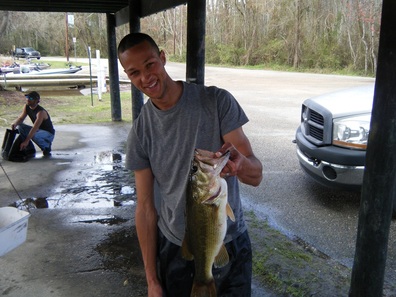 As far as fishing style goes, Kyle says top-water is definitely one of his strengths and braided line is a must for him. "Any top-water bait I am throwing, I'm using Power Pro Braided line. I try and stay away from mono. I hardly ever use fluorocarbon or mono – it's all braid for me. There's hardly any error with it. I have hardly any line breaks with a lot more sensitivity," Kyle says.

While most bass fishermen concentrate on catching big bass during the spawn, Kyle prefers the fishing the pre-spawn. Early spring and late winter- It's a lot easier for me to catch them in a specific area rather than having to drift the whole river," He says.

Eliminating mistakes no matter how small is important for any tournament angler to improve his game and Kyle says that's what he has been working on improving. "I tend not to make the same mistake twice. Any little thing that can turn into a mistake I try and think about it before it happens, whether it's line angles or landing a fish. I can't remember the last time I've lost a big fish," he says.

The Tchfuncte isn't the only river that Kyle excels on. He says the Tangipahoa holds a high concentration of large fish also. He looks up to one particular competitor that really knows what he is doing on the Tangi. "Jaylon Wilde is almost unbeatable on that river when it comes to a tournament. He knows everything about it. He is the king of the Tangipahoa," Hills says.