Sunday morning saw the Bass Assassins launching on the East Pearl to do battle in the Pearl River delta. This has been a hot area this year but with a few tournaments each weekend in this area it has been getting pressured and the fish are getting harder to coax into biting.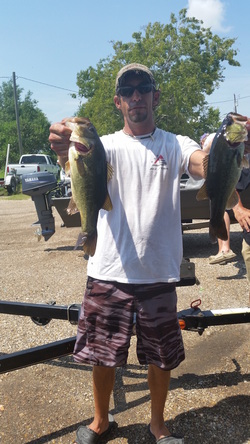 Couple that with some very clear water conditions in a area that is always stained to muddy, and you find out who the most well rounded anglers are. week it was Jimmy Dorris who bested the field. Jimmy, a well known stick in the river are, managed to bring in limit weighing 8 lbs. 1 oz. despite blowing up his lower unit. Right on his heals was another well known angler on the river, Jason Pittman. Jason brought in a 7 lbs. 15 oz. bag to claim second. In third was Lawrence Lemoine with a 5 fish total of 7 lbs. 9 oz. Lawrence has been really studying this area trying to learn it and it shows. Big fish went to Dawine Crumby who had a 3 lbs. 13 oz. kicker. In the Little Tanglers division it was Payton Waller with back to back wins on the Pearl. Payton had a 3 fish that totaled 2 lbs. 15 oz.

Other anglers who brought in fish:
4th: Danny Giovingo 5 fish 7 lbs. 1 oz.
5th: Paul Paille 5 fish 6 lbs. 10 oz. Dwayne Crumby 4 fish 6 lbs. 10 oz.
6th: Eric Ciko 5 fish 5 lbs. 8 oz.
7th: Nick Giovingo 5 fish 5 lbs. 5 oz.
8th: Will Moore 5 fish 5 lbs. 3 oz.
9th: Joe Picone 2 fish 3 lbs. 13 oz.
10th: Gene Perilloux 1 fish 1 lbs. 14 oz.