The first Dockside tournament of 2016 is in the books. 27 teams showed up to face complex river conditions for a chance to take home a first place prize of $3,216! At the weigh in fisherman talked of tough conditions with a high muddy Pearl River and an abnormally low tide, but as always someone in this bunch figures the fish out. It was the team of Fred King and Roy Laborde representing Delta Lures who would take home the first place prize with a winning sack of 13.91 lbs.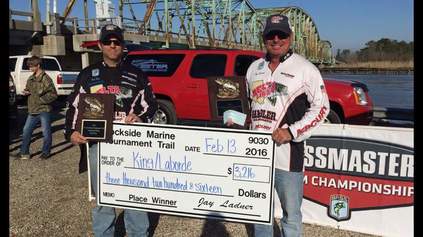 They reported catching all of their fish in shallow grass on the new Delta Lures Thunder Jig. Not far behind, Jesse Draime and Albert Dobson finished in second place with 13.23 lbs. as well as the second place lunker for a total payday of $1,474. Jay Frederic and Bobby Fruchtnicht finished in third with a 12.73 lbs stringer anchored with a 4.77 first place lunker worth a total of $1,028. Mike Rogers finished the event as the highest finishing Skeeter boat owner which rewarded him with a $500 check.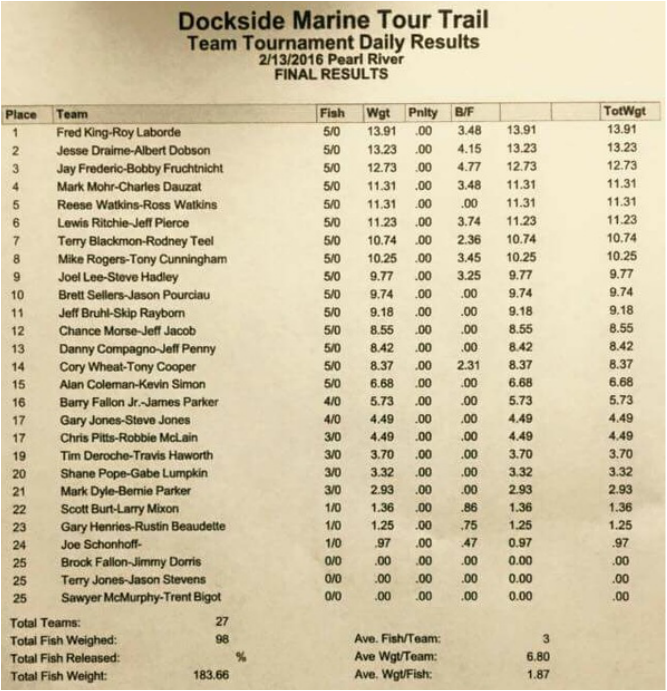 A special thanks goes out to all sponsors: Dockside Marine, Skeeter, Yamaha, Duckett Fishing, Louisiana Fish Fry, Sport Trail Trailers, Rhane Construction, Pro Edge Charters, Delta Lures, V&M Baits, Bass Addiction Gear, Bruiser Baits, Pure Fishing, & Basstrophiesonline.com for all of the support! Thanks to all who participated and looking forward to the next event on March 19th.
​​