The Dockside Marine Tournament Trail Championship, which was a two-day event, was held at the E. Pearl boat launch off Hwy. 90 this past weekend. The weather threw a hard curve ball with winds out of the Northeast around 15 to 20 mph and the fishing looked to be tough. With that being said, the opportunity to win a spot in the BASS Team Championship would trump the conditions and drive this field to put forth their best efforts to win. After day one, only three pounds separated the top five teams which made it seem as if day two would come down to the wire. At the conclusion of day two our thoughts were verified with a lot of the teams consistently backing up their day one weights. The team taking home third place was Jason Stevens and Terry Jones with a weight of 24.03 lbs which rewarded a check in the amount of 450.00$. Claiming second place was the team of Reese and Ross Watkins. These guys were the team of the year in the trail's points system and showed why with nearly pulling out the victory in this event as well. Their final weight was 25.96 lbs. which rewarded an 800.00$ check as well as another check for an additional 1000.00$ for the highest finishing Skeeter/Yamaha award presented by Dockside Marine.
The first place team who have now qualified for the BASS Team Championship which will be held on Lake Norfork in December were the team of Joel Lee and Shane Pope. They bested the field with a two day total of 28.54 lbs. and took home nearly 5000.00$ in cash and prizes! Congratulations to those guys and good luck in representing the Dockside Marine Tournament Trail in the BASS Team Championship. An astounding amount of over 7000.00$ in cash and prizes were awarded at this event and next year is sure to be even larger.
A few changes to the trail for the 2018 season are that all of the events will be held out of the E. Pearl Hwy 90 boat launch. Tiller handle motors WILL be allowed. And There is already 15000.00$ in Skeeter money in the pot to be paid out to Skeeter/Yamaha owners. If you run a Skeeter/Yamaha on or around the Northshore don't miss out on the chance to win more money than ever possible at a locally ran tournament with an entry fee of only 150$. If you want to look into purchasing a Skeeter, please contact Chad at Dockside Marine and you will be pleasantly surprised on the options and prices he can give you on a new boat.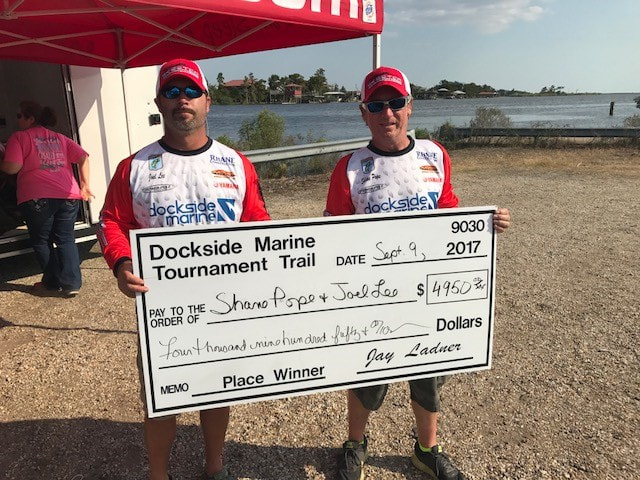 A huge thanks goes out to all the Dockside sponsors who make this trail possible and especially to Jay Ladner on his success running the trail so efficiently and professionally. Last but not least, a quick reminder that the Oct. 7th Northshore Bass Series Championship is fast approaching. We will soon be announcing where the last chance registration will be held, which will be the Friday night before the tournament. If anyone wants to register ahead of that, I keep registration forms in my truck so contact myself (Terry Jones) 985-255-2136 and I will do everything within my power to get you signed up. Everyone who fishes these local trails affiliated, please help us achieve the ultimate goal which is to get as many boats from each trail as possible to showcase just how awesome and competitive the Bass Fishing Community in our area is. Nothing but positive can come from an event like this. Thanks to all.