I would like to start by sending out a big thank you to Jarred Norris for helping with sign in, and Ronald Pierre for letting me borrow a battery. I had some battery issues this morning so I had to deal with that. Thank you guys. It was another hot day out there. Temps were flirting with the 100° mark again today making it really difficult to fish the whole day. However we still ended up with 21 anglers and Little Tanglers.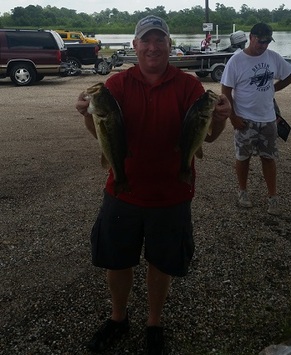 We had some great weights come in despite the boiling temps and high fishing pressure over the last few weeks. First place went to Jason Pittman for his big bag that weighed 11 lbs. 12 oz. Jason also earned big fish with a beautiful 4 lbs. bass. In second was Ralph Williams with another good limit going 10 lbs. 4 oz. at the scale. Third place was Ronald Pierre with a 8 lbs. 11 oz. limit. Brian Dickens held on to fourth with a 7 lbs. 14 oz. limit. In the Little Tanglers division it was Payton Waller who took the win with 2 fish weighing 2 lbs. 9 oz. Payton caught his two fish on a homemade crank bait he made himself. Good job Payton.



Other people who caught fish:
5th: Timmy Dickens 5 fish 6 lbs. 5 oz.
6th: Patrick Engerran 4 fish 6 lbs. 3 oz.
Joe Picone 4 fish 6 lbs. 3 oz.
7th: Chris Basey 5 fish 5 lbs. 8 oz.
8th: Shaun Miley 3 fish 4 lbs. 10 oz.
9th: Cameron Wagner 2 fish 3 lbs. 15 oz.
10th: Gene Perilloux 2 fish 3 lbs. 10 oz.
11th: Jim Waller 1 fish 3 lbs. 2 oz.
12th: Bailey Madere 1 fish 1 lbs. 15 oz.




The next tournament is set for 8-2-15 at Bayou Liberty. If you have any questions you can call Chris Basey at 985-707-7857 or email bassassassinsla@gmail.com