Another wonderful season comes to a end this past Sunday. The year was full of great events and turnouts. I would like to thank all the anglers who participated this year and invite many more to join in next year during our sixth year of the Bass Assassins. The last tournament of this year was held on Lock 1 and it was a tough one. A front passed through Friday night and the water was crystal clear. Jason Pittman sponsored by Northlake Oral 7 Facial was able to overcome the conditions the best to take home the win. Jason brought in five fish weighing a total of 8 lbs. 5 oz. Eric Ciko managed a 7 lbs. 7 oz. limit to claim second place. In third was Cody Ousley with a 6 lbs. 2 oz. limit. The big fish of the day weighing 3 lbs. 10 oz. was also caught by Cody.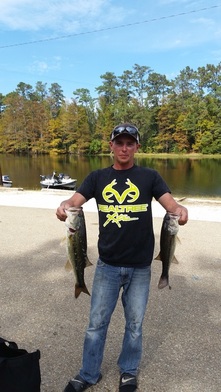 Other people who caught fish:
​4th: Joe Picone 2 fish 4 lbs. 4 oz.
5th: Gene Perilloux 3 fish 4 lbs.
6th: Trenton Pittman 3 fish 3 lbs. 10 oz.
7th: Brandon Mohren 2 fish 3 lbs. 4 oz.
8th: Chase Damare 1 fish 3 lbs.

9th: Ricky Benitez 3 fish 2 lbs. 15 oz.
10th: Sam Jenkins 2 fish 2 lbs. 8 oz.
11th: Chris Basey 2 fish 2 lbs. 6 oz.
​12th: Danny Giovingo 1 fish 1 lbs. 15 oz.
This was the last tournament of the year. I am going to go through the points and put up something to let everyone know who made it into the classic. The classic will be Feb. 5th on the Tchefuncte River. The first regular season tournament of 2017 will be on Bayou Lacombe Feb. 19th. Once again thank you to all who have participated and helped with the tournaments this year. Looking forward to another great year next year. If you have any questions you can call Chris Basey at 985-707-7857 or email
bassassassinsla@gmail.com