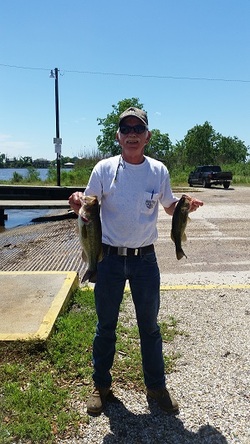 We finally got a day with no rain. Unfortunately the damage was already done to the river. The Pearl was muddy, but surprisingly not that high. It was definitely a time that the old river fishermen would shine, and they did. A new comer to the Bass Assassins Ralph Williams bested the feild today with a impressive bag that weighed 10 lbs. 3 oz. Ralph also had a nice bass that was 4 lbs. 6 oz. as a kicker however it was not the biggest of the day. Second place went to Jimmy Dorris with a 8 lbs. 15 oz. limit. Lawrence Lemoine has continued his good streak with a strong third place finish today. Lawrence had a limit weighing 7 lbs. 10 oz. Big fish went to Sam Jenkins with a 4 lbs. 9 oz. bass.


Other anglers that brought fish in:
4th: Sam Jenkins 3 fish 6 lbs. 12 oz.
5th: Will Moore 5 fish 5 lbs. 4 oz.
6th: Cindy Genovese 2 fish 4 lbs. 9 oz.
7th: Patrick Engerran 3 fish 3 lbs. 15 oz.
8th: Travis Young 1 fish 2 lbs. 15 oz.
9th: Zack Zimmermann 1 fish 1 lbs.11 oz.

The next tournament is set for May 3rd on Bayou Liberty. If you have any questions you can email bassassassinsla@gmail.com or call Chris Basey at 985-707-7857.