It was a big crowd today at the first Bass Assassins tournament on Bayou Liberty for 2015. 20 anglers showed up to fish which turned the one ramp launch into a busy area. The sun started coming up and I started calling people out as the last couple folks were still launching. Once out on the water it was even busier.
The beautiful weather has brought the boaters, and fisherman out in a big way. It was clear to see that it was going to be a tough day because all morning we could see anglers running up and down the bayou searching for keepers. After all the running, and searching the anglers all came to the launch at noon to put them on the scales to see where they placed.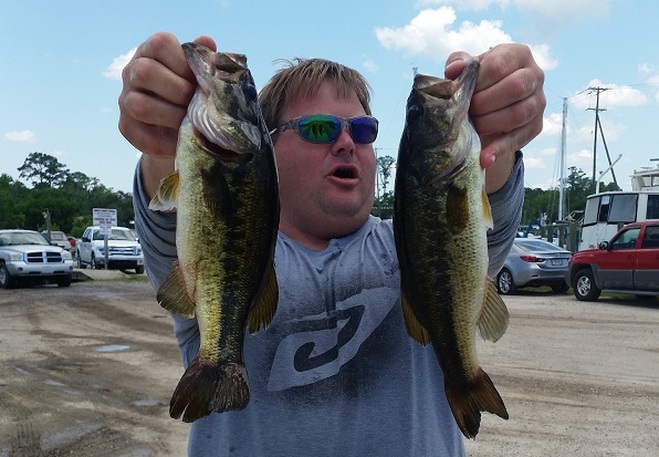 It was Sam Jenkins who placed in first today with a limit weighing 6 lbs. 6 oz. Nick Giovingo took home second place with 5 lbs. 15 oz. Third place honors went to Jason Pittman who brought in a 5 lbs. 14 oz. bag narrowly missing second place. In fourth was Jimmy Dorris. Jimmy had a limit weighing in at 4 lbs. 12 oz. Big fish was brought in by Ricky Benitez. It was a good 3 lbs. 4 oz. bass on this tough day.

Other anglers who brought in fish:
5th: Gene Perilloux 3 fish 4 lbs. 5 oz.
6th: Jarred Norris 3 fish 4 lbs.3 oz.
7th: Eric Ciko 3 fish 3 lbs. 13 oz.
8th: Danny Giovingo 2 fish 3 lbs. 8 oz.
9th: Ricky Benitez 1 fish 3 lbs. 4 oz.
Chris Basey 3 fish 3 lbs. 4 oz.
10th: Cindy Genovese 2 fish 3 lbs. 1 oz.
11th: Timmy Dickens 2 fish 2 lbs. 10 oz.
12th: Will Henry 2 fish 2 lbs. 7 oz.
13th: Joe Picone 1 fish 1 lbs. 14 oz.
14th: Jim Waller 1 fish 1 lbs. 13 oz.



The next tournament will be on Lock 1 May 17th. If you have any questions you can call Chris Basey at 985-707-7857 or email
bassassassinsla@gmail.com