Today was yet another sweltering hot day with little wind to relieve the 22 anglers of the Bass Assassins tournament from it. The fishing was very tough today. The water was clear and barely moving. Most of the grass seemed to be dead and the fish were very hard to come by. Of course the toughest conditions is when the veterans shine. Timmy Dickens pieced together a 8 lbs. 3 oz. limit with a 3 lbs. 8 oz. kicker to take home first place and big fish. In 2nd was Cody Ousley with 5 fish weighing 7 lbs. Third place went to Eric Ciko who had a 7 lbs. limit as well however his big fish was beat out by Cody's. In fourth was Jason Pittman and Sam Abney. Both Jason and Sam had 5 fish that weighed 5 lbs. 4 oz.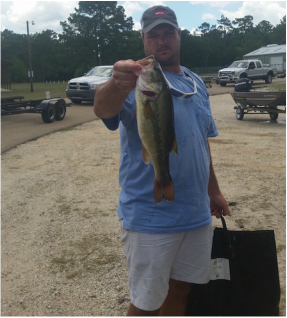 Other anglers who brought in fish:

​5th: Jimmy Dorris 5 fish 4 lbs. 14 oz.
6th: Morgan Schutte 3 fish 4 lbs. 6 oz.
7th: Nick Church 3 fish 4 lbs. 5 oz.
8th: Patrick Engerran 3 fish 3 lbs. 10 oz.
9th: Gene Perilloux 3 fish 3 lbs. 8 oz.
10th: Joe Picone 2 fish 3 lbs.
11th: Cameron Wagner 2 fish 2 lbs. 12 oz.
12th: Will Moore 2 fish 2 lbs. 11 oz.
13th: Gage Wagner 1 fish 2 lbs.
The next tournament will be on Bayou Liberty on Aug. 7th. If you have any questions you can email
bassassassinsla@gmail.com
or call Chris Basey at 985-707-7857.