The Liars and Lunkers held their second bass tournament of the season on March 22, 2015 at Lock One in Pearl River. Twenty one (21) teams competed and were given the option of launching on the canal side or river side of Lock One. With the river being so high, only eight (8) teams chose to launch on the river side. Those teams electing to fish on the river side were rewarded when the weigh in was conducted at 2:00PM. First through fourth places and the two biggest bass of the day came from the river side. The majority of those teams made a long run south to the marsh. Some very familiar names ended up on the top of the leader board. Taking first place was the team of Clay Zeringue and Tommy Cooper with 10.02 pounds. Their stringer was the only to reach double digits on the day. The tournament results were as follows:

1st Place
10.02 pounds
Clay Zeringue
Tommy Cooper

2nd Place
9.63 pounds
Mark Mohr
Charles Dauzat

3rd Place
8.88 pounds
Rustin Beaudette
Caleb Beaudette

4th Place
8.16 pounds
Jeff Bruhl
Rodney Teel

1st Place Big Bass
3.07 pounds
Rustin Beaudette
Caleb Beaudette

2nd Place Big Bass
2.88 pounds
Clay Zeringue
Tommy Cooper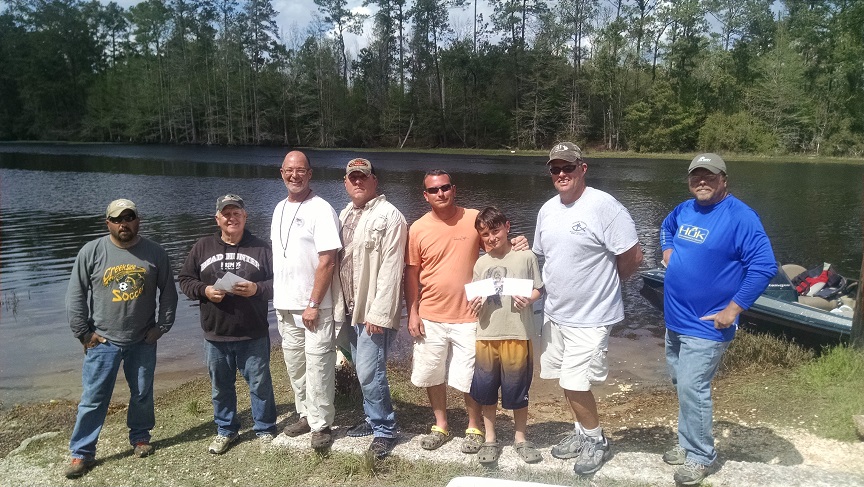 Clay Zeringue, Tommy Cooper, Mark Mohr, Charles Dauzat, Rustin Beaudette, Caleb Beaudette, Jeff Bruhl, Rodney Teel

The next Liars and Lunkers tournament will be April 19th at Crawford's Landing in Slidell, La. For more information, please contact Chad Hartzog at (985) 502-3217.