For those of us with teenagers in high school, the word mature is a positive characteristic that is warmly welcomed by parents. Generally, this change makes itself obvious by a students senior year in High School. My nephew Tanner, came down from Tennessee for his routine summer visit. Tanner is going into his senior year in High School and like most teenage boys around this age, he has matured by leaps and bounds. I've noticed it in his manners, his knowledge, and even thoughts on politics. To an adult, all of these things are positive attributes. But on this trip, my three daughters came to me and questioned me as to why Tanner wasn't playing with them the way he used to. They didn't particularly like the fact that he was growing up. I told them that everybody grows up eventually and that they should enjoy being a kid while they still didn't care about being cool or mature.
With my daughters worlds being upended by this "drastic" change in personality, I thought it would be a good idea to bring them all somewhere that would bring things back to the way they used to be oh so "long ago."


We packed up the truck with the the typical crabbing tools including, chicken necks, string, and nets, and headed to Lake Road in Lacombe to try and take advantage of the great crabbing reports that were coming from that area. On the way over there it seemed Tanner was more interested in talking to me, rather than playing "pull my finger" with my girls. Even his music preference was difference from his younger cousins. AC/DC came on and when he started singing along the girls looked at him as and said "You like Dada's music?" Yes, it seemed Tanner was growing up much to the chagrin of my Daughters.

We arrived at our spot by the side of the road just before the low bridge and my daughters abandoned the truck before I could put it into park. They knew the routine as we had done this before. Tanner had never done this before so my daughters proceeded to inform him as to how long to cut the line, how to anchor the lines, and how far apart to place them. As I watched the group effort, I noticed Tanner skeptically watching this small clan of cajun know-it-alls as if he wasn't sure of their methods. The first line they tied to the bumper of the truck, according to my daughters, "you can just tie it to anything as long as it holds." Tanner assisted me in cutting the second line and as I tightened the string around the chicken neck I glanced down at the first line and saw the slack being pulled out.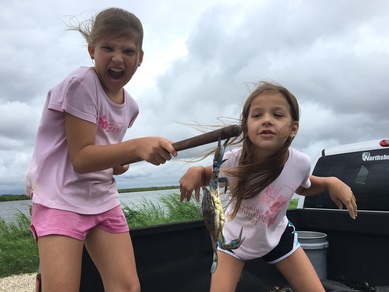 I pointed to the line and told Tanner to "look". He looked down and before he could react, the girls swarmed and instructed him on how to pull in the line. He pulled it in slowly and with a splooosh, I heard the mature senior erupt with a sophomoric "We got two!" As my oldest daughter flipped the net over and added the the crabs to the ice chest, Tanner looked down in disbelief. He looked up shaking his head and before he could utter a single word of what was on his mind, a shriek came from my youngest daughter. "Another one's on!" Tanner pivoted and made a beeline to the string to start his self assigned job of pulling in the crab to be netted.
I continued to prepare lines for them to set and handed them out as I was finished with each one. The action intensified with every line added to the bayou. With every crab they brought back, Tanner seemed to let his newfound maturity fall by the waistside. Running, smiling, and even talking smack to every crab that was netted. "Yeah boy! You're not going anywhere!" was one of the taunts Tanner shouted on numerous occasions. As my daughters dutifully picked up the braggadocios jabs, I could only sit back and smile as they ran up and down the road laughing and singing. And albeit for just for a few hours, Tanner was a kid again.