I'm sure all of you Northshore residents have experienced it. You're cruising along Interstate 12 to work early in the morning and you spot a truck tailoring a bass boat. Your mind starts to wonder. Where are they headed? If you've experienced this in the last week or so chances are they are headed to Manchac to take advantage of the incredible bass bite that is going on in that area. Baton Rouge resident Brad Romano and his cousin John Spinosa recently made the trip after hearing some good reports and says he knew they were in store for a good day when he pulled into the parking lot at the launch. "We left the house at 4 am and got to the launch at 5 a.m. thinking we would be the first ones there. Much to our surprise when we pulled into the parking lot there were four other trucks already there," Brad said. Romano puts in at the public launch right off of Interstate 55 and it didn't take Brad and his friend long to find their first spot. It was the same spot he fished a few days before and did really well.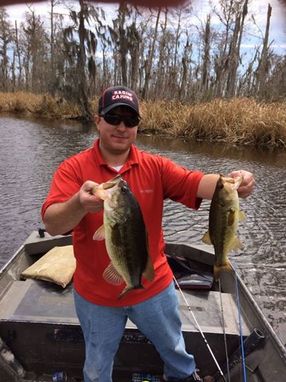 The only thing bothering Brad about this spot was the conditions weren't the same as his previous trip. "A horrible front came through two days before their trip and it dumped about an inch of rain in that area. Not to mention the cold temperatures and the wind that blanketed the river. It had me thinking it would be like throwing ice on all the bass that I had found but not three days ago," said Romano. But like most fronts in late February, this one was short lived and the temperatures rocketed into the 80's just before their trip. Brad's worries quickly were casted aside after he witnessed his friend set the hook on his first cast of the day. "As we pulled up to the first spot, John jumped on the bow with his pole rigged with a Humdinger spinner-bait and whips it out right off a point. BANG! A bass slams it and the excitement starts.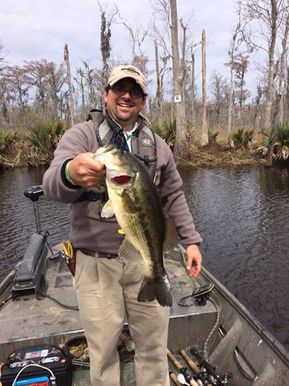 I quickly scrambled to get the live well filled then I grabbed my pole and started casting," he said. It only took Brad three casts and he had their second fish in the boat. "On my third cast I pitched my RP3 spinner-bait towards a tree stump and a bass engulfed it! I yelled get the net! Then John scooped up a beautiful 3 lb. fish. After a few high fives it was back to work," He added. As they worked their way along the cut they ended up with a limit before they could even turn around to work their way back out of the outlet. Brad and John ended up with their limit not 15 minutes after they started fishing that day. Brad says that is important to focus on the shorelines that are protected by the north winds around this time because the water is warmer in these areas and that's the first place these bass start to spawn.
Causeway trout starting to show up
For all you speckled trout fisherman who have been hibernating this winter, it's time to wake up! Anglers are starting to pick up trout along the 24-mile reef. Mandeville resident Mark Plaisance has made two trips to the bridge with both off them being moderately successful and says he believes the bridge will get even better as the temperatures begin to rise. "The water temperatures are still a little cold but if we can get a break on one or two cold fronts that come through I think the bridge will start producing some really nice trout." Mark has been using jigging Matrix Shad in the Lemonhead color rigged on a 3/8 oz. head. He has been trolling along the west side of the bridge near the drawbridge and cautions, "Don't expect a box of fish right now but these fish have some nice size to them." In his past two trips Mark has boxed 4 specks over 3 lbs. with the majority of his fish averaging a length of 18" or more!