In a normal wintertime pattern here on the Northshore anglers would be preparing to fish what is known as the pre-spawn. But with the unseasonably frigid winter we have sustained this year, bass fisherman are forced to stick with the same tactics they have been using for what seems like an eternity this season. Brad Romano recently made a trip to the Tchefuncte River and says the temperature swings are wreaking havoc on the patterns of bass right now. "It seems the recent fishing reports I've been seeing all start with the same thing lately. It seems people are fishing before the fronts or after ice storms. The weather will be 70 degrees one day and 20 degrees the next. The bass have no clue as to what is going on." Brad decided to make a trip after he noticed four consistent days of warming temperatures but was greeted with raw conditions on the river. "I had everything loaded up and ready for the drive from Baton Rouge at 4 a.m. and was greeted by thick fog and light misty rain. After we launched at safe light we started working the river north of the 4th Street Launch because the water was too clear to make a run south. The conditions looked promising, but something had these fish lock jawed," Romano said. After hours of unsuccessful cast after unsuccessful cast Brad says the action heated up just as the temperatures did. "After a few hours you could feel the temperature had risen a good bit so we work an area I've been scooping out for a while. This area had a lot of structure and was tucked away from any wind. I started pitching my RP3 Flippin' Craw around some stumps and fallen trees and as I was reeling in I thought I was just dragging along the tree until it started moving sideways. I set the hook but it was too late." Brad says throughout the day he could never pin down a recognizable pattern that these bass were in. To make matters worse, the bass that he did find were lethargic and he could hardly feel the subtle bite. "I realized after a while that these bass were barely taking the bait in their mouths. I could barely feel the bite. I started fishing super slow and that seemed to do the trick." Brad says he ventured about 50 yards down the cut and he felt the same soft bite as before. "It was the same subtle bite that I felt all day but this time I was ready! I set the hook and pulled in the first fish of the day. It was a chunky male bass that measured a little over 12 inches! I think the bass must be moving shallow to set their beds and the cold weather has made them lethargic." Brad ended the day with four hard earned cold water bass on the Tchefuncte River and says he can't wait till the weather starts to warm up and the bass start to get into their spawning pattern.


Tournament Results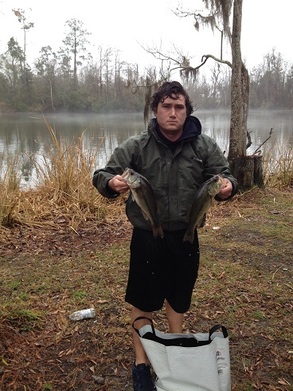 Raw conditions greeted anglers who competed in the latest River Champs Tournament on the Tchefuncte River. Cold temperatures and heavy downpours hampered everyone's efforts throughout the day but in the end it was Shawn Hartman who figured it out. Shawn weighed in a 7.54 lb. bag of fish that was good enough for first place in the tournament. In second was Joe Smith with a total of 7.32 lbs. 5.53 lbs. was enough to notch third place for Jason Pittman.

The St. Tammany Bass Club held their tournament on Lock One on the Pearl River and it was Todd Stein who ended up in first place. Todd weighed in a five fish bass that came in at 7.51 lbs. in second was Robbie Warner at 5.21 lbs. Tommy Quave rounded out the top three with a third place finish with a total of 2.59 lbs.