You may have to think back a few years when trying to remember a better spring trout run than the one we're seeing right now in Lake Pontchartrain. The Trestles, Hwy 11 Bridge, and Causeway are among all the hotspots where anglers are finding limits of those big beautiful speckled trout that the lake has been known to produce in the past. While the fish are stacked up on the bridges, unfortunately, so are the boats. I had the pleasure of making a fishing trip with 23-year old Zack Liberto who says that there are options for fishermen who want to find less pressured waters and often times it's between the bridges.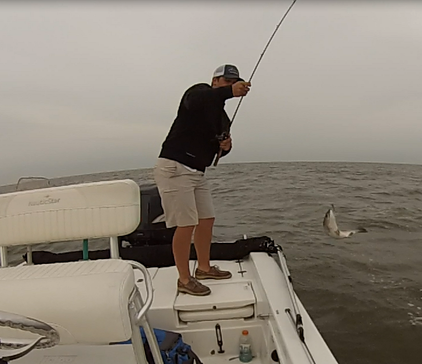 "I think that area is overlooked by a lot of people because of how big it is, but those fish travel that area and need to feed there just as much as they do on the bridges," Liberto says. I met Zack at the Mandeville Harbor and instead of heading west to the Causeway, the senior at UNO decided to go the road less traveled and turned the 24-foot Nautic Star east. The destination was a shell pad 1 mile off of the shoreline and on our way there, it didn't take me long for me to understand just what Zack meant by "how big it is." As we approached our destination, Zack pointed to a pylon that seemed to appear out of nowhere. As I tied up to the pylon and turned to grab my pole, Zack set the hook on the first fish of the day and reeled in a 14" speckled trout. He casted back out and before I could even cast out, Zack had his second trout in the boat. Any second guesses about fishing the bridges were completely gone and all I could think about was getting my line in the water. Zack tossed me a Zoom Fluke in the Smokin' Shad color and I threaded it onto a 3/8 oz. jig head. Zack and I started catching fish one after the other in what seemed to be the middle of nowhere. But Zack says there is a whole other world down there and those fish are feeding on the baitfish that holds to those shells. "Once you find the shell pads you need to just key in on them. Most of these fish school up and move around. You'll catch a few hot and fast and then they'll slack off and you'll have to wait till the school moves around. So staying patient and not pulling up and leaving is important. Give it an hour or two to see if they show up," Liberto says. We ended the day at 10 am. and with the quick boat ride back to Mandeville. Zack says when the bridges become too much of a hassle there is 18 miles of water from the Trestles to the Causeway. "We had a good day today and it just goes to show you that you don't have to fight all the crowds at the Trestles and Causeway," says Liberto.



Tournament Results

St. Tammany Bass Club took its show on the road and held their tournament at Toldeo Bend in Many, Louisiana. Paul Paille took first place with a bag of 14.43 lbs. With the win the Abita Springs angler moves into second place in the Northshore Bass Series. Walter Clarian took second place with a 5-fish stringer that weighed 11.79 lbs. Walter also won the big bass award with a fish that weighed 6 lbs. In third was James Clarian whose stringer weighed 11.79 lbs.

Liars and Lunkers held its tournament at Crawford's Landing and it was the father and son team of Jason and Trenton Pittman who won first place with a 5-fish bag that weighed 12.13 lbs. with the win Jason padded his lead in the NBS Power Rankings and Trenton moved up to the #8 position. In second was the team of Charles Dauzat and Mark Mohr with a bag weighing in at 11.31 lbs. Kevin Harrison and Aaron Moran took third with a total weight of 5.02 lbs. The team also won the big bass division with a lunker that weighed 5.92 lbs.

Bass Assassins held its tournament on the Pearl River and it was Ralph Williams who came out on top with a bag weighing in at 10.3 lbs. Ralph also won the big fish award with a largemouth that weighed 4.6 lbs. In second was Jimmy Dorris with a 5-fish stringer that weighed 8.15 lbs. Lawrence Lemoine took third with a total of 7.10 lbs.



Upcoming Tournaments

The next Liars and Lunkers tournament will be May 17, at the East Pearl River. For more information, please contact Chad Hartzog at 985-502-3217.

The next Bass Assassins tournament is set for May 3, on Bayou Liberty. For more information please call Chris Basey at 985-707-7857.

Florida Parishes Bass Anglers will be holding their next tournament on May 9, at Bayou Liberty. For more information please call Kevin Williams at 985-502-6146 or Patrick Engerran at 985-474-6112.