With the colossal sales offered at the stores and malls, it's no secret that Black Friday is quickly becoming a holiday in and of itself. But while the outlets, stores, and malls get all of the attention for their sales, there's another location that's actually giving something away. That something is speckled trout, and if you head down the Intracoastal Waterway to the Great Wall, you're chances of cashing in on this giveaway are almost a "lock".

I received a call from fishing prodigy Luke O'Neal on Thanksgiving morning. Luke hasn't been doing as much fishing in South Louisiana since he started college at ULM in North Louisiana this fall. Between hitting the books and trying out to make the ULM Bass Team, Luke has been keeping busy "up north". But if there's anything that can bring O'Neal down south, it certainly was the speckled trout free-for-all that always takes place around this time at the wall. "It's quickly becoming my go-to spot for this time of year," Luke says. As soon as I saw the call come in, I turned to my wife and asked "Can I go fishing tomorrow?" My wife doesn't speak sign language, but the look she shot me screamed "I don't care what you do tomorrow, I'm going shopping!" So when Luke asked if I was free to go speckled trout fishing with him and his friend Devin Ricks, I accepted without hesitation.

The plan was to get out early, as we both knew this was the mother of all fishing days. We launched at Southshore Bait & Marina at the ridiculous time of 5:00 a.m. and arrived at the wall by 5:30. It was still dark but we had achieved our goal of beating the crowd to the coveted water next to the concrete structure.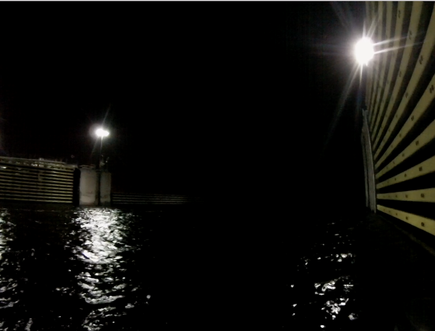 "It's so important to get out here early in order to get a spot in November, especially on Black Friday," O'Neal says. Although we were guided by a full moon, things were relatively dark so Luke pointed to the lights that shined down into the water along the opening of the wall where the channel came through. "Let's try the light's," he said. Then we tied up along the side of the channel and grabbed our poles. Out of the corner of my eye I saw Devin swing his rod back and heard the phrase every speckled trout loves to hear, "Got one! They're here!" Luke and I both scrambled for or rods while the equation of "1 fish on 1 cast = limit" ran through our heads.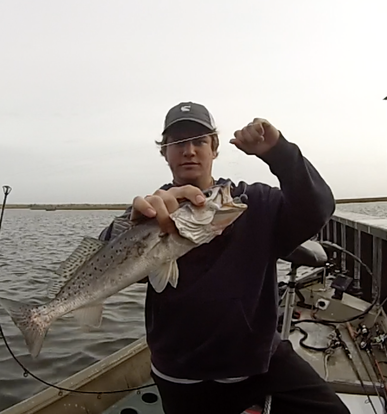 "We casted out, and quickly added two more to the chest. Just then a beam of light appeared and shined on us. It was a barge moving into the channel. Begrudgingly, we untied and moved to the a safer spot on the inside of the wall. It was a good move as not long after, boats started showing up to claim there spot along the structure. There was a definite difference in fishing the lights and fishing in the dark as none of us had a strike for 20 minutes. All of a sudden, just as the sky went from black to pink, it was like a switch was flipped! Every boat was catching fish with the rising of the sun. "It's strange how that happens because you know they are there, but when that sun comes up it's like someone turns on the light switch. Everyone starts catching them when the sun comes out," Luke said. We stayed in the coveted "corner" spot and flung trout after trout into the boat. I took a moment to take in what was happening around me and had to smile.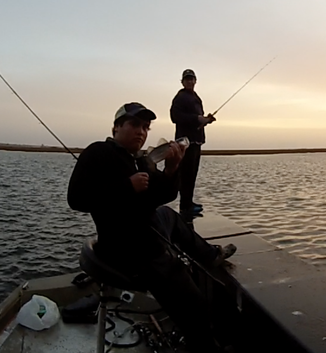 It seemed like everyone was catching fish whether they were throwing plastics or live shrimp. We stayed in our little corner for 3 hours putting together a beautiful box of speckled trout that morning all caught on combination of Shu-Shu's, Matrix Shad, and Vudoo Shrimp. Throughout the morning, current was never a problem as the water constantly flowed along the wall. Luke says that tidal flow is very important to finding fish at the wall "You're going to want some tide movement. My favorite is a falling tide. It pulls the bait through those big runners and out of the wall and really stacks those fish up. As the tide comes through the gaps in the wall, it makes eddies and if you can fish those eddies you'll find the trout," he says. Luke says the time for live shrimp may be coming to an end due to the colder weather. "Shrimp are better when there are a lot of shrimp down there. Typically before it gets cold. It's kind of strange how it happens out there but you'll see people with live bait out there and as it gets colder and colder it seems like plastics will take over. Often times you'll see boats with live shrimp and they'll switch over to plastics because the plastics are outfishing the live bait," O'Neal says.