The warmer weather has sent the perch into the shallows on Bayou Bonfouca. Daniel and Roger Sissac of Pearl River recently made a trip to the bayou where the father and son team fished a mixture of plastic and crickets. "We had our usual crickets and Sexee Shad with us but this time I convinced my dad to try the lures since I was catching more than he was," Daniel says. Daniel has been using strictly plastic on his trips with great results while his father, Roger, is a tried-and-true cricket fisherman. But on this trip, Daniel managed to talk him trying out the artificial. "Dad managed to get a few on the Sexee Shad but gave up and went back to crickets, Daniel says. The perch weren't as concentrated as they are used to seeing but Daniel says they still managed to put together a good box of fish. "We had to move around some but were able to put around sixty bream and a couple catfish in the ice chest. The Sexee Shad probably caught as many good fish as the crickets - although the crickets caught slightly more fish, they also caught small fish."
Pearl River
John Guillot fished Lock 1 and says the sac-a-lait were hungry. An indicator of this is obvious by the way the fish were swallowing his jigs. "I had to use needle nose pliers to remove the hook without killing the fish for several fish," John says. All his fish were caught using black jigs on a black jig head. John says he makes these himself and does it because he likes the way the head rolls over the wood structure. "I cast my own heads with a 2X Fine wire hook. This jighead is a Do-it Bullet 1/8oz. After casting, I powder coat and bake the finish on. These heads roll over limbs making it easier to fish in the limbs," he says. None of the fish came in less than 7' of water and the surface temperature was 66 degrees.
Bayou Liberty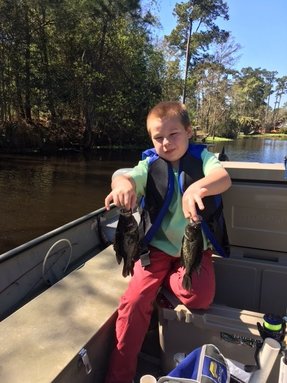 Chris Parrett and his son made a quick trip to Bayou Liberty and says the fishing was tough because of the strong west winds and bluebird skies. We tried to get on a sac-a-lait bite. We picked up one bass on the main bayou, north of the bridge on a Road-Runner. Then we ducked into a small cut and started throwing a tube jig," he says. In addition to the tough conditions, Chirs' trolling motor wasn't working properly. "The trolling motor plug was giving me issues so I decided to call it a day. We ended up with 2 sacs, 1 bass and a goggle eye. It was a very short trip but I was glad I was able to get on water even for a little bit," he adds.
Lure Thieves
Neither Slidell Sheriffs Department nor the LDWF wants to pursue the case so Sam Coco Jr. of Slidell is taking his story to the public. Sam was fishing the Oak Harbor inlets near his home and says numerous garfish made off with some of his very expensive lures. "Monday was an expensive day of fishing. I Managed to catch one speck but in the process, lost 3 Mir-O-Lures. They were all the 32m-18 model. There may be reward for return of these lures and the garfish do not have to be attached," Sam jokes.