With the tail end of summer approaching and the speckled trout bite all but non-existent, Nick Moore has focused his attention on catfish these days. The Sunset Point Pier in Mandeville has been producing quality freshwater catfish during the night time hours. Nick says all you need is fresh shrimp and time if you want to put some meat in the fridge. In addition to the blue cats being hauled over the wooden planks of the pier, anglers are catching sail-cats which are overlooked by most fishermen.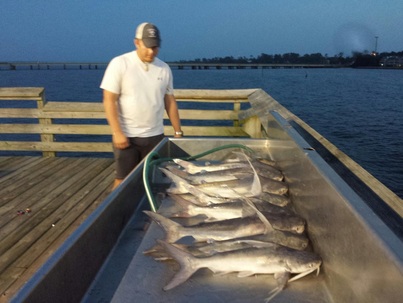 "I believe most people pass on these fish because they are coated with slime. We simply wipe them down with a rag, clean them, and soaked the fillets in ice water for a while. When we are ready to fry them we coat the fillets with mustard," Nick says. Sail-cats are referred to locally as gaftop catfish and are known for their ferocious fight when hooked. Nick says heavy braided line is a must when fishing at the pier these days. "I don't have one of those big offshore rod-n- reels that you typically see at the end of the pier, but I'm sure glad I did have 30 lb. and 80 lb. EZ braid on my reels because I needed it to keep those beasts out of pilings. I'm telling you those sailcats are fun to catch. One minute you're day dreaming about the Saints upcoming season and the next you notice your pole bent over like you snagged an orca!" Moore says.
Quality or Quantity?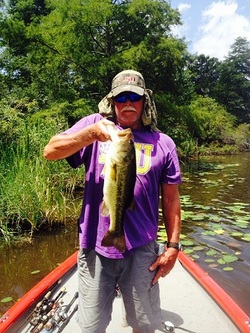 These days there are two distinctive hotspots for bass fishing on the Northshore. The often overlooked Salt Bayou in Slidell is churning out big numbers of bass these days and anglers are quickly finding themselves with early limits of bass. The hot bait for this area has been Shu-Shu Shad rigged weightless. Anglers are having success early in the morning when the bass are active.

If its size you're after, the Pearl has always been known for producing big bass and these are the days when a lunker becomes a real possibility for those who fish the river. Lawrence Lemoine recently made a trip and says the fishing was slow until he hooked onto a big boy. I threw everything I had and with six solid keepers decided to go back to my favorite lures so I started throwing lizards in one of my favorite colors - pumpkin firetail. On my third cast I got a solid hit and set the hook! I saw a big green flash at the side of the boat and that instant I knew it was a good fish!" Lemoine said. Lawrence says that it was an extra challenge catching the beast on 12 lb. test but his son managed to lip the 4.8 lb. bass at the side of the boat and bring it in.



Dockside BaiT & Tackle Closing
The iconic boat launch and bait shop on Harbor View Rd in Eden Isles has closed. The boat launch that has be the hub of Lake Pontchartrain fishing is scheduled to relocate but owner Chas Champagne says he has no definite plans. "I've been discussing with several other possible marinas that we might move to. I don't know exactly what we're going to do, but we're not next to the Dock at Eden Isles anymore," says Champagne. Since opening in 2008, the bait shop and launch has benefited tremendously from the great fishing along the bridges in Slidell but the past two years the fishing has been poor due to the lowering salinity levels. Chas says for now he will concentrate on marketing his lures. "As soon as we confirm a new location, we we'll let everyone know. Until then, we'll continue to give you even more information on fishing around the lake using Matrix Shads and our newest Vortex Shad," He says.