The Causeway is one of the most polarizing places to fish in Lake Pontchartrain because of so many factors including salinity, water clarity, and depth. But Curtis Finn of Abita Springs, made a trip to the 24-Mile Reef, and says it was the wind that was the biggest obstacle to catching fish.
"We made it out about two miles or so before we found those nice white capped waves and I thought to myself 'Man - this is not how I wanted to start the day," Curtis says. Curtis and his friend started out tossing Matrix Shad in the Magneto color on 3/8 oz jig heads and says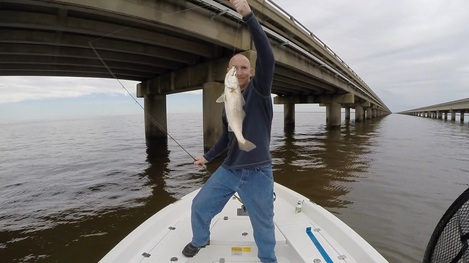 "It proved difficult to get to the bottom with the wind and waves, but once we found where they were sitting - it was on! We picked up 21 very nice trout after fishing about 25 sets of pilings," Finn says. Normally, fishing 21 pilings would be an easy accomplishment but Curtis says the wind made it very difficult on this day. "Trying to keep the boat positioned in the sweet spot made fishing those 25 sets take forever," he says. Finding a pattern on the Causeway can be tricky, but Curtis says on this trip they had the most success casting past the pilings. "We setup south of the target piling and were casting 15-20 feet past the piling and about 6 feet west of the bridge. We let it bait hit the bottom and worked it back to the boat, rubbing the bait across the bottom of the target piling. The current was working against the wind and would push the bait into the piling on bottom," he says.


Plan "B"

Ponchatoula angler Lawrence Lemoine and his son made a bass fishing trip to the East Pearl River where they were greeted with a full parking lot of boats and trailers. "We pulled up to the launch only to find out that there was 3 bass tournaments going on. On top of that, duck season was in full swing," Lawrence says. Often a fisherman's initial intuition is right, but something told Lawrence to give the crowded river a try. "We launched anyway and headed to my spots with only 2 bites by 9:00 in the morning. The water was really high and dirty with high winds to boot," Lawrence says. After trying a few more spots with the same results, Lemoine decided to pick up the boat and head over to Bayou Bonfouca where they found much better conditions. "The water was clean, in the mid 60's, and incoming. We started catching bass on small crank-baits but it was kind of slow untill we went to suspending jerk baits and it was non stop action! The bass were hitting minnows and perch but just couldn't resist a jerk bait suspending in 4' of water," Lawrence says. While Bayou Bonfouca didn't produce big bass like the father and son team were looking for on the Pearl, Lawrence says "Its important to always have a Plan B when fishing the Northshore because it can pay off."


Lake Pontchartrain Salinity

With all the recent rains we've seen, it would make sense that the salinity levels in Lake Pontchartrain would have taken a hit this month. But the Lake Pontchartrain Basin Foundation's Hydracoast Map shows that the salinity levels are still relatively high. Salinity levels at the Causeway read 5.8 PPT (parts per thousand) and levels at the Twin Spans in Slidell had a reading of 8.0 PPT from November 2th-8th. When compared to last years levels of 2.8 PPT at the Causeway and 6.0 at the Twin Spans, this years levels are proving to be higher by at least 2.0 PPT.


Eastern Zone Open

The 2015 Eastern Zone Hunting Season for waterfowl in now open and Jacob Simms of Folsom reminds anglers to be aware of those hunters back in the ponds early in the morning. "I'm an avid fisherman, but those duck hunters have such a limited time to do what they love that I always give them first dibs on the water during this time of year," he says. Duck hunters across Southeast Louisiana have been waiting for the cold weather to push the waterfowl south and it looks like they're wish has been granted with the latest powerful high pressure system that pushed through. "I was a little worried about this year but it looks like we are going to be alright. I've already strapped out a limit on some pubic land," he says.